Considering a fresh start? Ever imagined embracing Miami's vibrant lifestyle with your four-legged friend? A move to Miami with your pet might just be what you've been dreaming of. The city is not just about sun, sea, and sand; it offers a pet-friendly culture that's hard to find elsewhere. And if you're worried about the moving process, fret not! Florida movers are experts at ensuring a seamless transition to your new home. A quick glimpse of Miami's pet-loving ambiance is enough to convince any pet owner of its merits. So, why wait? Discover why Miami is a dream destination for pet owners planning a relocation! Stay with us and prepare for relocation to this phenomenal pet heaven.
Why should you move to Miami with your pet?
Considering a move to a new city is an exhilarating decision, but for pet owners, there's an added layer of contemplation. You're not just thinking about your own needs, but also what the environment will offer your furry companion.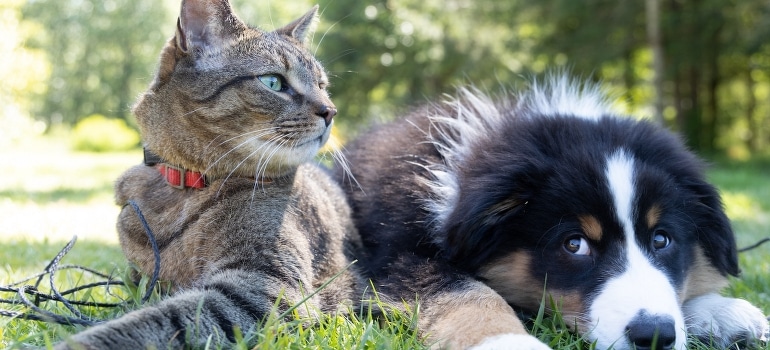 Miami, a sun-soaked paradise, could be the perfect destination for both you and your pet. Here's why:
Year-round outdoor activities: With its tropical climate, Miami provides a playground for countless outdoor activities every day, ensuring your pet remains active.
Pet-friendly culture: Miami has a vibrant community that embraces pets. Almost everywhere you go, you'll spot pet lovers indulging their furry friends.
The sea and pet-friendly beaches: Let your pet frolic in the waves or chase a ball on the sandy shores. Miami's beaches welcome pets with open arms.
An abundance of nature and parks: Beyond the beaches, there's a wealth of parks and green spaces to explore, perfect for long walks or games of fetch.
Many other pet owners in the city: A sense of community is key. Miami's plethora of pet owners ensure playdates and bonding opportunities.
Diverse pet services: From grooming salons to training centers, the city offers diverse services to cater to every pet need.
Pet-focused events: Enjoy events tailor-made for pets, ranging from pet-friendly fairs to dog yoga sessions.
The list of reasons why you should move to Miami with your furry friend does not end
When you take a quick look at this list, your decision on moving to Miami with a pet becomes more clear. According to mentioned factors, the city of Miami is an incredible destination for pet owners. But believe it or not, the list of reasons to pick this city as a pet owner does not end here. So, look into Miami's Pet-Friendly advantages and offerings:
Pet-friendly accommodations: Finding a cozy place for you and your pet is a breeze in Miami.
Dog parks and playgrounds: These dedicated spaces ensure your dog gets to socialize and play in a safe environment.
Access to veterinary care: The city's robust veterinary services ensure your pet's health is always prioritized.
Cultural experiences: From art districts to open-air markets, there's always something happening where pets are welcome.
Travel opportunities: If you're planning to travel, companies like Pet Van Lines offer specialized services, ensuring your pet's journey is comfortable and stress-free.
Strong pet community: Whether it's joining pet-focused groups or attending pet cafes, Miami offers a thriving community for pet enthusiasts.
Scenic views: The picturesque backdrop of Miami serves as a treat for both the owner and the pet. Imagine those sunrise or sunset walks!
In essence, Miami's ecosystem ensures that pet owners don't just find a city, but a home. It offers an environment where both you and your pet can thrive, bond, and create unforgettable memories. So, if you're contemplating a move, consider the array of benefits Miami presents. After all, there's more to relocating than just moving; it's about embracing a lifestyle, and Miami promises a vibrant one for pet owners. So, start considering your moving-related needs and opt for Miami moving services at affordable rates.
Sunny days and year-round outdoor activities in Miami
Miami, a jewel on the sun-kissed coast of Florida, has a reputation that's hard to beat. Imagine waking up to clear blue skies, with the sun's rays casting a golden sheen on the city's iconic skyline. It's not just the inviting climate that's perfect for taking walks or exploring with your furry friend, but also the abundance of recreational spots that make Miami a paradise for outdoor enthusiasts. Beaches, parks, and recreational areas, like the renowned Everglades National Park, are open throughout the year, welcoming both locals and tourists to bask in nature's splendor.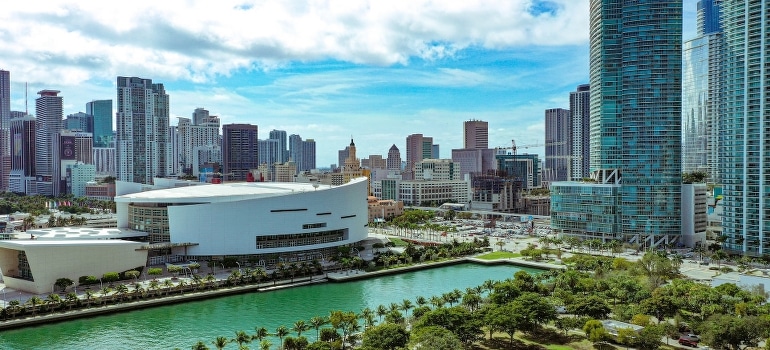 Miami's cultural fabric is woven with threads from Latin and Caribbean influences, evident in its festivals, architecture, and even its vivacious nightlife. As you stroll down the streets, the blend of these cultures whispers tales of a city that has embraced diversity and thrived. Speaking of thriving, Miami's year-round warm climate offers residents a myriad of activities. From water skiing on Miami Beach to exploring the city's impressive 800 parks, there's always something to do.
But what if you're considering making this sunlit haven your new home? Well, Miami movers are there to ensure a seamless transition, especially if you're moving with pets. Their expertise can make the process efficient and hassle-free. So, as you contemplate the move, remember that Miami isn't just a city—it's an experience, one that promises sunny days and boundless adventures. So, opt for the upcoming move to Miami with your pet!
Plunge into the fun – pet-friendly beaches of Miami
Miami is not just famous for its art deco architecture and vibrant nightlife; it's also a paradise for our four-legged friends, eager to splash in its shimmering waters. If you've just completed a big move with local movers Miami residents trust, unwinding at a beach can be the ideal way to relax. Firstly, let's introduce the top beaches that welcome pets:
Hobie Island Beach Park, is known for its shallow waters and windsurfing vibe.
North Beach Oceanside Park offers a quieter atmosphere, ensuring your pet can run and play with fewer disturbances.
Haulover Beach Dog Park stands out not just for its unique nudist reputation, but also its dog-friendly areas.
South Pointe Park, a picturesque spot, combines the thrill of walking paths with the serenity of oceanside views.
Lummus Park, on the other hand, provides an excellent blend of urban vibe and beach relaxation.
Finally, Marjory Stoneman Douglas Ocean Beach Park, though not detailed in the sources, surely adds to Miami's diverse beach palette.
When planning a fun and safe beach day with your pet, remember a few guidelines. Always check if leashes are required or if there are specific dog-friendly areas. Carry essentials like water, waste bags, and toys to make your pet's experience enjoyable. Most importantly, embrace the magic of Miami's beaches and make cherished memories with your furry friend.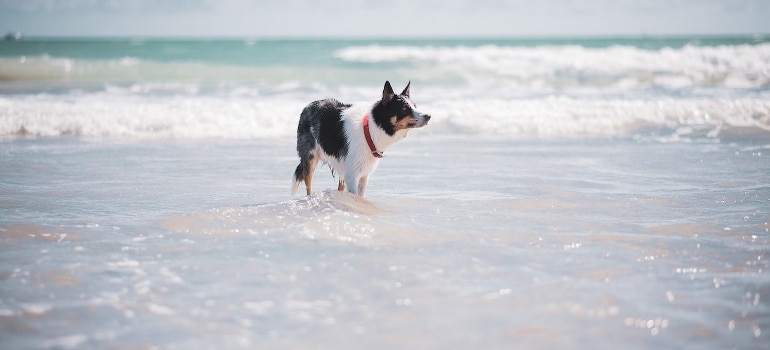 Miami's parks – Nature's gift to your four-legged friends
An overview of Miami's green spaces offers a refreshing glimpse into pet-friendly havens, making it clear why Miami is a top destination for dog owners. Start at Haulover Beach Park, a delight for energetic dogs. With designated areas for different sizes and leash zones near lifeguards, it's a playground for pups to burn off energy and make furry friends. Then, there's the famed Hobie Island Beach Park. Beyond its reputation for windsurfing, it's Miami's favorite dog-friendly beach. Its shallow waters make it a worry-free zone for doggies to splash around.
Moving on, Lummus Park offers a blend of urban lifestyles, perfect for city-loving canines. And South Pointe Park, located at the tip of South Beach, promises both on-leash and off-leash fun, doubling as a photographic haven for capturing memories with your four-legged companion. If you're in need of packing services Miami offers, you'll find plenty while hopping between Margaret Pace Dog Park, Pinetree Bark Park, and the delightful Washington Avenue Bark Park. Finally, Coconut Grove's Dog Park offers a perfect conclusion to a pet-friendly tour, ensuring that Miami's parks truly stand as nature's gifts to our beloved pets.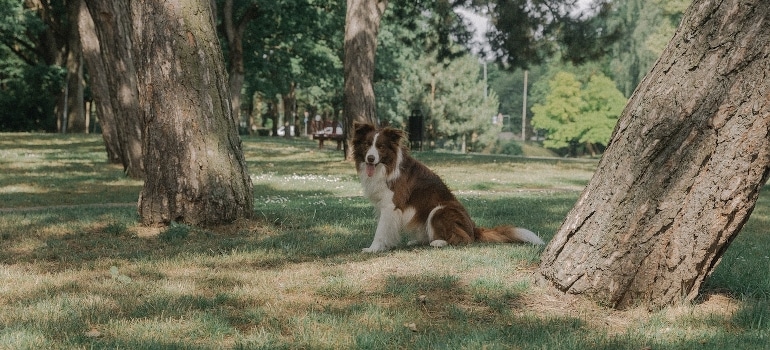 A thriving community of pet lovers
In the heart of every city, there lies a pulsating, vibrant community of pet owners. These individuals aren't just passionate about their pets; they connect with fellow aficionados, fostering a unique bond that transcends mere companionship. And it's not just about dogs. A study highlighted by Harvard Health showcases how even cats, rabbits, and snakes can spark friendships and provide social support.
And why is this so essential? Because, as the same research emphasizes, strong social connections positively impact long-term health. Transitioning to a new neighborhood? Pets can bridge the gap, making introductions smoother and more organic. Moreover, there's a beautiful reciprocity in these relationships. Just as humans gain emotional sustenance, pets thrive in these interconnected environments, creating a win-win for all.
Diverse services tailored for your pets after the move to Miami with your pet
When it comes to moving, Miami stands out. Not just because of the wide array of pet services Miami boasts, but also due to the dedicated services like cross country movers Miami that cater specifically to pets. Pets have intricate needs, and ensuring they are comfortable during a move is vital. This is where Miami's diverse range of pet services comes into play, prioritizing your pets' well-being. But it's not just about the move. Choosing the right service can make a significant difference. Whether it's for local relocations or cross-country transitions, Miami offers tailored solutions for your furry, feathered, or scaled friends. Quality, as highlighted, remains paramount. A move can be stress-inducing for both humans and pets, but with the right choice, it becomes a seamless endeavor. So, next time you contemplate a move, remember Miami's specialized pet-focused services.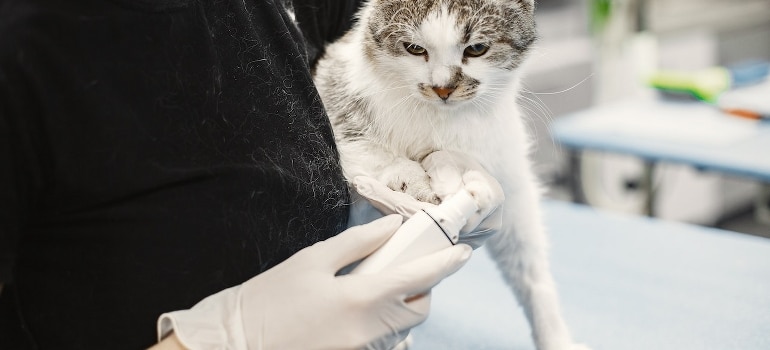 Events that put your pets in the limelight
Pet lovers, especially in Miami, can delight in a plethora of events specifically designed for their furry friends. In Coral Gables, for instance, Bay 13 Brewery hosts a heartwarming dog-friendly event called "Sip & Stroll," set on the 13th of April, offering an environment for pets and owners to socialize. Meanwhile, for those preferring a virtual connection, there's the virtual Yappy Hour, a fun-filled online gathering held in South Miami and Brickell.
Yet, the excitement doesn't end there. Annual events like the dog-friendly pack walk at Town Kitchen & Bar bring together passionate pet enthusiasts for a communal stroll. Every December 30th, they meet at Town to explore South Miami together with their pets. And while considering Miami residential movers for a shift within the city, it would be a mistake not to explore these pet-centric events. From pet fashion shows to pet parades, Miami truly sets the stage for pets to shine. Don't miss out on these must-visit annual gatherings that spotlight our beloved pets.
Travel with a wag – Miami's pet-friendly travel opportunities
Miami Beach notably champions the motto, "all travelers are welcome," including those of the four-legged kind. Undoubtedly, it's a sought-after haven for pet enthusiasts. Dotted with a slew of pet-friendly hotels, eateries, parks, and beaches, this locale ensures pets and their owners feel right at home. Notably, The Standard and Kimpton Surfcomber Hotel cater seamlessly to this demographic. These accommodations not only allow pets but also support noble causes with their pet fees. Additionally, establishments like Deck Sixteen offer special brunches on rooftops designed for pet enthusiasts.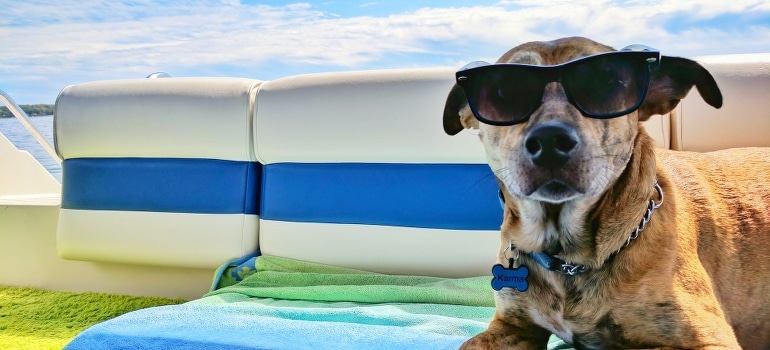 Amidst all the travel and fun, if storage is a concern, don't fret! The best storage Miami options ensure pet essentials are safely stowed away. Furthermore, South Pointe Beach and South Pointe Park are gems where pets can play and unwind, making the trip unforgettable. So, Miami Beach remains unbeatable for those who cherish traveling with their pets.
Moving with our pets makes this transition easier
When we decide to relocate, the support our pets offer is unparalleled. Their presence during the tumultuous process of moving plays an immense role in easing our anxieties. The emotional support pets provide during a move is irreplaceable, offering a comforting constant amidst change. Movers who recognize this profound bond treat our cherished animals with utmost care and sensitivity, making the entire experience less daunting for both parties. If you're planning to move to Miami with your pet, take solace in knowing that the city embraces our four-legged friends. Miami's pet-friendly environment is evident, from its welcoming parks to its accommodating residences. In essence, making the move to Miami with your pet is not only a fresh start for you but a step into a pet's paradise.