Leaving one state for another comes with numerous challenges. If you are planning on moving from Miami to Los Angeles, you need to ensure that you have reliable moving help by your side. Here at City Movers, we are confident we have what it takes to see your move through. We are movers with experience that are going to apply all of our knowledge, resources, and tools to your cause. Recognized as one of the top-rated movers, we make the mammoth cross-country journey over 2700 miles not only possible but hassle-free and enjoyable. From preliminary budget planning to tailoring top-tier moving services, we ensure you relocate with peace of mind. The only thing that you need to do is to give us a call now! Our moving crews are going to answer and be there to help guide you through your move process in no time!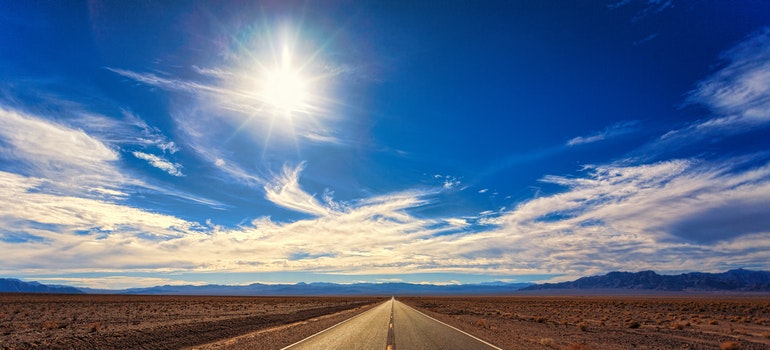 Hire only the top moving help when moving from Miami to Los Angeles
Moving is a process that you should put all of your efforts into. After all, it is one of those things that can easily go wrong in case you should fail to address it with all of your knowledge and expertise. However, it is a fact that the vast majority of people who decide to relocate miss the knowledge and expertise to see their move through on their own. Therefore, this is the reason why high-quality moving companies such as ours exist.
When the time for moving to Los Angeles from Miami comes, you will want to make sure that you have one of the top moving companies by your side guiding you through this process. Here at City Movers, we have come up with a concept that helps us ensure that all of our customers receive the moving service that they deserve. One of the things that allow us to provide you with exceptional moving service is a careful selection of members of our moving teams.
Carefully designed process of recruitment
Our hiring process is directed towards handpicking the best candidates for the job we do. This means that we are focused on hiring people with great empathy in the first place. After all, moving is an experience. So, we would like to make it a pleasurable experience for you. Furthermore, we are aware of how demanding the process itself can be. Therefore, we know that one of the crucial steps in this process is to have people who understand your needs, and your feelings as well. Our moving crews are the people that you have been looking for.
Ultimately, let us point out that all of our recruits receive thorough training that prepares them to provide one of the top moving services on the market. Therefore, go ahead and get in touch with us. We will be standing by for your call.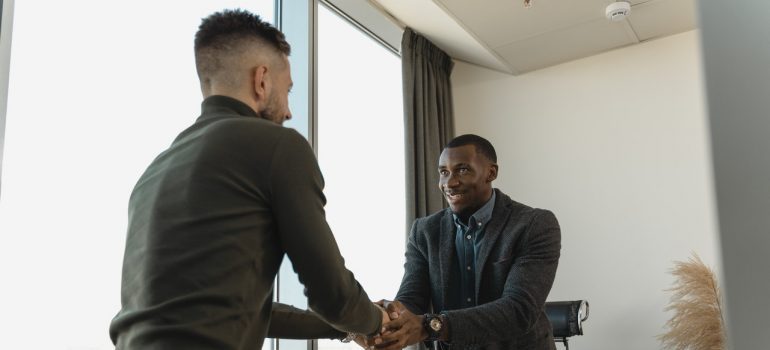 We take pride in our reliable team – choose our crew to ensure a smooth interstate move
Welcome to the City Movers team, your reliable partner for a smooth interstate move. We pride ourselves on our exceptional crew, diligently trained to provide a safe and efficient moving process. With us, relocation from Miami to Los Angeles is not a daunting task, but a seamless experience handled with utmost care. Our team possesses a unique blend of expertise and commitment, delivering unrivaled value to our customers. Each move is approached with professionalism and precision, leaving no room for stress. We transform the intricate process of moving into a hassle-free experience, assuring you that your possessions are in reliable hands.
Our team is more than a crew of professionals – we are a family united by a shared passion for excellence. We understand that every move holds a unique story, and our mission is to become a part of your journey. Whether you are changing homes or offices, we ensure your new start is not hampered by moving worries. Choosing us means that you choose safety, efficiency, and the joy of relocation from Miami to Los Angeles. Trust us, and let the adventure begin!
Numerous ways that we can help you with moving from Miami to Los Angeles
Providing a broad array of moving and storage options, even cross-state transitions become manageable. Choosing to collaborate with us when looking to move to LA from Miami enables you to customize our offerings according to your specific requirements. If you're unsure about the perfect blend for your impending relocation, our dedicated team of moving consultants is at your service. They will help you pick the most suitable moving services to craft a personalized moving plan. The services we extend encompass:
Regardless of what kind of moving help you need, you will probably be able to receive it from us. Therefore, go ahead and give us a call. Let us know what you need. We are going to come up with a tailor-made moving solution perfect for your needs. So, be free to ask for a moving estimate.
Complete your move in an affordable manner
One of the most common reasons for people to downgrade and choose a moving company that is not going to be their first choice is the pricing. Simply, it is only natural that the amount of money you are going to invest in moving is going to play a decisive role in what moving company you choose to help you out. Therefore, we pledged to keep the costs of moves for our customers as low as possible.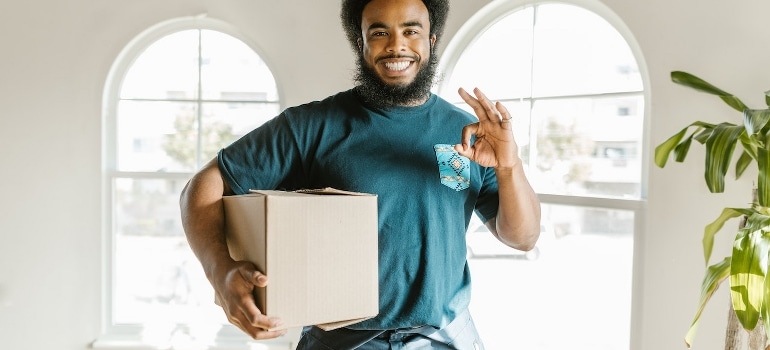 However, affordable costs do not mean a lower level of service in our case. Through careful analysis, we came up with a way to keep your moving costs low while receiving exceptional moving service in return. The only thing that you should make sure to do is to get in touch with us. Let us know what kind of moving help you need and we will provide you with a free moving estimate in Miami. This is how we conduct our business – fair and square.
Miami vs. Los Angeles
Understanding these two vibrant cities is inevitable before you decide on relocation. Both boasting unique qualities and attracting visitors and new residents, Miami and Los Angeles are remarkable in their own right. Whether you're considering a move from Miami to Los Angeles or simply eager to learn more about them, we got you covered.
Miami, known as the "Magic City," sits on the southeast tip of Florida. It hosts an estimated population of 470,000, characterized by a rich blend of cultures. On the other hand, Los Angeles, the "City of Angels," located on the west coast of California, is the second most populous city in the U.S., with a population of about 4 million. When it comes to climate, both cities are known for their sunshine. Miami boasts a tropical monsoon climate, which ensures warm temperatures all year round. Conversely, Los Angeles enjoys a Mediterranean climate, characterized by warm, dry summers and mild, wet winters.
Costs, opportunities, and more
In terms of the cost of living, both cities lean towards the expensive side. Los Angeles generally sees higher costs due to housing expenses. However, you should also consider Florida's lack of a state income tax, a factor that might tip the balance for some. Job opportunities vary between the cities. While Miami's economy is driven by tourism, international trade, and finance, Los Angeles has a diverse economy, with entertainment, technology, and manufacturing at its core. This diversity provides a wide range of opportunities for job seekers.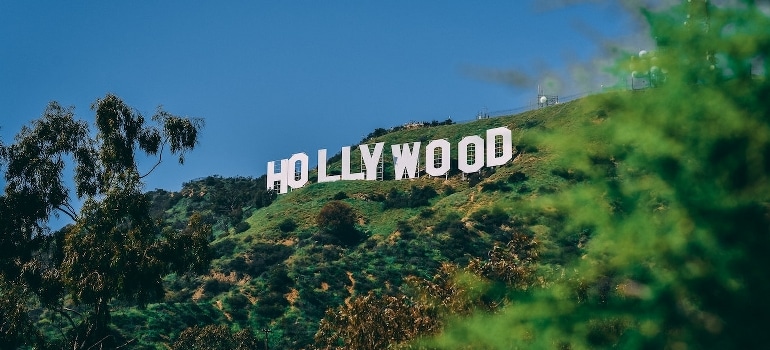 Lifestyle and cultural aspects form another significant facet of our comparison. Miami's strong Latin influence gives it a vibrant nightlife, beautiful beaches, and a colorful art scene. In contrast, Los Angeles, as the global center of entertainment, offers a vast array of recreational activities, a diverse food scene, and iconic landmarks like Hollywood. Ultimately, whether you're planning to move from Miami to Los Angeles or vice versa, both cities offer unique opportunities and experiences. Your choice will depend on your personal preferences and life circumstances. As always, doing thorough research is key to making a well-informed decision.
Navigating the challenges of moving from Miami to Los Angeles
Relocating from Miami to Los Angeles? No journey is too long or task too challenging for City Movers! Identifying potential difficulties unique to this cross-country relocation route is where we begin. High traffic congestion, unpredictable weather patterns, and lengthy distances all come into play, but with our expert understanding and professional guidance, we're here to navigate the complexities for you. Remember, we not only provide solutions but also assure a seamless transition.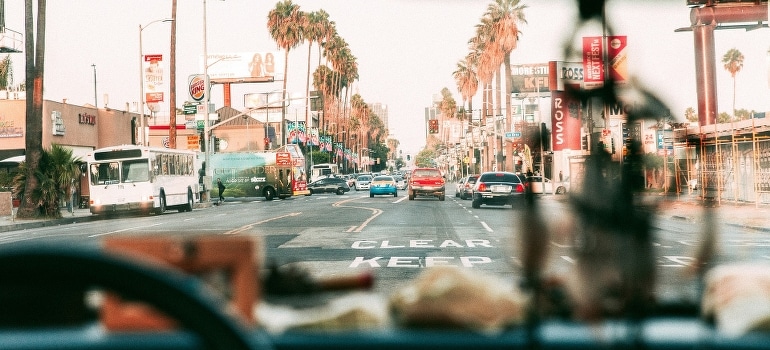 Overcoming these challenges is our specialty. Leveraging advanced technology and specialized equipment, we mitigate risks associated with the transportation of delicate items. Plus, our teams are trained to respond quickly to unexpected situations ensuring your move remains on track. Choose us, your partner in this interstate journey, and gain more than a service. You gain a team of dedicated experts who go above and beyond to ensure a stress-free relocation. We are affordable, and reliable, and prioritize your satisfaction above all. Whether you're relocating an entire office or a single-family home, AAA Movers makes your move feel like a breeze.
With our help, your journey from Miami to Los Angeles doesn't have to be daunting. Our crew is here to lighten your load, offering you peace of mind with our efficient and cost-effective services. Let us take on the challenges while you enjoy the journey.
Los Angeles – the city to experience
Los Angeles is one of the most famous cities not only in the USA but in the world as well. Sitting on the Pacific coast in Southern California, Los Angeles is a city that is a synonym for the high life, celebrities, social inequalities, and traffic jams. It is a mecca for all aspiring actors, but it is far more than that. Bursting with opportunities, L.A. is home to a vibrant population of approximately 4 million diverse people who bring a rich mix of cultures into this global city. It isn't just a city, but a lifestyle choice that offers innumerable possibilities.
You won't miss Miami's allure, as L.A.'s median income stands at a competitive $67,418, providing an alluring gateway to an elevated standard of living. Yes, the cost of living may be higher, but it's a testament to the city's premium offerings. Thriving industries in Los Angeles, such as entertainment, technology, and healthcare, present exciting job opportunities that make the higher cost worthwhile. Regardless of whether you are moving here to work, study, or simply fancy living in a vibrant city on the ocean shore, we are certain that LA has what you need to feel good.
A city rich in amenities
Los Angeles is more than its economic features. It's a city that promises a multitude of attractions to its residents. Hollywood Walk of Fame, The Getty Center, Griffith Observatory – are all at your fingertips. The city's sunny beaches are a match for Miami's, while the food scene is an eclectic mix of world cuisines. When it comes to commuting, the city is well-connected. Los Angeles boasts a robust public transportation system that includes the Metro Rail and Metro Bus. Alternatively, enjoy the convenience of a well-maintained network of freeways if you prefer to drive.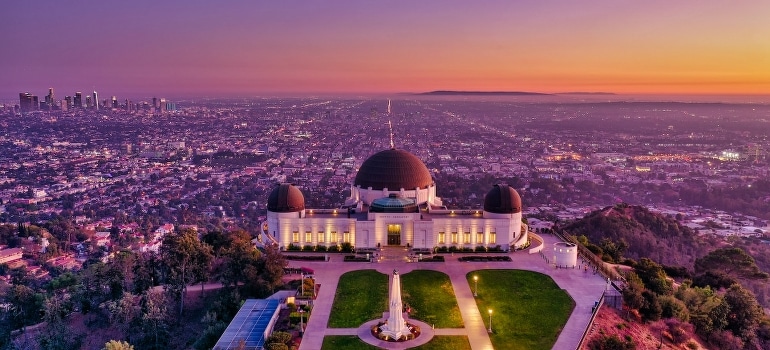 Still, you should think twice if moving here is the right decision for you. Just like any other major city in the US, there are downsides to living here, too. Affordable housing can be difficult to come by and the costs of living could be lower. Ultimately, LA could do with some improvements in terms of crime and overall safety.
All in all, Los Angeles provides a well-rounded experience, be it work or play. So, if you're thinking of relocating from Miami to Los Angeles, do it with confidence. We're here to help you understand and navigate the City of Dreams, ensuring that your transition is smooth and rewarding.
Call us when moving from Miami to Los Angeles
As you have seen, City Movers is the moving company that you should contact when you decide on moving from Miami to Los Angeles. Contact us by the end of the day and let us know what kind of moving help you need and we will come up with the perfect moving solution for you.