You decided to relocate and the search for a reliable moving company is on. There are several crucial steps ahead that must be organized and planned accordingly. Not to mention the highly complex and tiresome packing process. It will ask for your time, energy, and money, and if not done correctly, it can hurt your budget severely. But worry not, here at City Movers you'll find the moving service of your dreams. As one of the best moving companies Coral Gables has, we offer all moving services available within the moving industry. Let us show you what our moving company brings once you hire our moving team. Contact us and find out about the moving companies Coral Gables has to offer.
Hire one of the best moving companies Coral Gables
We are all aware that the moving process requires a helping hand. It is a huge project with many stages and several parties involved. And when we add the emotional heaviness to it, it becomes even harder. Therefore, you won't be able to complete all the stages without professional help. You must be asking yourself, which are the best movers near me, and how to find them? And luckily, you won't have to look any further because you just found one of the best moving companies Coral Gables has. City Movers is standing ready and will accept any task you bring. All your moving requests will be evaluated and completed in no time. We possess all the tools, equipment, licenses, and permits to operate. Equally important is to say that we have the latest technology available, with proper moving vehicles and enough knowledgeable staff to assist.
We must add that we provide flawless moving service for five years straight. But this achievement won't be possible without our respected customers. That customer is you, and with the trust, you placed in us, you made it all possible. We grew and reached the top next to the most successful moving companies in Coral Gables. Let us continue growing together, for many years to come.
The benefits of hiring reliable moving companies in Coral Gables
The most important topic for our customers is the legitimacy of the business and if they can trust their movers. City Movers is the moving company that upholds high moral standards and understands how important trust is. We keep our business transparent, our prices in mid-range, and we strive to give more to our customers. Our unique approach to each customer earned positive feedback from the community. It is extremely important to listen to the needs of our customers, and that is what we do with each relocation.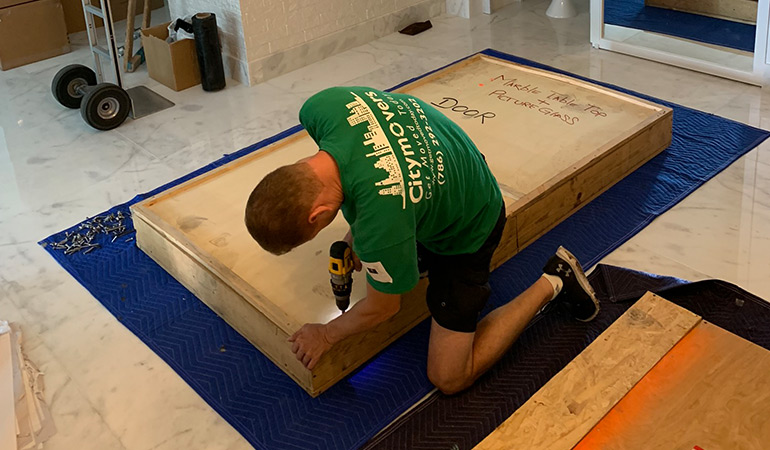 Check out movers in Coral Gables and the services they provide
Out of all the moving companies Coral Gables offers, only a few stand out with the moving service quality. City Movers is among them. Check out some of the services we offer:
Packing services for all occasions
As we already mentioned, packing is the most boring, tiresome, and time-consuming part of the relocation process. Not to mention that if done wrong, it can hurt your budget and you can easily damage your belongings. Therefore, consider hiring professional packers to do it instead. Our team will bring all the materials you need and pack according to your moving plan. We will keep your valuable and fragile items safe. By using protective gear and equipment, we manage to transport any cargo without damages. Options are vast, but we can make the best packing plan together, and rest assured that your cargo is safe. You should make packing easier and much more convenient by utilizing our packing services. Or you can purchase packing materials only and pack yourself. Whatever your heart desire, we will make sure it comes to fruition.
Do not hesitate to ask us for advice. Thanks to many years in the moving business, our well-trained team has a solution for every unexpected situation. Whether you need to pack heavy items or small and sensitive ones, our Coral Gables movers will make your relocation a stress-free process. We know the advantage of quality packing materials as well as the precision we invest in keeping everything in place. With our proven methods, you will forget about worrying that something will be damaged or broken. We are here to follow the whole process – from idea to realization.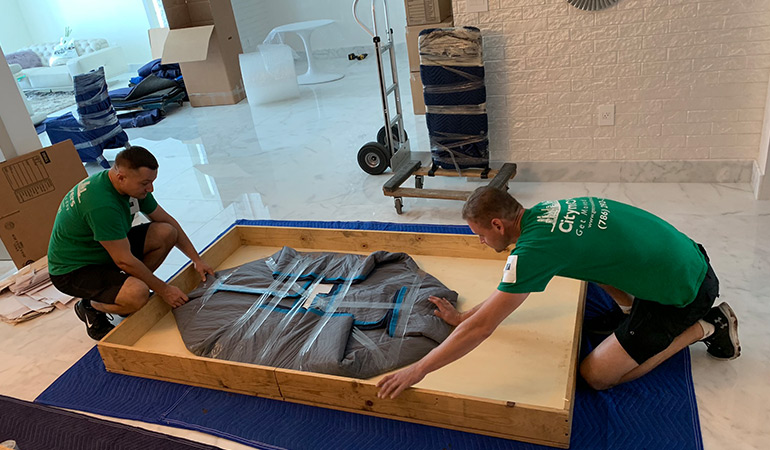 Piano moving made easy by moving companies Coral Gables
We know that moving the piano sounds scary at first. Many things could go wrong. Fortunately, we found a way to make that job easier. With our well-thought-out strategies, you won't have to worry about whether your favorite musical instrument will arrive at your desired location in one piece – we know it will. Our local movers Coral Gables are ready for any challenge, no matter how big. We are here to assure you that we are a company you can trust. Let us delight you with the efficiency and approaches we use to achieve a successful relocation.
Whatever type of piano you have, we will make sure that yours is in safe hands. In addition to being one of the most expensive musical instruments, they carry a lot of emotional value for the people who own them. Our movers know this very well, and accordingly, they will treat your piano with great caution and care. We know the exact way to cover the keyboard, wrap the piano, and put it in the moving truck. For us, this is the only right path to satisfied customers.
Coral Gables welcomes you
As well as in any other part of Miami, there is no shortage of cultural diversity in Coral Gables. This is a place for everybody. Here you can raise a family, pursue career goals, and finish your education. It is a place covered in beaches, sunny days, and a cooling Pacific Ocean breeze. Pay us a visit and walk a miracle mile! Gorgeous old architecture touched by nature and wildlife will leave you speechless. Along with all the shops and restaurants urban Miami has to offer.
Visit the village of Merrick Park and all the amazing shops located there. While Artistic souls among you shouldn't miss out on visiting Lowe Art Museum as well as Church of the Little Flower. The art and architecture, these places hold are astonishing. All in all, this a place one must visit in a lifetime, and while you are here, consider staying a while longer. Give it a chance and you'll fall in love with this place. Coral Gables awaits. Contact your movers Coral Gables and make the dream come true.
Get a free moving estimate from one oft he best moving companies Coral Gables
We understand the importance of a reliable moving company. That is why we try every day to do our best to achieve that. No matter how many things you have and no matter what the distance is, our movers will be there to help you. Be sure that you are in safe hands because our movers do their best to transport all your valuable items in the right way. We are constantly working to improve our services, and we can see that every day in the positive comments of our satisfied customers. We strive to improve everything you bring to our attention and to continue to do even better everything you are satisfied with.
The best moving service in the area is waiting for you at your local movers Coral Gables based. Our free moving estimates will give us a better insight into the complexity of the move and the environment we work in. Let us evaluate the situation and weigh out your cargo. This way we will know the exact moving price and possible hardships ahead. Let us solve all moving problems before they occur. Give us a call and obtain the best moving assistance moving companies Coral Gables can offer.