The sandy beaches and pleasant climate of the Sunny State are rarely the reason why people move. Switching it for the contrasting landscape of the Empire State dominated by lakes, mountains, and forests is a refreshing prospect. Besides, the undeniable allure of New York City inspires people from all around the world to explore the ins and outs of the concrete jungle. But have you thought about what to expect when moving to New York from Florida and how to enact your relocation plan? Perhaps you do have an inkling already. However, the insiders' knowledge of City Movers will give you a clearer picture of what to expect and how to prepare for the move. Regardless of the type and size of your Florida to New York relocation project, count on our solid moving assistance. Call us to secure expert support every step of the way!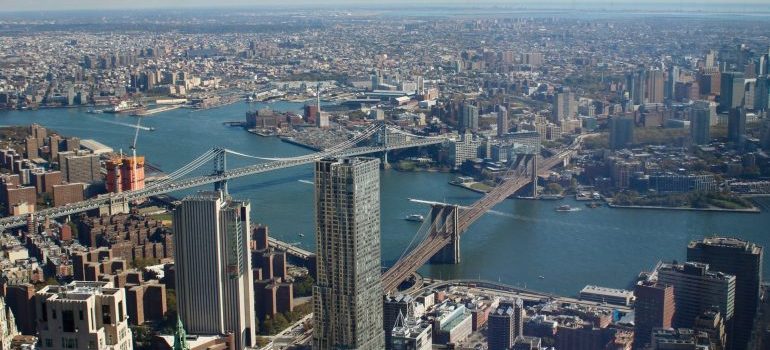 Comprehensive moving services – the ideal solution for moving to New York from Florida
When you are moving from one state to another, you will need to get yourself ready for a long and challenging undertaking. This is not a job only for one pair of hands. An endeavor like this requires the involvement of trustworthy moving professionals. Therefore, it is best to start by requesting your free moving estimate from reputable movers and setting up your moving budget.
At City Movers, we are dedicated to making your move a smooth and easy experience. Your upcoming move should represent a fresh new beginning and an event that will fulfill you with joy and optimism. Hence, let us handle the onerous practical tasks, and give yourself the chance to focus on planning your future. We offer you thoughtfully crafted moving services, that will cover all areas of your move: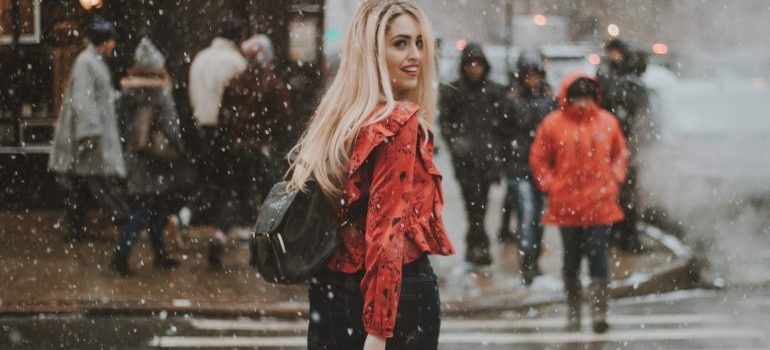 This is an outline of what our licensed and insured team of movers can do for you. Moreover, City Movers is a customer-focused company, and we will do what it takes to meet your individual moving expectations.
We are flexible to adjust our services to fit your particular moving requirements and circumstances. Thus, let us provide you with a customized moving plan, or feel at ease combining any of our services to create the perfect bundle for your seamless moving from Florida to New York endeavor. Whichever suits you best, rest assured that with City Movers you are securing yourself with a safe and memorable moving experience.
Why choose City Movers over the rest?
The moving industry is a competitive field, and yet, finding that one dependable mover is a tricky task, that can easily drive you up the wall. Entrusting your belongings to just about anyone that promises to keep them safe is not an option. You need a tried and tested professional to depend on, especially when a long-haul move is in question.
City Movers is an expert moving company, with over 5 years on the market. We have offices in Florida and California, and we are a legitimate, licensed, and insured mover. As such, we take full accountability for the safety and security of your possessions. 
Our moving crew is comprised of carefully selected adepts of moving, with extensive experience in the respective field. We put each of our team members through a sieve of strict selection criteria before they get to join us at City Movers. All this is to ensure that our movers are vetted to provide you with moving services of the highest standards for quality and safety. Moreover, we personally train them and they undergo regular checkups. Our team has the prowess needed for a seamless moving experience.
City Movers invests in the maintenance of our clean and safe fleet of moving vehicles, which are equipped with state-of-the-art moving tools. We will never compromise the safety of your belongings or your well-being on behalf of anything else whatsoever. We are thoroughly devoted to your utter customer satisfaction, and we will account for it through our forged moving services of quality, reliability, and efficiency. Moving to New York from Florida with us is a choice that you will be happy you made.
Perfect balance between outstanding services and affordable rates
City Movers present the beacon of balance in the world of relocation services. With years of dedicated service, we have meticulously crafted a system that caters to your moving needs, specifically if you're relocating to New York from Florida. We pride ourselves on the perfect blend of first-rate customer service, top-tier packing materials, and safe, efficient transportation. We ensure that the rigors of the move are handled with unmatched professionalism. Each load we handle we treat with utmost care, emphasizing that your valuables are as important to us as they are to you.
We've tirelessly refined our procedures to provide an affordable service without compromising quality, giving you the peace of mind you deserve. By choosing us, you'll experience the seamless transition you're seeking. Join the roster of our satisfied customers who trust us implicitly with their relocation needs. Let us make your move a memorable journey, rather than a stressful event. Ask for a free estimate now! We look forward to becoming your trusted partner in relocation because we are more than just movers – we are your guides to a new beginning.
What to expect when moving to New York from Florida? Comparison of these two states
First thing first, you will need to familiarize yourself in-depth with the realms of New York and how are they different from what you are used to in Florida. These are more than just knowing that you will be transiting from a tropical climate into an environment where all four seasons are showcased with prominent expression. Before you book your dependable interstate moving services, here are a few good points on what to expect when moving from Florida to New York. Undeniably, the transition from the Sunshine State to the Empire State is a significant change that involves many key differences. If you're considering relocation to New York from Florida, this comparison will aid you in understanding the main contrasts.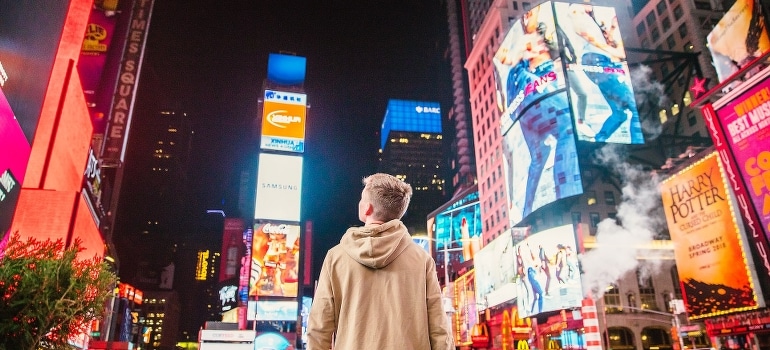 New York, the Empire State, is a thrilling blend of vibrant cultures, distinct cuisines, and unparalleled opportunities. With an estimated population of over 19 million, it is a bustling hub of diversity, boasting median income, median home price, and cost of living indices higher than Florida's. The median age is slightly higher than Florida's, reflecting the state's draw for both young professionals and families. Located in the northeastern region of the country, New York's main industries span finance, healthcare, professional services, and technology, providing a wide array of job opportunities.
In contrast, Florida, known as the Sunshine State, has a more laid-back lifestyle. Its population hovering around 22 million. The median income, home price, and cost of living are all significantly less than New York's, providing affordable living options. Florida's economy is driven by tourism, agriculture, international trade, and aerospace, offering different job opportunities.
Challenges of the upcoming relocation
Relocation to New York from Florida presents unique challenges. The distance between the two states is about 1,300 miles by car, which can be a logistical hurdle. Additionally, the increased cost of living in New York may require budget adjustments. For instance, the cost of living in New York is about 41.2% higher than in Orlando, Florida. This means a higher rent cost and overall costs of living, potentially impacting your lifestyle.
Relocation also requires adapting to a new climate. Florida's climate is characterized by hot, wet summers and mild winters, while New York experiences distinct seasons, including cold, snowy winters. This shift might necessitate changes to your wardrobe and outdoor activities. Moreover, the cultural differences between the two states are striking. Florida's lifestyle is often characterized by a slower pace, while New York is known for its fast-paced, never-sleep lifestyle. Adjusting to the dynamic culture, diverse cuisine, and transportation methods in New York can be an exhilarating adventure.
Despite these challenges, the move can be a thrilling opportunity. New York's buzzing energy, endless amenities, and unparalleled job prospects offer a fresh start for many. Its rich history, iconic landmarks, and bustling art and culture scene are inviting to those seeking diverse experiences. With proper planning and an open mind, the relocation to New York from Florida can be a transformative journey towards a vibrant new chapter of life.
The Empire State and the Big Apple
The State of New York is one of the original 13 states that originally formed the US in its early days. So, you will find a lot of history and points of interest throughout it. The capital city of New York State is Albany. The state's size is not impressive though – it is the 27th largest state in the country. But bigger is not always better unless we are talking about New York City, in which case, it is.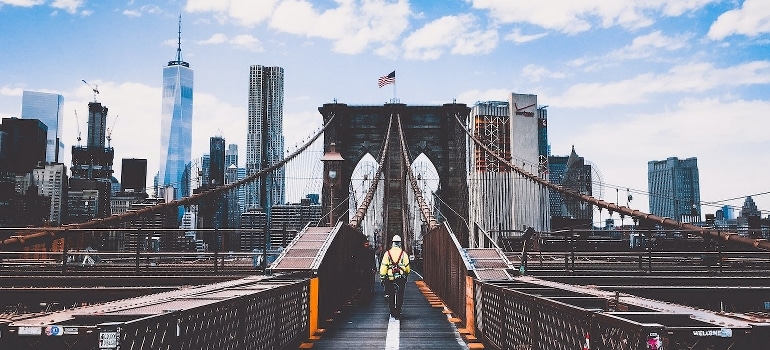 Two-thirds of the population of the state lives in the Big Apple, making it the most populous city in the US, and one of the most densely populated metro areas in the world. NYC is described as the cultural, financial, and media capital of the world. It is a city of superlatives. Job opportunities are plentiful and the prospects for career growth are promising. Moving to New York from Florida means a higher cost of living and paying state taxes. But the package comes with earning more and having more opportunities, in just about any sphere of life.
Other prominent New York State cities in terms of population are Buffalo, Rochester, and Yonkers. The state is rich in points of interest and attractions to cater to anyone's taste. While the vast majority of the man-made icons are in NYC, there are plenty of sights that will certainly appeal to outdoor lovers. One such is the Niagara Falls in Western New York. Overall, not too many other places will give you the opportunities that New York readily offers. Hence, do not be afraid of the changes in your life that moving to New York from Florida will bring. It will certainly be worthwhile.
How long is the journey of moving from Florida to New York?
If you travel by car, it will take you about 20 hours to reach New York from Florida. This of course will depend on the exact locations between your starting point and destination. The good news is that both, Florida and New York are on the East Coast, which may fare you a less expensive flight ticket.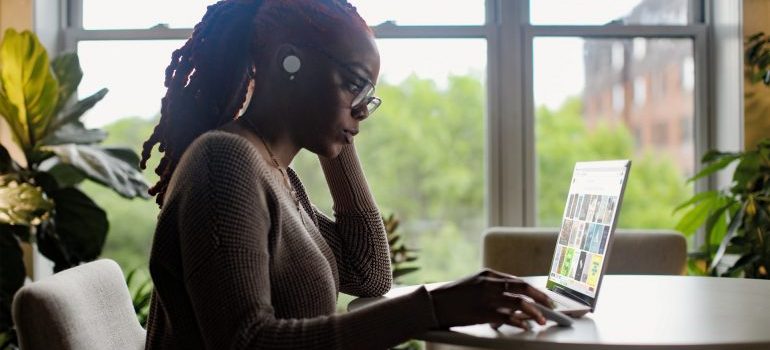 With this in mind, make a point to book your reliable moving services ahead of time. The support of an experienced and qualified interstate mover will be a crucial factor that will determine the outcome of your moving project. Transferring your possessions over long distances always comes with a number of complexities and intricacies. The best way to ensure they reach your new home or workspace safely and with no damage is to entrust them to a seasoned expert mover. Find out more about how to practically organize the moving to New York from Florida project in continuation.
When is the best time to move from Florida to New York?
Are you considering the monumental decision to move to New York from Florida? An interstate move of this magnitude is a thrilling prospect, packed with both excitement and challenges. A significant point of consideration, particularly for this route, is timing your move with the weather. Florida is known for its hot, humid climate, where residents enjoy sunny days virtually year-round. Conversely, New York experiences all four seasons, each with its distinctive charm and challenges. If you are looking to escape the hot Florida summers, then the temperate New York climate might be a welcome change.
However, a key consideration when planning your move should be the weather conditions that could affect the journey. The hurricane season in Florida, typically from June to November, often brings intense rain and high winds. Such conditions could make moving more difficult, potentially damaging belongings and causing travel delays. Therefore, planning your move outside this period is a wise decision. On the other hand, New York winters can be harsh, often featuring heavy snowfall and blizzards. The winter months of December through February are particularly snowy, making the roads slippery and potentially dangerous for moving trucks. Not to mention, icy conditions could lead to delays and make unpacking a challenging task.
Pick a perfect moving date and appoint your move with our City Mover
In light of these considerations, the ideal time to move from Florida to New York would be either late spring (April-May) or early fall (September-October). These periods typically offer milder, more predictable weather in both states, making your interstate move smoother and safer. Plus, the pleasant weather will make settling into your new New York home a much more comfortable experience.
Remember, an interstate move is not just about transporting your belongings; it's about starting a new chapter in your life. So, consider the climate and choose the best time to move. Transitioning from the Sunshine State to the Empire State is a significant change, but with careful planning, it can be a delightful adventure. Be sure to consider every factor, including the weather, to ensure your move is as smooth and stress-free as possible.
Call City Movers for safe and easy moving to New York from Florida!
Experience matters in the moving world, and at City Movers we have plenty of it. Rely on our expertise to benefit your moving project, and enjoy a smooth and easy relocation to New York. No matter the distance, we have the resources, equipment, and a support network that we will put at your service and make things easy for you. We will show you that interstate relocation can be organized and complication-free. Don't hesitate and contact us today! Talk to our friendly representatives and see what exactly we can do for you. Then, unwind, and rejoice at the fact that you are moving to New York from Florida. You deserve worry-free relocation to your dream destination!