Are you moving to Davie, Florida and rying to find the best movers in Davie FL for an easy and stress-free relocation? This process can be really tough – but it doesn't have to be! With City Movers, your Davie relocation becomes easy and even fun! Our team will be there for you every step of the way. We are the ideal moving partner that you need in order to have a successful relocation. Thanks to our determination and expertise we have made many customers happy. You too can become one of them! All you need to do is pick up your phone and give us a call! We are waiting for you to make all your moving dreams are reality!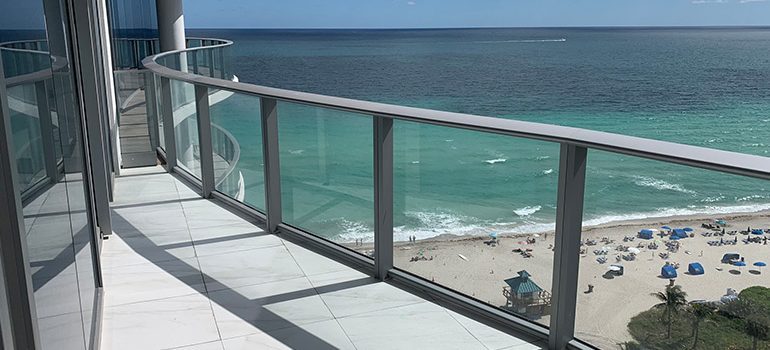 We are the movers in Davie FL who offer a huge variety of moving services
When you are looking for Davie FL movers, you want a company that can be able to solve all your moving problems. There is a lot that goes onto every move, no matter how far away you are from your destination. First, you will need to think about the logistics and planning. Picking a moving date will take some thought, as well as how to get to and around Davie.
Then, there is packing to consider. This is often the longest and toughest moving task, but a lot depends on it. How you pack your items will influence just how safe they are. Thus, getting experts who can help you is an essential part. And if they also guarantee a huge variety of moving services – even better!
With one of the best movers Davie FL has, you will not have to worry about a thing! We have a huge number of moving services in Miami that we have created for you so we could be able to solve all your moving problems. Best of all, you can use some or all of our moving services! Whatever area you have a problem with, we will be there to help!
Local Davie FL movers that will make your relocation easy
Mane people put local moving services into doubt. They believe that, just because they already live in the city, they might be able to do the whole process alone. Unfortunately, this is often untrue. Every move is difficult, and this includes local moves. Not only do you need to worry about the logistics of the move – which already includes not only the traffic jams, routes, and the weather – but also packing and moving your stuff!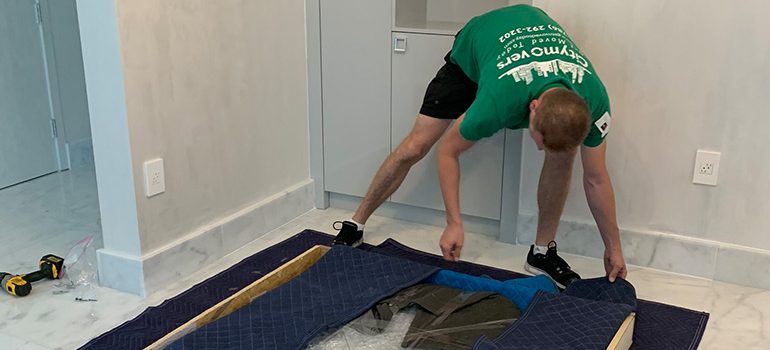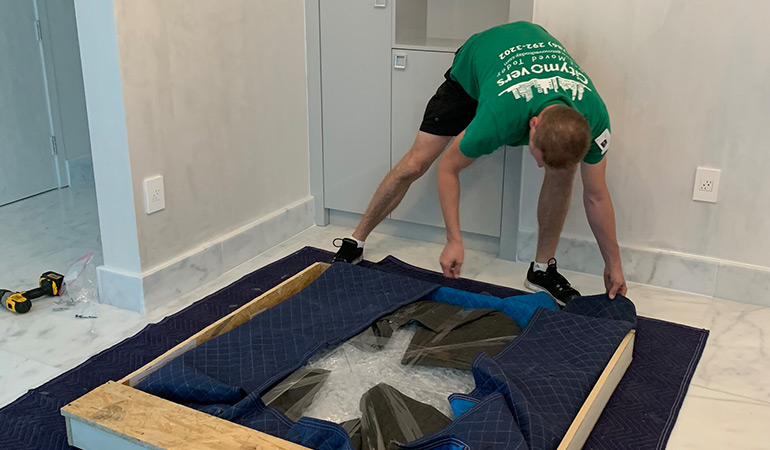 What can you expect after choosing to move with one of the most reputable moving companies Davie has?
Our movers from Davie FL have the same goal as we do, and that is to provide each and every client with the best moving service. We value every client, and we believe that everyone deserves to have a positive moving experience. This is why we are one of the best moving companies Davie has to offer. Our team goes above and beyond to make moving simple and easy for everyone. Considering the fact that we are a dedicated and trustworthy moving company it doesn't surprise us that we have so many positive reviews from our clients.
When you hire one of the most professional movers Davie FL has you can expect:
Prompt relocation- Being on time is something that is of great importance. This is the first sign of a serious moving company.
Top-notch customer service – You can expect our team to keep you posted throughout the relocation and to address all your concerns.
Moving tips – Since we know that moving can be complicated we are here to give you some moving tips that will make the whole process simpler.
Discounts for returning customers – To show how grateful we are to our clients for choosing us over and over we offer 5$ per hour discounts.
A free moving estimate – Our movers in Davie FL will provide you with an accurate and non-binding moving estimate completely free of charge!
Long distance Davie FL movers are here for you
Long-distance moves can be seen as a bit more difficult, but this is a good thing. This might prompt you to get long distance movers early in the process – which is a good thing. With our long-distance moving services, your move will be easy no matter what distance you need to cover.
We will help you with all the moving tasks while ensuring your items are safe and sound. You don't need to worry about a thing – all it takes is dialing our number and giving us a call! We will work tirelessly until you are ready to begin your new life in Davie Florida!
Call us when moving from state to state
We are also the movers in Davie FL you want to contact for their cross country moving services! Moving from state to state is quite challenging, and – without a lot of experience – you will not be able to do it alone. This is because just the trip to Florida can sometimes take a couple of days.
You also often do not have the chance to quickly jump back to your home and pick up some things that you forgot! Instead, you will need to plan everything in detail so you do not miss out on anything! And we will gladly help you with all of this! First, we analyze your move in detail in order to plan everything out with you. This way, you will know exactly what's happening at all times – and this helps with the stress. When you know what's happening, you do not need to worry – and your stress levels are low!
We are one of the finest moving companies Davie FL has to offer that you need for your office relocation
What's more, the variety of our services also includes helping you move your office! This differs quite a lot from moving a house – and the differences are obvious. First, the amount of furniture you are moving will not be the same – as well as what this furniture is. Then, you will need to plan a lot around the move, too.
You should try to keep your office doors open in order to never stop making money. With our commercial moving services, this will be easy! We take care of all the planning as well as relocation – yours is just to overlook and manage your team! With our help, your Davie office will be running in no time!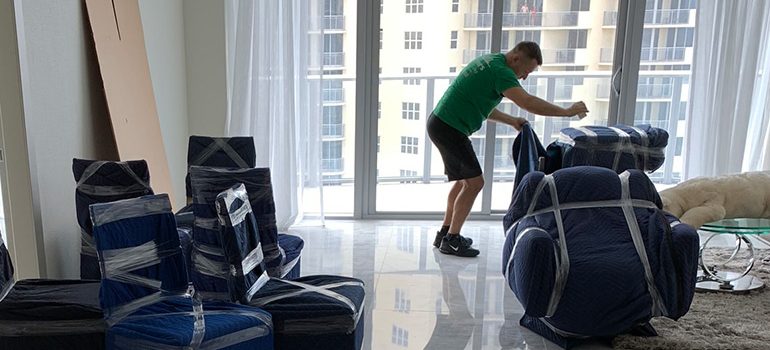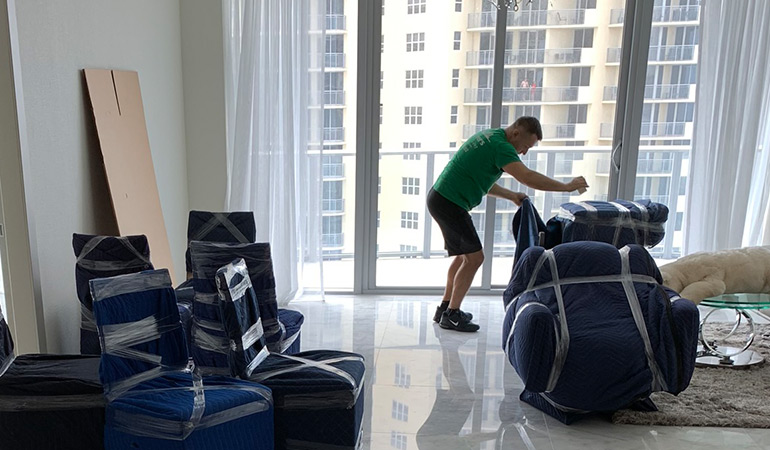 Let us help you pack for your Davie move
As we already mentioned, all good Davie FL movers also need to offer additional moving services! This is why you can contact us for our amazing packing services too! We already talked about how tiring this process can be – and so, by helping you with this, we will take a huge weight off your shoulders! What's more, you will be able to plan everything else knowing that we will properly pack and prepare your items for the move!
We are flexible when it comes to packing. You can choose to pack certain items on your own and hire us to do the rest or let us take care of everything. It's up to you whether you want to choose a partial or full packing service. Whatever you decide, our advice to you is to leave the packing of fragile items to our skilled and talented packers from Davie FL. They know how to handle even the most delicate stuff. Plus, our movers from Davie FL use the best techniques and top-notch packing materials. Therefore, you can rest assured that your items will arrive in perfect condition to your new premises.
Keep your items in a safe place after your local move with our Davie FL movers
If you are downsizing and you don't know what to do with all the things that cannot fit into your new place, we have a solution for you! On top of the moving services, we can also provide you with storage services! Our storage units are perfect for storing items both long-term and short-term. The good news is that you will get a clean and safe storage unit in the city of Davie for an affordable price. Moreover, you will be able to access your items whenever you need them.
There is no need for you to bring your items to our storage facility, our movers from Davie FL can do it for you. If you need help with choosing the right size of the unit, our staff will gladly help you with that. Feel free to reach out to us if you have any questions about our storage services, we are here to answer them all and provide you with the best customer service.
Contact the best movers in Davie FL today!
As you can see, moving to Davie Florida doesn't need to be tough. With City Movers, you will be prepared to tackle any task and chore that comes your way. We will provide you with some of the finest movers Davie FL has to offer. All it takes is one simple phone call! So pick up your phone and contact us today. The best movers in Davie FL are here for you, waiting for your call!