We at City Movers would like to compare the living costs of two cities Miami and Chicago. Just to be clear this is our opinion and what we've come across as we've researched the given topic. So in this post, we'll compare the living costs in Miami vs. Chicago. Now the prices will continue to rise due to post-pandemic inflation and because of the whole global market; one more indicator is the ongoing conflict in Ukraine with Russia, the oil crisis, and trade problems with China. It seems that the whole world is going through some hard times right now. So all of these factors have contributed to the rise in prices. So let's what each city has to offer, let's dive in!
Miami vs. Chicago comparing rents and apartments
First of all, we have to say that on most charts and websites Miami appears to be 40% more expansive than the national average. On average Chicago was ranked overall as just 6% more expensive than the national average. We're talking about the national average based on the US average of 100. So let's see about rents and apartments.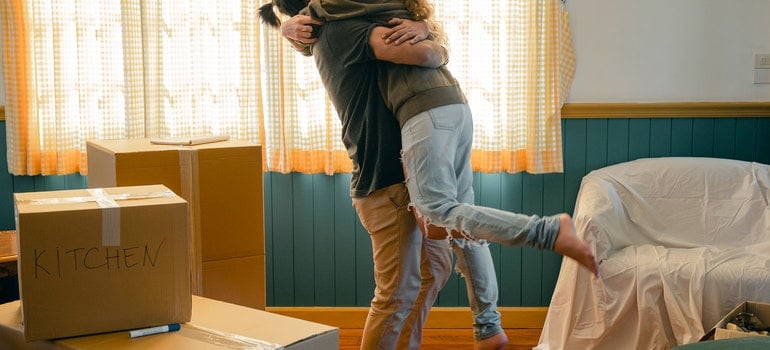 Renting in Miami
Now if you're moving to Chicago from Florida to Miami you'll see the differences. First of all the average size of an apartment is 887 sq. ft. and the monthly rent for that is $2,132. This is based on one-bedroom apartments and studios since two-bedroom or bigger apartments are more expensive. Brickell Key a man-made island is the most expensive part of Miami where the average rent is $3,111 per month. On the other hand, the cheapest rent you'll find is in Palmer Lake – Mia Station where the average monthly rent is $919. Now we'll provide you with some of the most affordable neighborhoods:
Calistoga Estates – West Miller Heights
Crestview Lakes
Deer Creek – San Pedro Estates
Kendall Lakes Center
Those places that we've mentioned have prices below average and with a monthly rent of $1,440. Now if you want to know which neighborhood is the most popular that is Allapattah with an average rent of $1,862/month; after that Overtown at $2,045/month, Downtown Miami at $2,721/month, and  Upper East Side at $2,629/month.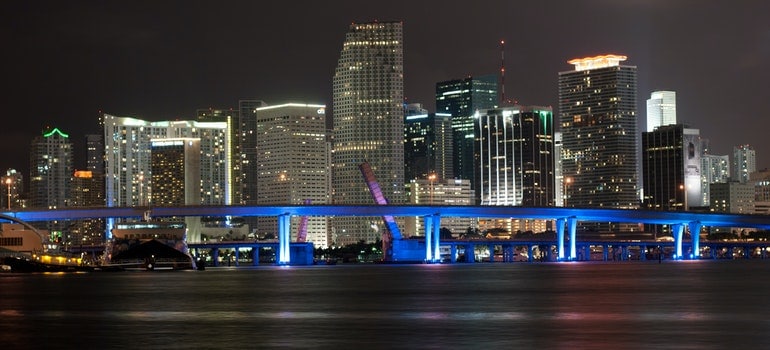 Renting in Chicago
Now when we take about Chicago the prices are quite different. The average apartment size is 750 sq. ft. which is smaller than in Miami, so the average rent is $2,080. Yeah, it's smaller but for a smaller apartment size. Now the highest average rent is in the Streeterville neighborhood and it's $2,775 per month. Compare to the cheapest The Island which is only $654 per month.  Now here are some of the most affordable neighborhoods in Chicago:
Avalon Park
Burnside,
Calumet Heights
Chatham
East Chatham
We as long distance movers Florida can tell you that in these neighborhoods, the rents are cheaper than compared in Miami. It's only $782 per month while in Miami it was $1,1440. So if we speak in terms of popularity then Lakeview, at $1,735 /month is the absolute winner. Now we have many vice-champions like Lakeview at $1,735 /month, Rogers Park at $1,301/month, Ravenswood at $1,338/month, Hyde Park at $1,588/month, and Bucktown, at $2,104/month.
Miami vs. Chicago apartment prices
Now when we talk about prices in Miami according to the real-estate company Zillow we can see that they've increased a lot.  Real state prices have increased by 26.3% over the past year. So the average price of the house is $517,987. If we compare May 2022 to June 2012 when the price of the average house was $212, 000. We can see that prices are increasing almost 3 times which is amazing and terrible at the same time. Now if we buy any property at this given price and let's say the prices skyrocket or increase more you profit that's a good thing. But for those that are don't have a lot of money or need a loan, this could be a tough position.
Now when it comes to Chicago the average home price is $318,690, which is significantly lower than in Miami. Only residences in the medium price range are included in this figure, which is seasonally adjusted. Over the previous year, house values in Chicago increased by 9.2 percent.  Now if we compare that to June 2012 when the average price was $186, 000. We can see that prices have more than doubled. Same as the Miami it's good if you want to invest now and sell the property, but it's maybe not the best time to take a loan. If you need any help with moving or if you need the best storage Miami you can count on us.
Utility comparison Miami vs. Chicago
Now if we compare Miami and Chicago we can see that in Chicago water bills are usually paid on a monthly bases. While in Miami they are paid quarterly which means that every three months you'll receive a bill and you'll have to pay for it and you'll have 3 weeks to do so after receiving it. Now if you're past those 3 weeks you'll have a 10% late fee added to your account. Currently, the state of Florida has the cheapest water prices of any at only $6  while in Illinois it's $25. Nowadays the national average is $35 since it's calculated that the average person uses 85 gallons per day. That is when we calculate washing machine, dishwasher, tap water, toilet, personal hygiene, showering, outside use, etc. By the way, it's Florida has the cheapest water in all the states, so Miami wins!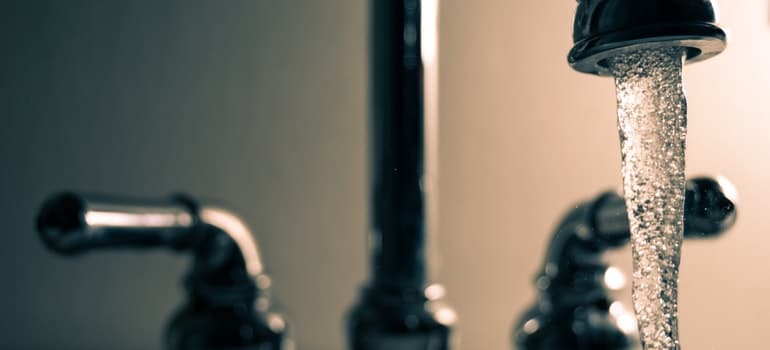 Natural gas costs compared
If we talk about natural gas then the prices are different, quite different. All the prices refer to a quantity per 1,000 cubic feet.  For example, industrial prices are similar average industrial price for gas in Florida is $8.46 compared to Illinois $7.70.  Now commercial prices are also higher in Florida at $11.25 compared to $8.29 in Illinois. While the average residential price is $16.77 compared to $8.67 in Illinois. The winner in all three categories is the state of Illinois.
Electricity rates Miami vs. Chicago
The household electricity prices shown below are expressed in terms of cents per kilowatt-hour (kWh), which is a unit of measurement for how much energy is utilized when 1000 watts are used for an hour. Residents of the United States typically use 897 kWh per month, which is multiplied by the rate to calculate the total cost of energy. So in the state of Illinois average person pays $126.03 per month which is a 12,7%  incense in price since 2021. Now in Florida the average monthly electric cost is $122.89 which is a 13 % increase since 2021. If you need any help with interstate moving companies Miami we can help you and you'll also have a smaller electrical bill. Florida wins here by a subtle difference of only 4$ but it's a win anyway.
Internet, cable, and garbage
If anyone younger is reading we know that you're gonna be like "who watches cable anymore" but we have to put it here. Now the prices of cable and the Internet are the same so this is a tie. Since the prices of the average internet package are $30 per month and $40 for the cable.  We won't include streaming services since all the prices are the same across the U.S. When it comes to the garbage you'll pay $9.50 per dwelling unit/month. Now in Miami it's around $484 and it's paid annually, so again Chicago wins! Here you can see how moving supplies be reused after relocation so you don't have to pay any extra fees.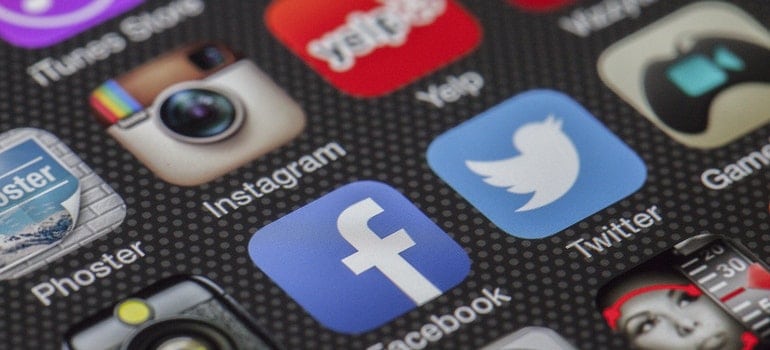 We forgot to mention that sewers are usually included in your water bill.  But if you're looking for a time when to move to Florida, we recommend now, when you can still catch some of that beautiful summer Miami vibe. Just to warn you this is our friendly advice but every part of the year has its advantages and disadvantages, so think for yourself.

Transport Miami vs. Chicago
Welcome to the fuel skyrocketing era! You've seen the news lately? Yeah, the prices are still rising and we hope that they'll stop soon.  Inflation is just around the corner and we hope that we'll escape the "monkeypox" pandemic or any other pandemic soon. Since the prices might get even higher if something like COVID-19 happens again, so wash your hands. Now the prices of public transportation are slightly lower in Chicago than in Miami; $105/month compared to $112/month, but Chicago has much better public transportation.
Now when it comes to cars and gas, today's price of one gallon of gas is $4.743 in Miami. When we compare it to Chicago where the price is a bit higher $5.479, also every other fuel is more expensive in Chicago (diesel, premium, and mid-grade). Now we also have to mention that currently, the national average for gas is $4.940 so when it comes to fuel Miami wins! When it comes to moving prices, they'll probably go up since the prices of gas are rising but it's more important to find movers you can rely on. Taxies are cheaper in Miami than in Chicago on average by 35%.
Food prices
When it comes to food prices we'll divide them into two categories stores and restaurants.  Now when it comes to the prices of restaurants in Miami they are on average 6.55% higher than in Chicago. Here we've calculated the prices of alcoholic beverages, juices, coffees, McDonald's, three-course meals, etc. Inexpensive meals or cheap low-end restaurants were cheaper in Miami when compared to Chicago.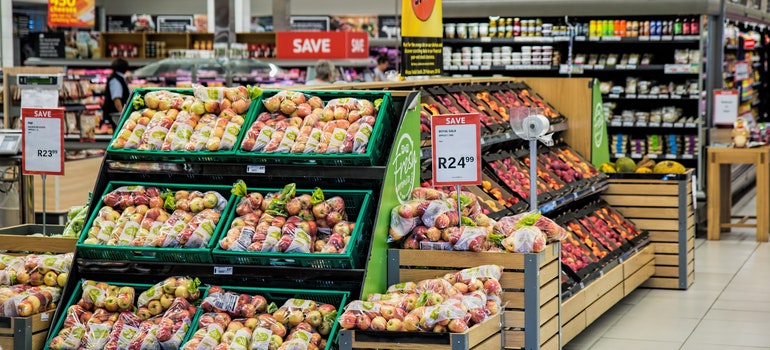 Now when it comes to the grocery store prices Chicago wins but with a small difference of only 3%. If we compare the two cities alcoholic beverages and cigarettes are cheaper in Miami. For example Cigarettes, 20 Pack (Marlboro) costs 8$ in Miami compared to Chicago where it costs $15. On the other hand prices of fruits, vegetables, grains, milk, and meat are cheaper in Chicago.
Sports, childcare, and clothing Miami vs. Chicago
When it comes to gym and fitness clubs Miami wins this round and it's because of the weather. In Miami, you can find a lot of free open gyms and different playgrounds where you can work out since the weather is way better and warmer than in Chicago. Now when it comes to tennis renting a tennis court for an hour during a weekend the average price is lower in Chicago. So if you want to rest from working out call piano movers Miami so they do some quality lifting for you.
Now when it comes to clothing Chicago is cheaper by 12 to 15%. Something that came to our mind is that usually, leather products are more expensive in Miami. So the biggest difference was in the price of kindergartens because in Chicago it's 1,652.93 $/month while in Miami it's 922.22 $/month; that is almost 80 % more expensive. While the prices of international elementary schools are almost even but Chicago wins this one with less than a 1.5% difference.
The Conclusion
Now when it comes to Miami vs. Chicago we've compared all living costs and as you can see on average Chicago is less expensive yes, but also no. It doesn't matter actually since it's up to you. If you prefer colder weather then move to Chicago if you prefer something more exotic and hot move to Miami. We hope that you'll have a great time in both Miami and Chicago. So we hope that we helped you choose the best option for you. Have a great move and goodbye!