Florida, with its sun-kissed beaches, has recently surged as a nexus for businesses, and it's not solely due to its picturesque landscapes. The state has become increasingly attractive to various industries, offering a blend of affordability, safety, and an array of amenities. As businesses from different sectors begin to recognize the potential in Florida, it is rapidly establishing itself as a hub. This rise is backed by the impressive 14.6% population growth in the last decade, coupled with the state's pro-business environment. If you're contemplating moving your business to the Sunshine State, this guide is all you are looking for. We'll delve into the top 4 business-friendly cities in Florida, ensuring you make an informed decision. To further simplify your move, we also help you discover the best moving companies in Florida, guaranteeing a seamless transition.
Why consider Florida for your business relocation?
Florida has rapidly emerged as a prime destination for businesses and professionals alike. First and foremost, the booming economy is impossible to ignore. Since April 2020, the state has witnessed 18 consecutive months of private-sector job growth, culminating in the addition of 44,300 jobs just in October 2021 alone. This impressive growth is partly due to astute policy decisions that prioritize both Floridians and businesses.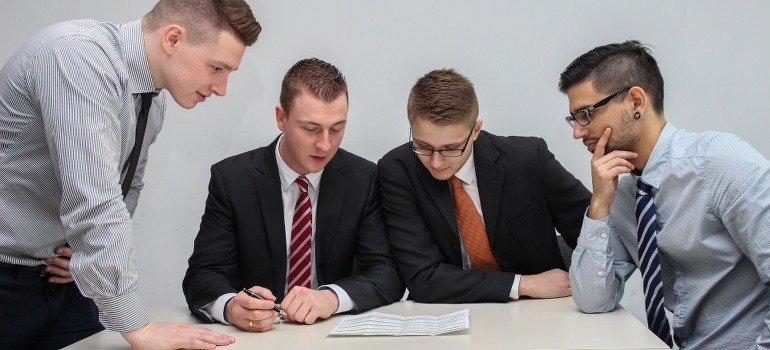 Then, there are the financial benefits. Florida offers generous tax incentives, ensuring businesses can operate optimally. In fact, in 2022, the state implemented over $1 billion in tax cuts and savings. Furthermore, the state's sectors are diversifying. Not only is Florida becoming a hub for banking and financial services, but cities like Miami are also emerging as significant tech hubs in North America. This diversification ensures a robust and resilient economic environment.
Quality of life is another crucial factor. Florida boasts a vibrant cultural scene, ensuring employees have a plethora of recreational options. The state's educational opportunities are commendable too. It's leading the U.S. in several rankings for education, freedom, and low tuition rates. All in all, Florida's favorable economic policies, diverse industries, and high quality of life make it a top choice for business relocation. With the right commercial movers Florida provides, a move here could be your company's best decision.
The list of the top business-friendly cities in Florida
If you are not sure which city to choose, stay tuned. Here are the business-friendly cities we highly recommend:
Tampa
Fort Lauderdale
Orlando
Miami
Tampa is among the business-friendly cities in Florida – where business meets lifestyle
In recent times, Tampa has positioned itself as a major player on the U.S. commercial map. Increasingly receiving accolades as a burgeoning tech hub, the city showcases an enriching blend of growth in the commercial domain and lifestyle perks that are simply hard to resist. Such evolution is evidenced by Tampa's rise in the rankings among industry leaders, supported by the existence of innovative shared workspaces, incubators, and networking events. This creates an ecosystem wherein tech enthusiasts, startups, and established businesses all find their niche, leveraging Tampa's favorable environment to chart their success.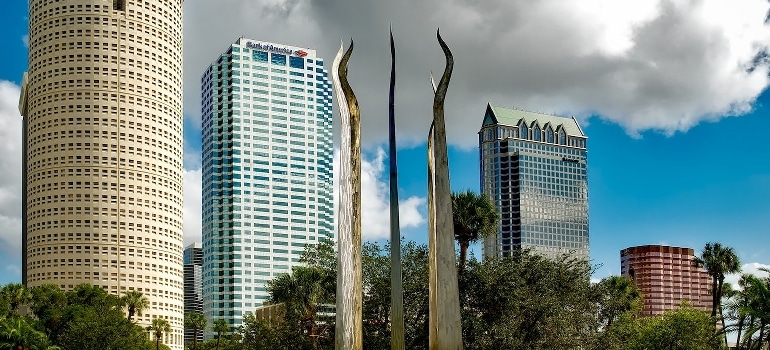 Adding to its allure, Tampa boasts a cost-effective living experience. But it doesn't stop there. The city offers a rich list of amenities. Foremost among these are the city's education institutions, particularly tech-focused ones like CodeBoxx, that bolster the supply of tech talent to meet the demand from growing local businesses and those considering relocation to Tampa. But Tampa's appeal isn't limited to its bustling downtown and tech opportunities. Leisure options abound too, with pristine beaches, tranquil parks, and a vibrant array of cultural events, ensuring there's something for everyone.
Main industries finding success in Tampa
Tampa's ascent on the national scene, especially in the tech sector, is commendable. Over the past decade, Tampa has garnered significant attention for its growing tech ecosystem. An increase in shared workspaces, incubators, and networking events allows tech enthusiasts and budding entrepreneurs to forge valuable connections. With an array of opportunities at both startups and well-established companies, the tech boom is evident. Companies, such as CodeBoxx, relocating to Tampa, further emphasize its stature as an upcoming tech hub.
However, it's not just tech making waves. The medical and healthcare sectors in Tampa have seen unprecedented advancements. The city has emerged as a formidable force in Florida's fast-growing life sciences sector, attracting globally renowned corporations like Bristol-Myers Squibb and Johnson & Johnson. These giants, along with other healthcare companies, leverage Tampa's skilled workforce, academic institutions, and pro-business environment to succeed.
Retail and e-commerce have also seen remarkable growth. This is in part due to the city's welcoming nature for entrepreneurs, as emphasized by many local movers in Tampa. Furthermore, industries like finance and insurance are thriving. Tampa Bay's financial and professional services businesses have been growing consistently, with giants like Raymond James and Johnson & Johnson making significant investments in the region.
Lastly, tourism, manufacturing, and other sectors add to Tampa's diverse economic portfolio. From manufacturing powerhouses like Jabil to the surge in tourism thanks to attractions and the city's rich heritage, Tampa's industrial growth seems unstoppable. With such multifaceted growth, it's clear why movers in Tampa and business entities are optimistic about the city's future.
Opportunities waiting in Tampa
Opportunities waiting in Tampa are vast and varied, particularly for entrepreneurs. Firstly, Tampa Bay's accelerators and incubators stand out. The city's ecosystem is abundant with resources for startups. Whether you're a startup viewing your enterprise as your "baby" or a tech venture, resources like the Caregiver Accelerator and the Florida-Israel Business Accelerator are just two illustrious entities ready to assist. The University of Tampa even has its dedicated Spartan Accelerator and Incubator Program, fostering student and alumni business ideas. In terms of office spaces, Tampa's Tech Business Accelerator offers an ideal environment. From solo entrepreneurs to tech startups, everyone finds a niche here. The space isn't just about coworking; it's about sharing ideas and leveraging the power of collective knowledge.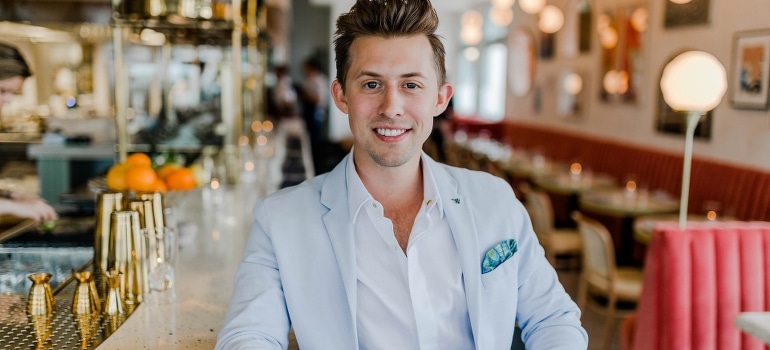 Lastly, networking events and trade fairs are frequent in Tampa. The Tampa Bay Innovation Center recently announced its Accelerator program, highlighting the city's commitment to nurturing tech ventures. Through such programs, startups gain invaluable insights from industry professionals, including strategies to generate demand and master market intricacies. For anyone with an entrepreneurial spirit, Tampa is undoubtedly a goldmine of opportunities.
So many reasons to move your business to Tampa, one of the top business-friendly cities in Florida
Embarc Collective, a renowned Florida startup hub, stands as a testament to Tampa's growth, aiding entrepreneurs in their business endeavors and adding considerable value to the local tech ecosystem. Such initiatives are steering Tampa towards an era of unprecedented growth and recognition on the national front. This city seamlessly merges business opportunities with a lifestyle that's second to none. Whether you're an entrepreneur, tech enthusiast, or someone simply seeking a dynamic place to call home, Tampa beckons with open arms. So, as the city grows and thrives, the question is, are you ready to be a part of its exciting journey?
Fort Lauderdale – your next business destination
In recent years, Fort Lauderdale has shifted from a vacation-centric locale to a magnet for prominent businesses and investment. Now, why consider Fort Lauderdale? First off, its strategic position is prime for business growth. Already tagged by Forbes as "poised for unprecedented growth," the city has a promising outlook with plans for urban core developments including office spaces and commercial units.
However, Fort Lauderdale isn't all about business. Alongside this growth, the city pairs a balanced cost of living with an array of leisure activities. Love the beach? The picturesque waterfronts offer an abundance of watersports and relaxation options. The thriving arts scene provides a cultural boost, and the downtown nightlife is vibrant and energetic. In fact, the last decade saw the downtown population rise by 41%, ensuring the city stays lively and dynamic.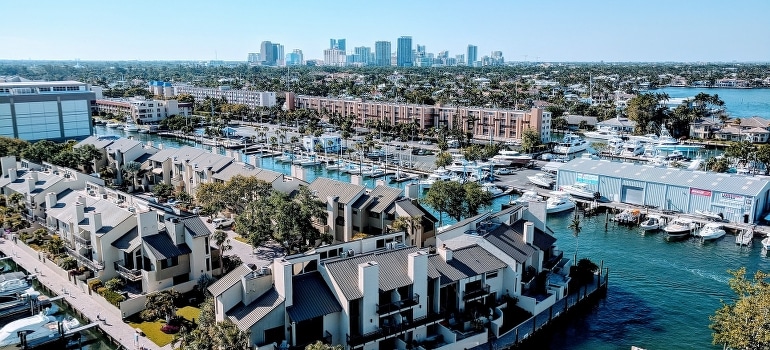 Moving your business? For seamless transitions, considering movers in Fort Lauderdale is a wise choice. And while the city's growth surges, entrepreneurs and major developers alike are showing increased interest. Projects from giants like The Boring Company, Hines, and OKO Group, among others, underline the trust in Fort Lauderdale's future. Additionally, the city holds its own when compared to regional peers like Miami and West Palm Beach. Notably, it offered the newest office space last year and boasts the most retail space currently under development. Overall, Fort Lauderdale isn't just a place to do business—it's a lifestyle. Offering a blend of business prospects and leisure, it truly stands out as your next business destination.
Highlighting the prime industries of Fort Lauderdale
Fort Lauderdale often hailed as the "boating capital of the world", is one of the best cities in the Sunshine State for business relocation. The main industries in this city are:
Tourism and hospitality: Prolific beaches and attractions.
Marine industries: Renowned boating capital.
Real estate and property development: Exquisite waterfront properties.
Here, tourism and hospitality thrive, with attractions ranging from pristine beaches to mega-yachts that allure visitors year-round. Furthermore, the marine industries are foundational, underscoring the city's reputation as a haven for boat enthusiasts. Lastly, real estate and property development play a pivotal role, as evidenced by the "beautiful and over-the-top waterfront properties" that dot the Intracoastal landscape. Truly, Fort Lauderdale is not just a destination but a thriving business hub that invites exploration.
Orlando is one of the best business-friendly cities in Florida – a city beyond just magic
Often, when you think of Orlando, majestic theme parks and magical experiences come to mind. However, this thriving city offers more than just enchanting moments at its world-famous parks. Delving deeper, one finds an immensely diverse business environment that boasts a blend of top-notch education, unmatched safety, and attractions beyond your wildest dreams. For businesses considering relocation, trusted movers Orlando offers are always at the ready, ensuring a seamless transition. This vibrant city also stands as an educational powerhouse, home to a plethora of distinguished colleges and universities.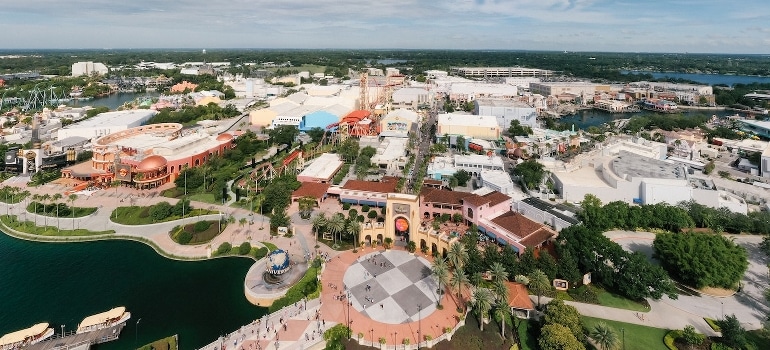 Yet, Orlando's undeniable charm is in its array of family-friendly attractions. Indeed, while it houses iconic amusement parks like Walt Disney World and Universal Studios, it doesn't limit itself. Visitors and residents alike find solace in numerous other attractions, from the intriguing SKELETONS: Museum Of Osteology to the captivating Madame Tussauds Orlando. This versatility demonstrates that Orlando's appeal extends far beyond its magical facade. Whether you're a business, student, family, or just an adventurer, Orlando beckons with promise and potential. So, the next time someone mentions Orlando, remember it's not just about the magic; it's about a city bursting with opportunities, experiences, and endless wonder.
Orlando's thriving industrial scene
Orlando truly shines in various industrial sectors. Firstly, information technology and software development are rapidly growing. Furthermore, the city's aerospace and aviation sectors are soaring, with numerous aviation companies calling Orlando home. Additionally, the city has a burgeoning food processing sector, coupled with exciting culinary ventures. Transitioning to the realm of exploration, Orlando's aerospace prowess is built for out-of-this-world ventures. From IT to aviation, it's clear that Orlando's industrial fabric is diverse and thriving.
Orlando's business potential
The future is bright for Orlando's business scene. Tech startups and IT hubs are sprouting across the city, leveraging the rich technological environment of the area. Then, there's the bustling activity of conventions and trade shows, drawing global attention to the city. Additionally, supportive local government policies foster an environment conducive to businesses. Whether you're a tech entrepreneur or an established industry player, Orlando offers myriad opportunities for growth and innovation.
Miami: The Blend of Business and Pleasure
Miami stands out, not just as a sun-drenched paradise, but also as a thriving hub for international trade and commerce. Firstly, Miami's global charm resonates as a business nucleus, making it a magnet for the nation's wealthiest billionaires. The city's competitive living costs, juxtaposed with its luxurious offerings, make it the ideal blend of business and leisure. However, moving to this bustling hub is made easy with Miami movers, who play an anchor role in ensuring your transition is seamless. Once you're settled, the diverse dining experiences beckon, offering a taste of global cuisines right at your doorstep.
As night falls, the city's eclectic nightlife springs to life, promising memories you'll cherish. But, if business discussions by the beachfront or shopping in elite districts is more your speed, Miami has it all. Plus, with its wealth of beaches and museums, there's always a touch of relaxation after sealing those deals.
Zooming in on Miami's booming industries
Over recent years, Miami has showcased incredible growth in various sectors. Firstly, the fashion and apparel scene reflects the city's diverse cultural influences, attracting both local and international designers. Secondly, Miami's position as an international gateway has fortified its role in banking and finance, especially with companies and executives relocating to this buzzing metropolis. Lastly, the entertainment and media industry thrives, further boosted by the MiamiTech wave, drawing high-profile attention from tech giants and startups alike. With a unique blend of tradition and innovation, Miami stands at the cusp of a bright economic future.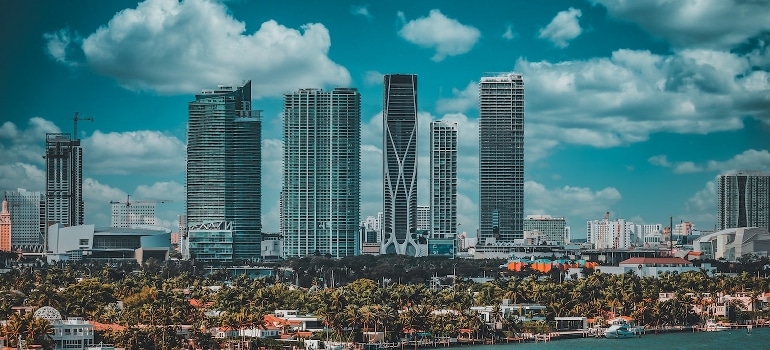 Scoping out business opportunities in Miami
In Miami, international trade and exports thrive, largely because of the city's advantageous position. Additionally, Miami's business-friendly environment, underscored by its pro-business, low-tax climate, paves the way for various industries, from aviation to banking and finance. Furthermore, the rise of startup accelerators and co-working spaces signals the city's entrepreneurial spirit. The local emphasis on entrepreneurship isn't just talk; scaleups, businesses with over 50 employees, drive job creation, and pay higher wages on average. Lastly, infrastructural support, evident from initiatives like Mayor Francis Suarez's campaign, attracts startups, emphasizing Miami's dynamic business landscape.
Move your office to one of the best business-friendly cities in Florida
In reflecting on Florida's dynamic business potential, it's impossible to overlook the strong and varied industries flourishing across the state, ranging from aviation and aerospace to finance and IT. Not only does Florida host global corporations, but small businesses equally experience growth and success, demonstrating the state's diverse economy. The compelling business climate, combined with a zero percent personal income tax and cost-efficient resources, makes Florida's cities truly business-friendly. Ready to make the big move to one of the top business-friendly cities in Florida? Partner with the best relocation services Florida offers and take your business to new heights in the Sunshine State. Embrace this golden opportunity to capitalize on Florida's holistic business environment.