As the magnificent and welcoming city that it is, Fort Lauderdale is a dream place for many. And, usually, our movers in Fort Lauderdale are the perfect relocation professionals for all of those people thinking about making Fort Lauderdale their home. As a reputable moving company in Florida, with years of experience and a team of movers that come with plenty of training, skills, and knowledge, City Movers always turn out to be a vital part of a successful relocation. No matter which type of move you are going through, by giving us a call, you will ensure your relocation to, from, or in Fort Lauderdale goes off without a hitch!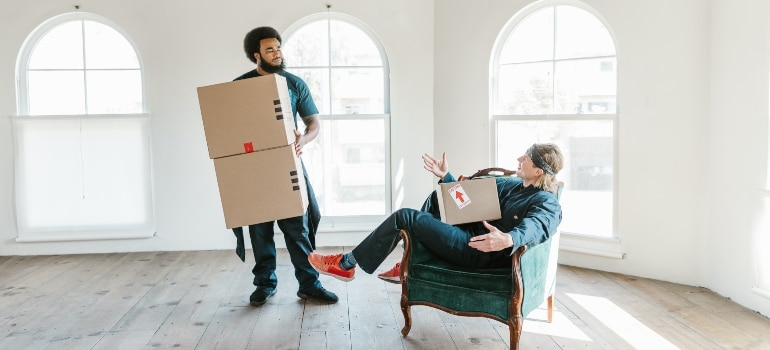 We know how important your next relocation is. That is why we have prepared you a team of the most experienced movers Fort Lauderdale has to offer. Highly trained and skilled professionals backed up by state-of-the-art relocation equipment and modern vehicles are ready to turn your potentially difficult and stressful move into a smooth and enjoyable process. Forget about broken items, hidden fees, delays, or last-minute cancellations. We are devoted to providing you with the service you deserve. And we will implement all our experience, skills, modern equipment, and vehicles in providing you with a high-quality moving experience.
Moving Services Fort Lauderdale
Our moving company understands that every relocation is different. Through the years, we have seen all kinds of situations and we know we haven't seen a fraction of what's yet to come. That is why we have decided to become one of the most versatile moving companies Fort Lauderdale FL has to offer. To be able to meet all your needs, we have created a number of different moving services aimed at handling particular types of relocations. As well as smaller individual tasks. Because we are ready, we do not care whether you are moving your home or a business, locally or across the country. We will meet all your needs regardless of the task you put in front of us. Take a look at the moving services we offer!
Miami Services
Why you should choose our movers in Fort Lauderdale when moving?
Whether you are moving alone or with a family, relocating your small office, or a large headquarters, rest assured one of the most experienced movers Fort Lauderdale has to offer will rise up to the challenge. We excel in both residential and commercial moves in Florida, making us a company you want to have in your corner.
With one of the finest movers Fort Lauderdale FL has to offer, your only task is to choose the moving services in Florida you need. Once you make your own package, our movers will deliver what's promised. What type of moving assistance can you expect to get from our movers?
Complete packing of your belongings and high-quality packing materials once you choose our packing services.
Loading/unloading your items.
Careful placement of the items inside the moving truck.
Safe upkeep of your belongings in our premier storage units in Florida.
The right number of movers in Fort Lauderdale the size of your home and the complexity of your move demand.
We are uniformed, trained, and qualified movers in Fort Lauderdale
City Movers is a completely licensed and insured moving company. We value professionalism, which is why we've worked hard on ensuring our movers both act and look the part. When you hire our Fort Lauderdale movers, you get not only movers with qualifications, but also get a uniformed team. Since our team works like a well-oiled machine, it was a good idea for it to look like that, as well!
Since Fort Lauderdale is a populated area that keeps us rather busy, we knew we had to be very careful when composing our moving team. You'll be happy to know that all of our movers come highly recommended, and have logged in hours of safety training. And their experience speaks for itself. After all, that's the reason why City Movers are one of the best moving companies Fort Lauderdale FL has at the moment.
Our Fort Lauderdale movers have all the answers!
Being as busy as they are, our movers in Fort Lauderdale have gotten to know the area quite well. We know all the routes that lead to different parts of the city, and we are usually able to predict how busy they are at a certain point. This is one of those things you can only get with experience! And that's not something our movers lack. By choosing the optimal road for your move, we will be able to transport your belongings in record time. The fact that we are also punctual helps in our mission to provide you with a quick and efficient move to your new humble abode.
This is especially useful because we have a plan that fits any relocation you want. If you have large pieces of furniture or sensitive items, it is good that you have contacted us. We know these spaces like the back of our hands, and that will also allow us to move your belongings without unexpected difficulties.
We have prices that will fit everyone's pocket!
If you too are in a delusion that all the best moving companies Fort Lauderdale FL has to offer have to cost an arm and a leg, just take a look at our team. We don't impose high prices but we do deliver the perfect results. Make no mistake – we are not one of the cheapest moving companies Fort Lauderdale has, as we do value the work our movers do. But you will hardly be able to find a company with better quality to affordability ratio than ours. We put a lot of thought into coming up with the right prices. And we hope we were successful in our intent.
One might wonder why would we intentionally make our prices affordable, and that's a good question, indeed. The answer is simple – we want to achieve 100% customer satisfaction. The price of the move is a very important part that will have an effect on how happy or unsatisfied you are with the services of your movers. Our company wants to see a smile on your face at the end of the day. That will be the biggest reward for our Fort Lauderdale moving team. And that's how we know it was a job well done!
There are no hidden fees and extra charges
Every day, we strive to improve our clients' experience. You'll be aware of all we know. Once you request a moving quote from our team, not only will you be pleasantly surprised when getting an answer, but also on the day of your move. That's when you will realize that the price you got as an initial quote will be the price you have to pay. Of course, you will have to provide us with all the necessary details in order for our quotes to be accurate. As long as you do your part of the job, you don't have to worry about ours!
A precise estimate of the relocation budget is essential. We understand how critical it is for you to have a clear picture of your moving costs. As a result, we provide free estimates. You can also request current specials that can help you decrease the initial cost of the move. Allow one of the best moving companies Fort Lauderdale to be your partner in this upcoming relocation. You'll be able to better arrange and plan after receiving the estimate. After that, everything will go faster and easier, and your plans will unfold on their own.
We can help you move quickly from or to Fort Lauderdale!
Most people give themselves a lot of time to prepare for a move. No matter if they are moving locally or long distance. Eight weeks is usually a good amount of time to get everything in order and to schedule one of the best moving companies Fort Lauderdale has. But last-minute moves are also common as there are plenty of people who only have 4 weeks or less to take care of their move. If you are one of those people who are rushing to move, here is a brief guide on what you need to do.
We will move you anywhere in Florida!
Our movers operate in different locations and we will move you anywhere you want. There is no need for you to worry about the distance since we cover every corner in the state of Florida! Here are just a couple of locations we operate in:
What you should do before our movers arrive?
The first thing you have to do is get rid of all your junk. The hidden advantage in last-minute moves is that you are less forgiving with what you keep and more aggressive with sorting and packing. This is a big advantage as you are likely to end up with much less to pack which requires less time and energy to pack. A few people think that to save time, you simply pack everything and sort it out later, this is horrible advice. Get rid of as many things as you can. That makes everything easier and cheaper when hiring movers in Fort Lauderdale, too.
To make things easier for yourself, try this out. Start out with each room and put everything in three piles. Pile number 1 is for things to keep, pile number 2 is for things to donate, and pile number 3 is for things to throw away. It will make your life easier, trust us. When you can finally see the things you need and the things you don't in front of you, it will change your view of moving. You will realize that getting rid of things does not mean more work. But it means that when you finally arrive, you will have fewer unnecessary things to unpack.
Ask a family member, friends, or our movers in Fort Lauderdale for help
You're pressed for time, get more hands to help you out. Ask your friends, your family, or straight up hire professional Fort Lauderdale packers. Before having people come over though, make sure you know exactly what you want them to do and that they know it too. Have some people pack everything in your 'keep' pile and the rest from your 'throw-away' pile you can toss. Another great assistance is using our moving blog when moving. We post all the information you need to know before and after you move and we are sure you will find some of the answers you are looking for!
If you happen to have an exceptionally large donate pile, some charities and non-profit organizations are willing to come over and pick it up, so long as it's still in good condition, saving you a lot of time and effort. Make sure you are thorough when it comes to your sorting. Once you call up our movers to take it away, changing your mind can slow things down.
Focus on packing and let us know if you need some help!
Buy packing supplies. Since you are pressed for time, head straight over to the moving store or office supply shop. And buy all your supplies directly. Or you could go green and get reusable plastic boxes. These are easy to stack and you can feel a little better about yourself. As well as save yourself the hassle of getting rid of them later on. If you don't feel like keeping a bunch of plastic boxes then you can rent them out. You can also find many durable boxes at your local retailer. Many places will give them to you for free if you simply ask. It is critical to obtain as many moving materials as possible, as this will save you a significant amount of time and energy.
But your best option when it comes to moving supplies is to get in touch with us and place an order. We will provide you with high-quality boxes in no time.
Why Fort Lauderdale?
Also known as "Venice in America" Fort Lauderdale is famous for its beaches and canals that attracts countless tourist and new residents. The main reason people usually decide to move here is the weather followed by the affordable cost of living. Since it is on Florida's southern east coast, the diversity here is very noticeable. People are coming from everywhere and those that decide to stay, usually go to the suburbs or downtown. When you get tired of beaches, enjoy some quality time on Las Olas Boulevard, one of the most popular locations in Fort Lauderdale. Here you will find amazing restaurants, shops, salons and everything you need for having a good time. 
This city offers countless job opportunities as well. If you are a young professional or already have your company, many doors will open for you upon arriving. Fort Lauderdale is known for being home to many famous headquarters and will surely provide a stable career for you too. Feel free to explore this city more before officially moving there. It is much better to have all information on time!
Give our Fort Lauderdale moving team a call and leave all your worries behind!
Once you get in touch with City Movers, you will be able to breathe a sigh of relief. From that initial phone call, you will have our full support and devotion. Our movers in Fort Lauderdale will take care of all the things you deem to be too difficult for you. Only you decide how involved you want us to be! And soon enough, you will be joining our ever-growing family of satisfied customers!
FAQ
Can l move by myself?
You certainly can but this method usually brings a lot of risks. You will have to focus on multiple tasks at once and make sure everything turns out good. Hiring movers will give you much more time to focus on different tasks and prepare for relocation.
What is Fort Lauderdale known for?
This city is mostly known for its beautiful beaches and many tourists arriving here daily. It is also famous for many companies offering job vacancies for different professions
Should l move furniture before Fort Lauderdale movers arrive?
You can move your furniture if you want to clean some items before the movers arrive. Moving it on your own for other reasons is not necessary since movers will do it upon arriving.
What is the first-night kit?
The first-night kit should include the essentials you need for spending the first night in your new home. This includes already prepared food, chargers, clean sheets, etc. You can make a deal with your family members and prepare your first-night kit in advance.
Can movers be late for the moving-out day?
Our movers are very punctual and will arrive on time. That is why it is very important that you are prepared for the moving-out day.
How do movers calculate the final price?
The final price must include your inventory, the size of your household, and of course the distance. The easiest way to find out what is the final price is to ask for a free moving estimate.
Our moving services are among the best things Fort Lauderdale offers!
If you still need a little help with packing, we are here for you. We understand the importance of safety for the people who choose our packing services and therefore we do everything to achieve the best results. It's one of the most important aspects of relocating, and how things are packed can influence the entire relocation process. That is why it is critical that your most prized possessions be packed by professionals who appreciate the importance of a safe move. Our movers Fort Lauderdale are working hard to develop the finest possible packing solutions and provide good services for our clients. As a result, we select high-quality materials.
When you get rid of unnecessary things, it makes it easier for us to do our job. Everyone's goal is for the move to be quick but also successful. So accordingly we always encourage our customers to give away or donate things they no longer use. Now that you've downsized significantly and got everything ready, it's time to start packing away until you're done. Make sure to call our movers Fort Lauderdale FL to ensure that the moving date you agreed on is set. That way, you will avoid any delays.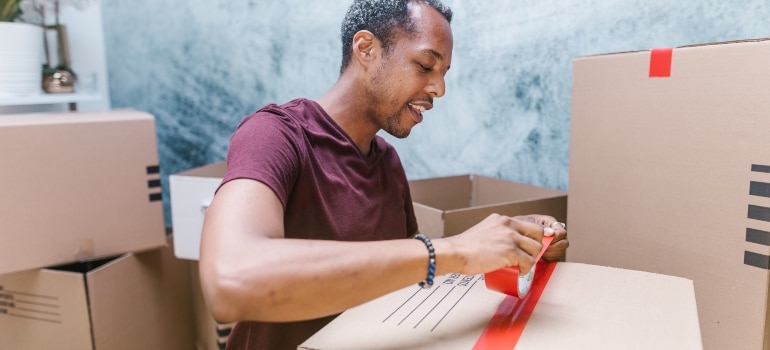 Check what our customers have to say about their experience!
Since our customers are our top priority, we are more than thrilled to see good reviews. They are giving us the motivation to stay in the high position and keep on providing only the best services. Our moving reviews not only provide a personal experience but can also offer some useful advice. If you are in Fort Lauderdale or plan on moving there, you can easily find what other customers had to say. Once your relocation is over, we will be happy to see you in the base of our satisfied customers.