When looking for places in Florida for families with teenagers, you need to choose carefully. The ideal place for teenagers must be well developed and provide education but also entertainment. But for a move with teenagers, you will really need the help of professionals. Teenage is just another stage of your child's growing up. All the parents go through it. Teenagers become more curious and more aware, and they want to try and see everything. So, we can often say that we have to watch out for them like a little two-year-old from injuries, who is just beginning to discover the world. But this time you aren't only watching them from injuries, but also from deviating from the right path to becoming a successful and good person above all. In this text, you will find some interesting places for you and your teenagers.
Is Florida an excellent solution for your teenagers?
Florida is one of the fastest-growing countries in the U.S. in terms of economy and population, which is why Florida movers are so busy year-round. But it's also one of the most popular countries in the United States. But when it comes to choosing the ideal place for family life, there are many things you need to pay attention to. Cost of living, high quality of high school education, and job opportunities are just the basic characteristics that every place should have. Still, this is what most parents are interested in. As for the teenagers themselves, they prefer places where they can revel in excellent entertainment opportunities.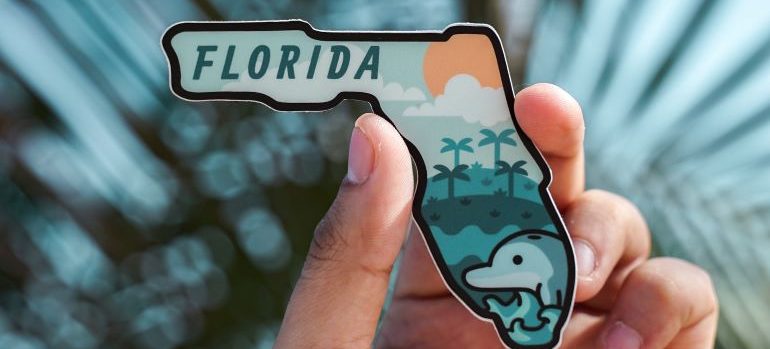 Florida is a fun state!
When speaking of Florida, we do think your teenagers will be thrilled with your new state since it offers tremendous opportunities for fun.
Something that teenagers must enjoy is one of the numerous theme parks in the theme park capital of the world, Orlando.
Also, teenagers are usually thrilled with Internation Drive in Orlando where they can try out multiple activities. They can ride on The Wheel at ICON Park and explore Orlando from the air.
Furthermore, you can spend a day together with your kids visiting the Kennedy Space Center where you can hear about space exploration, see certain exhibits and simulators, and even talk to real astronauts.
Who wouldn't like to visit Everglades National Park and see the alligators and other exotic wildlife?
What about the Florida Keys, a chain of islands where your teenagers can go snorkeling and have close contact with dolphins?
Unlike small children, teenagers need some action. Well, this can be guaranteed in numerous parks in Florida where teenagers can go for a walk, ride a horse, or a bike. Thus, numerous Florida places for families with teenagers offer tremendous parks.
A Beach break is always an option in case teenagers need more speed and fun. They can be involved in visiting Clearwater Marine Aquarium, playing mini-golf, and trying some fun water sports.
Some of the best places in Florida for families with teenagers
As we have already said, every place you opt for should have good living conditions. When it comes to the lives of teenagers, education is important to them. So, always try to choose a place that offers high-quality education to young people in public and private schools. Among a variety of places in Florida where you can be certain your teenagers will truly be satisfied, we have chosen several ones. These cities that we have separated can provide very favorable living conditions for teenagers and their families. Good education, business opportunities, a prosperous life, and good fun. Of course, there is a lot more Florida has to offer but we strongly recommend our suggestions.
Miami
Jacksonville
Orlando
Melbourne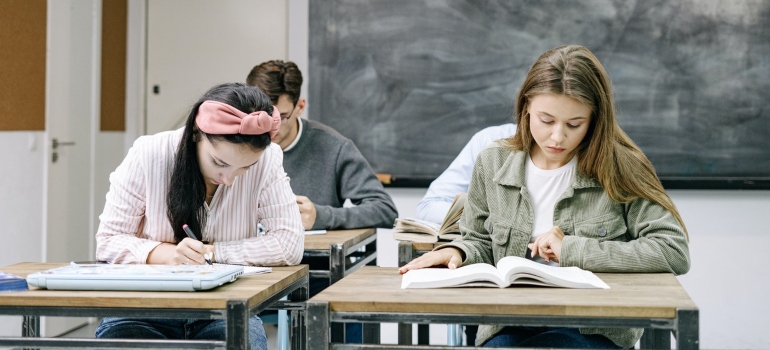 Miami – a great family life with teenagers
Miami is a favorite place for young people. This is a place where good fun and nightlife are guaranteed. And a lot of people think this is a "youth city." But believe it or not, a large number of elderly people live in this city, as well as seniors. Miami, in addition, to offering good fun, can provide its residents with a beautiful and comfortable life. Here you can find a large number of activities for both parents and children of all ages. Many people move to Miami with toddlers too, therefore even if you have kids of younger age this will be a great place for them!
Those who like fast-paced life will truly enjoy Miami. As a matter of fact, this is a place where you can never be bored. Do you realize now why you should contact your Miami movers and book your move? Your teenagers will fit here immediately and will be accepted rapidly by the community, starting from the neighborhoods, schools, and everywhere else. After all, the population is above 400,000 people since this is the second most populous city in Florida. Hence, diversity is not a problem but a positive thing here.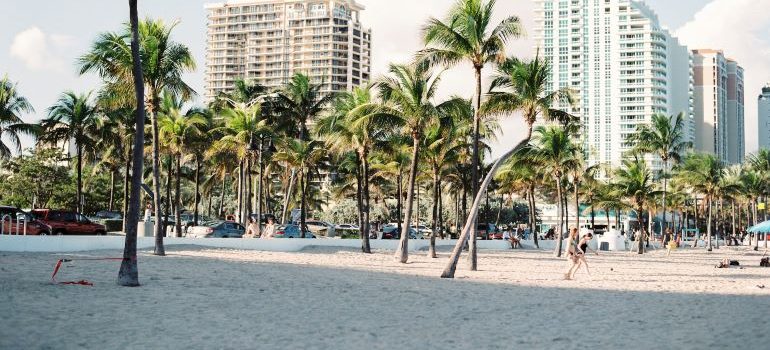 Is it expensive to live in Miami?
Costs are a little higher than average, but business opportunities are also great, so you can always get a higher salary and progress. Still, we advise you to start looking for a job before your move to Miami, one of the best cities in Florida for families with teenagers. The good news is that this is one of the best places in Florida for job seekers.  In case you think buying a home here then you should know properties are quite expensive. Housing costs are well above the average. The median home costs are around $398,000. Still, you can find something cheaper in case you search for your new home in a smaller neighborhood. As for renting, the average rent is about $1,200. Still, if you are searching for a home in a downtown area or near a beach then prices will go up drastically.
Education in Miami
As for teenagers, Miami can offer high-quality education, as they have a large number of private and public schools. Be certain your teenagers will get the best education possible in schools in Miami. As a matter of fact, there are over 392 schools governed by Miami-Dade County Public Schools. Moreover, we must mention that Miami has a few best public schools in the state. For instance, we will point out Design and Architecture High School, MAST Academy, and Coral Reef High School. In case you are searching for the best high school for your teenager then consider Coral Reef High School which was recently ranked as the 20th best public high school in the nation. Not to mention excellent colleges and universities in Miami if your children decide to continue with their education.
What neighborhoods should you consider?
We will single out the top five neighborhoods in Miami, ideal for families with teenagers:
Brickell – What do you think about living in New York? In case you would be thrilled with the idea then Brickell will be an excellent choice for you. Many say it is a mini New York. The main similarity is that everything you need is within a walking distance, which is quite rare when talking about neighborhoods in Miami. Therefore, you practically don't need a car here.
Edgewater – To tell you the truth, we can't say that Edgewater has some major attractions. However, the good part is that it has easy access to other major areas by car or on foot.
Coconut Grove – One of Miami's oldest and most popular neighborhoods at the same time. Its distinctively tall oak trees and numerous parks make it different in comparison to other neighborhoods. What's good for teenagers is that it's very bike-friendly and quite walkable. Also, for your peace of mind, this is one of the safest parts of Miami.
Omni – It is definitely one of the smallest neighborhoods in Miami. Nevertheless, it is quite a popular tourist destination. After all, your teenagers will find a variety of things to do.
Weston – Be certain Weston will grow on you soon. Great climate, safety, and extraordinary education systems are the features you will simply adore, just like your kids. Hence, don't lose more time. Contact movers Weston FL. Enjoy this lovely neighborhood.
Jacksonville – one of the best places in Florida
Jacksonville is a more populated place than Orlando and has about 950,000 inhabitants. Of which the largest percentage of the population are people aged 25-35. While the largest percentage are students – about 32%. These data can be said that the education is at a high level, students from other cities also come to Jacksonville, to get an education in one of the best schools and colleges in Jacksonville. Also, people come here because of its dynamic job market and affordable housing.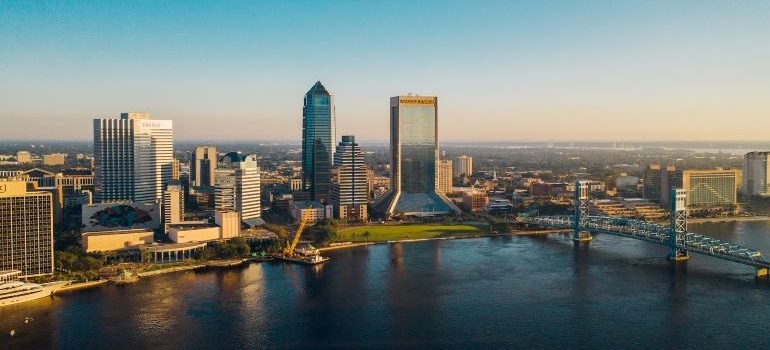 This city offers good business opportunities. Family life in this city is more represented than in Orlando and Miami, and over 50% of families here have their own homes. Teenagers have a lot of opportunities in terms of education and entertainment. They can always visit the student camps or spend time on beautiful Jacksonville Beach.
Whatever part of Jacksonville you opt for, be certain your teenagers will be happy. Certain neighborhoods are calm, and you can feel at peace away from all the noise of a big city. On the other hand, you can find neighborhoods where a dynamic atmosphere is present everywhere. Hence, it all depends on your family, your aspirations, and your needs. Also, bear in mind the needs of your kids.
The costs of living
What makes Jacksonville different from other cities, especially Miami, is the cost of living. The overall costs are about 6% lower than the national average. Most importantly, housing costs are around 20% lower than the average, which is quite tempting you must admit. Thus, the median home cost is about $231,000. On the other hand, the rent is around $ 1,000. If this sounds good to you, contact your Brickell FL movers and let them organize your move to the new home with the utmost care.
What about education?
Get quality education in whatever neighborhood you choose. This includes all public, private, magnet, and charter schools. Hence. your teenagers won't have a difficult time choosing what is the best school. After all, the offer is amazing.
What can teenagers expect from entertainment opportunities in Jacksonville?
Your teenagers and you may enjoy a variety of opportunities Jacksonville has to offer. First and foremost, those who love water will observe this place as a true paradise. Thus, they can enjoy lovely beaches, fishing, jet skiing, and kayaking. In case your kids love animals, they can enjoy The Jacksonville Zoo and Gardens where more than 2,000 animals and around 1,000 different plants are waiting for your attention. Also, you have the opportunity to spend quality time in some of the numerous parks. Did you know that Jacksonville has more than 80,000 acres of parkland? A true paradise for kids.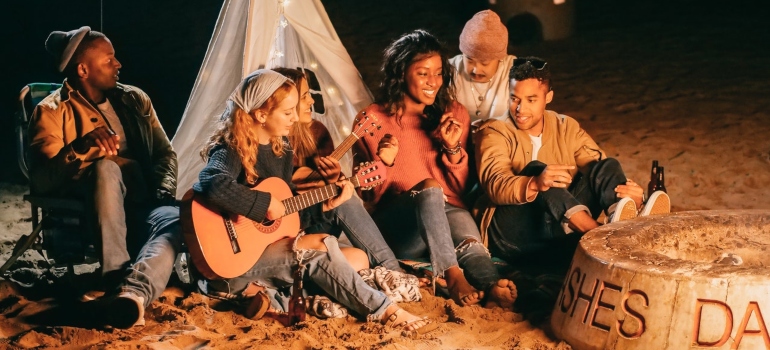 Neighborhoods in Jacksonville
Jacksonville has nearly 500 neighborhoods. Thus, you have a lot to choose from and your Edgewater movers will transport your belongings whatever choice you make. Still, Jacksonville is divided into 6 main sections.
Downtown – Enjoy 5.6 miles of beautiful riverfront.
Arlington – One of the most affordable areas in the city.
Southside – One of the fastest-growing areas in Jacksonville.
Westside – Reasonable home prices and a lot of open spaces.
Northside – Mostly popular for families that want to get away from the crowd.
Jacksonville Beaches – Some of the most affordable houses are right here.
The most popular neighborhoods for families with teenagers in Jacksonville include:
Secret Cove
Deerwood 
Greenland
Hire movers
If your chosen place is in Jacksonville or some other place in Florida, and if you decide to move with your family, you always can hire movers West Palm Beach. They are super movers who can help you to pack and move your belongings. All you have to do is to contact them.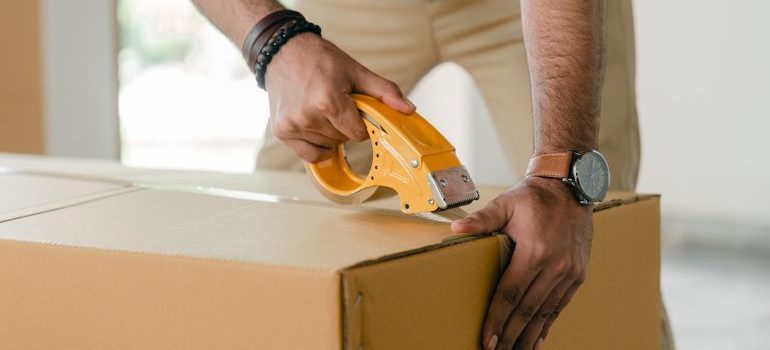 Orlando – the ideal place for families with teenagers in Florida
This is hands down one of the best places in Florida for families with teenagers! First of all, we must state that Orlando is much more than just a Disney World city known for its theme parks. As a matter of fact, Orlando is one of the best places in Florida, for family life. This city has about 280,000 inhabitants, of which 35% have their own homes, and the remaining 65% live in rented apartments or houses. Rental prices range from $ 1,000 to $ 1,500 for medium-sized properties, which is more than affordable. As far as business opportunities are concerned, one can always find a job in healthcare institutions, large companies, etc.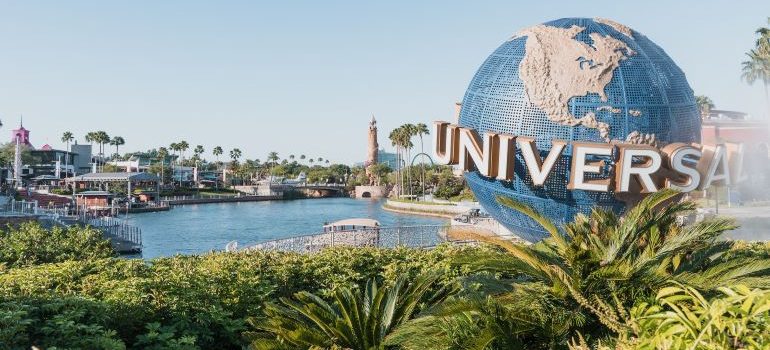 Also, education is at a high level, Orlando has slightly fewer schools than Miami, but it also has highly rated schools, grade A +. With more than 178 schools you will have an excellent option to see how your children achieve success in these extraordinary schools. Moreover, for those interested in continuing their education Orlando, FL has truly notable universities. This place can offer a good life and good fun to teenagers and the rest of the family. As well as the possibility of advancement in business and improvement of knowledge and skills.
Orlando's costs of living
Hurry up and contact your movers Orlando since you surely want to enjoy the pleasure of living in Orlando with the overall costs of living slightly below the average. As a matter of fact, the housing costs are quite decent so it could be affordable to live here in comparison with other Florida cities for families with teenagers. However, be prepared to put aside a larger amount of money for fuel costs, food, and entertainment.
Orlando and its neighborhoods
Prior to your decision about where to settle you should know Orlando has over 100 neighborhoods. Thus, you are free to choose what suits you best. In case you desire a more peaceful life away from all the hustle and noise. Top 3 neighborhoods in Orlando for family life:
Park Lake/Highland
Thornton Park
Downtown
If you decide to start a new life in Orlando with your family, we advise you to hire movers Lake Worth for your moving process. They will be of great help to you in the moving process. And they can provide you with very useful moving services. So, don't doubt, and hire moving experts.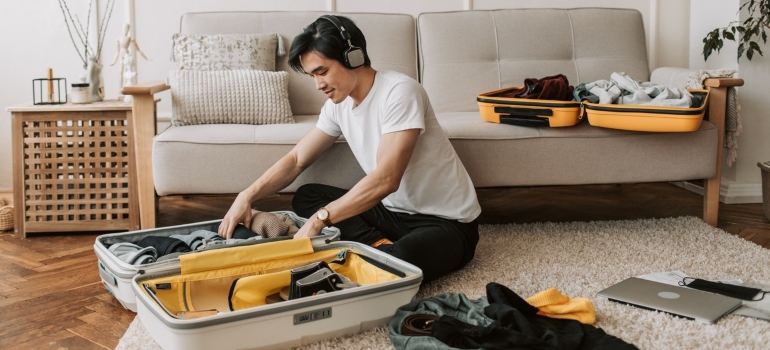 Melbourne – an amazing place for the whole family
In case you are uncertain about where to settle in Florida and raise a family, Melbourne is one of the best places in Florida for families with teenagers. After all, you should choose the best place for teenagers in the state of Florida. About 45 minutes away from Orlando, Melbourne is the perfect place for you. This isn't just heaven for retirees and young professionals but families with children as well. Its beautiful beaches are simply outstanding for the whole family. Also, nice weather all year long is perfect for outdoor activities. Furthermore, what makes this destination particularly interesting is the proximity to some US vacation attractions. You'll visit Disney World in an hour with no need to book a hotel.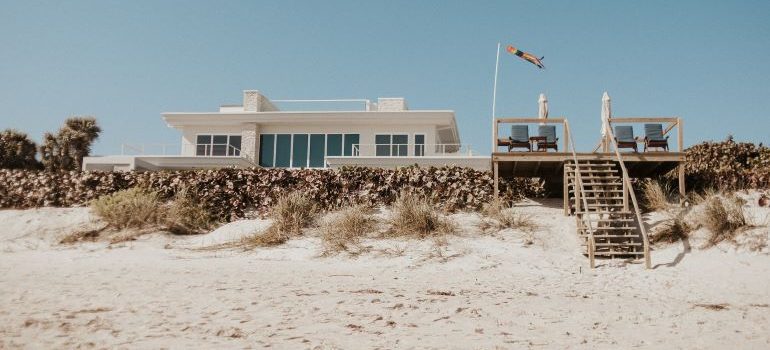 Costs of living
As for the costs, we must say that one of the reasons people come here is affordability. Thus, it doesn't matter whether you rent or buy. The expenses are lower compared to other major cities, both the overall and housing costs. The median home value is $217,400.
Will you be satisfied with the education?
Well, considering the fact that some of the best schools are right here in Melbourne. Thus, if you have school-aged kids Melbourne is the perfect solution for you. We could point out Palm Bay Magnet Senior High School. Besides school, you should know colleges and universities are also extraordinary. Furthermore, in case you are a parent of a high school kid be certain you've chosen well since it ranks 19th out of 150 areas according to college readiness.
What suburbs are excellent options to live in?
Many call it a sizeable city with around 84,000 people. No wonder it is one of the safest cities since it is surrounded by amazing suburbs. Some of the best suburbs are waiting for you.
Indian Harbour Beach
Satellite Beach
Cape Canaveral
Cocoa Beach
West Melbourne
Rockledge
Merritt Island
Palm Bay
Titusville
Mims
Is it hard moving with teenagers?
Finding the best place for families with teenagers is truly an important endeavor. It requires a lot of research. Nevertheless, don't forget that you must first prepare your teenagers for the upcoming relocation. Believe it or not, it won't be easy. Teenagers will feel hard to leave their friends. school, and home. Hence, start talking to them in time. Moreover, let them help you with the relocation. At least with packing since they are old enough to give your proper assistance.
You will love your new life!
Once you choose one of the places in Florida for families with teenagers, you should start preparing for your move. But when it comes to the family moving with teenagers, it won't be as hard as you thought. Teenagers are old enough to pack some of their personal belongings themselves and can help you with most of your work, but it will still be of great benefit to you if you use moving services Fort Lauderdale. By using moving services, you will have professionals by your side who will take care of your move. Remember, whatever place you opt for, you will not make a mistake! Florida is a great place to start a new chapter in your life!