Dealing with relocation causes a huge amount of stress and anxiety. Your mind is full of numbers, worries, and plans. Sometimes, among all the obligations we have we forget about our dear pets. Remember, they feel everything. Especially the change in our behavior towards them and the lack of time which is inevitable. Hence, if you do care, you should do your best to make your local Florida relocation easy for your pet. One way to arrange a safe relocation with more free time for yourself and your pet is to call moving companies in Florida. Then, you can make a plan of your behavior towards your pet. Plan thoroughly and find time for those who truly love you and feel your restlessness. One thing is for sure, they need love, care, time, adjustment, and routine. Make sure you give them that and a lot more.
Make your local Florida relocation easy for your pet by following several important steps
Since you do care about your pet when planning your relocation bear in mind that you must include the pet in your plans. Changing residence isn't just hard for you but for them too. Hence, you can't explain them by using words, but certain gestures may help. Moreover, you are to undertake some actions to avoid problems and arrange a safe relocation for your dear animal friends. For instance, hiring movers Hialeah Gardens FL is definitely one of the important steps. But not the only one obviously. Thus, let's see what else you can do.
research the new area 
visit your vet
update identification information
remember the routine
entertain them
packing with pets 
overnight kit for the pet
consider the transportation of the pet
moving day with your pet
adjust to a new place
Where are you moving to?
Now that you know the place you are about to move to with the assistance of your movers Miami Lakes, it is time to do some research on your own. Besides many things you should know about the new place, find out if there are some interesting facts about pets. For instance, maybe there are certain laws related to pet owners. Especially if you are moving to an apartment or condominium. Are there any rules you ought to respect when having a pet? Hence, it's good knowing what to expect upon your arrival in the new city and neighborhood.
Listen to the advice from your vet
One of the crucial things when moving with pets is to pay a visit to your vet. Discuss your local move with the vet and ask for advice on how to facilitate local Florida relocation for your pet. Furthermore, you may need copies of some important medical files or records or prescription medications. Also, you may get a certificate listing all vaccinations if there's a need to prove your pet is free from infectious diseases. In case of any health problems solve them rapidly since your pet should be completely healthy for the upcoming relocation. Last but not least, ask your vet for recommendations of any vet in the new place.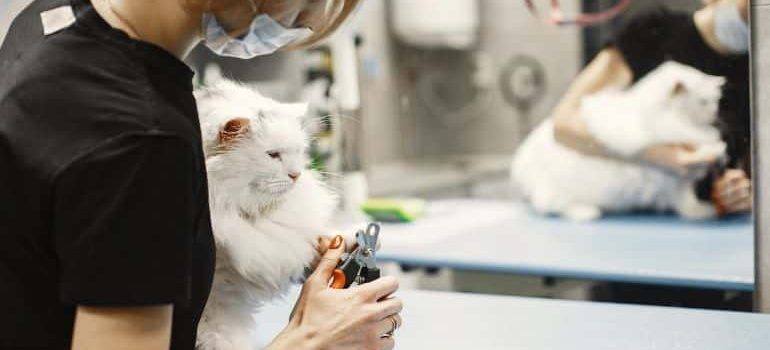 Updating  information is crucial
Don't neglect the importance of having all the information updated prior to the relocation. Therefore, make an ID tag that must have certain important information.
pets name
your name
your destination address
any emergency address
phone number
Moreover, check your microchip information. Update it as soon as you move.
Routine is what pets like
Though you are too busy and have so many things on your mind, don't allow your pets to suffer. How much time does it take to prepare for a local move in Florida? Well, definitely a lot of time. Still, this shouldn't be an excuse for not spending enough time with your dear pet. Believe us, avoiding routine is something they can't easily understand. Hence, make your local Florida move easy for your pet. Feed them at the same time during the day. Don't skip the usual walk or playtime. Love them even more. Be patience. As soon as you realize how stressful the relocation can be for them you'll understand how much love they need as the moving day approaches.
Provide them with entertainment opportunities
If you rely on moving companies Miami Beach you'll have extra free time to have fun with your pet. If your pet gets tired during your everyday activities it will certainly be calm. Also, use brain games as an additional way to keep them occupied. Thus, you give them fewer chances to get bored or misbehave.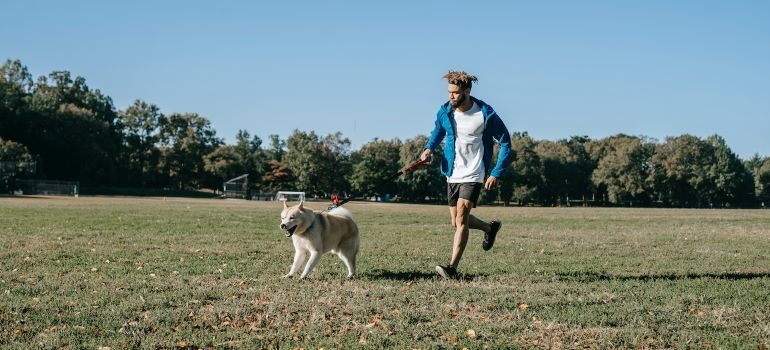 However, if you really don't have time then ask some friends to keep your pet entertained. Or else your children could have this obligation. If we could say it is an obligation. More likely fun and pleasure. On the other hand, you can use dog walking services as an excellent way of exercising your pet.
Pack your things with ease
As you probably already know, the packing process is one of the most important and demanding parts of the relocation. Hence, you must pay special attention to the protection of your things. With animals around you, it can be a bit more difficult. One thing that is certainly a mistake is to start packing all at once. It can be disturbing for your pets and can cause anxiety and hyperactivity.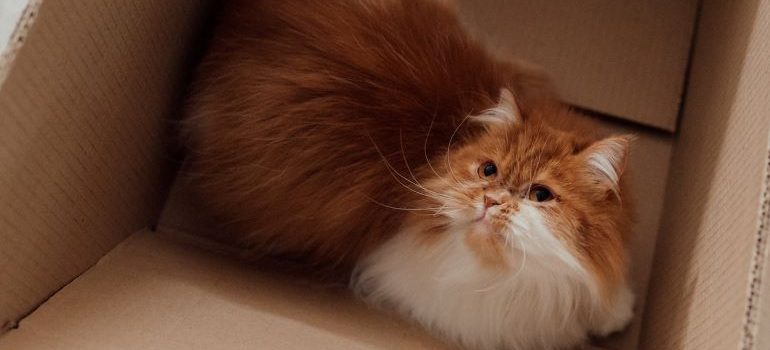 On the contrary, start packing early room by room. Make sure they get used to moving boxes. In the beginning, they may play with boxes, attack them, and even tear them apart. But if they are present in the house for a while they will get accustomed to them. Your pets will observe them as the usual parts of your home. Thus, they will lose interest in them. As a result, you will pack your things without disruption. Also, by doing it yourself you will save money on Florida relocation. In case you decide otherwise, hire professional packers and have more time for your pet.
Don't forget to pack the overnight kit for your pet
Among many things you need to pack, you must pack your essentials bag. Likewise, having a pet requires an overnight kit. Thus, remember to prepare it and place it somewhere so that it is easily accessible. What to pack in the overnight kit? Definitely, enough food, kitty litter, and some tools like grooming tools. All this with the goal to make your pet feel comfortable during the first few days while you unpack and settle in your new home.
How to transport your pet?
Since you are moving locally there's no need to organize special transportation for your pet. Thus, in order to create a blissful experience for your pet when moving locally in Florida, you should transport your pets in your own vehicle. This option will have the least negative impact on your pet. As for the actual transportation, make sure to secure your small dogs and cats in carriers and secure carriers with seatbelts. On the other hand, when moving to one of the most popular places in Florida for dog owners with bigger dogs then obtain a kennel. Hence, you can transport them in the back of the car. What matters is for them to feel comfortable during the transportation.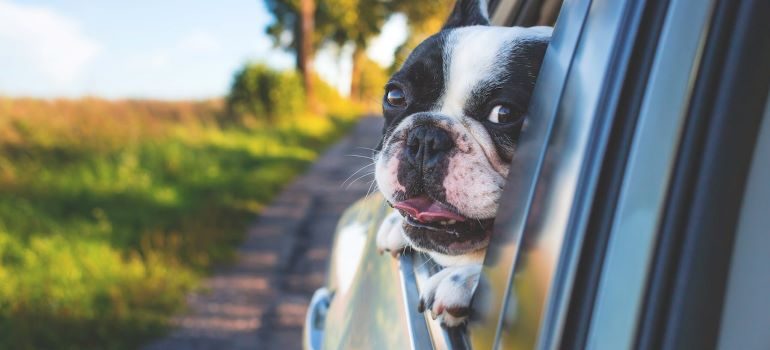 Can they feel good if you put them in a carrier for the first time on a moving day? Well, the answer is definitely no. Therefore, what you should do is to get them used to the carriers long before the actual moving day. Let them enter teh carriers by themselves. At least several times prior to the move. Let them feel there is no threat. Only then will they accept the carriers without anxiety on a moving day.
What to do with the pets in case you stop for a rest?
Basically, there's no need to stop for a rest since you are moving locally. You may ask your local movers about the actual time needed for the relocation just to be certain your pets will handle the journey easily. Nevertheless, in case you decide to stop because of your children maybe be careful. For instance, in case you are a dog owner, don't let your dog out off-leash. An unknown environment may have a negative impact on your dog. Thus, it may get lost while exploring the new environment.
Moreover, if it does get off-leash and starts running away, don't chase it. They will see it as a game. Thus, you should lay down on the ground pretending you are injured. As a result, your dog will run to you to check what is going on. Then, you can grab it by the collar and put their leash safely.
Florida weather can be problematic for the pets on a moving day
In case you have a house you may think it a good idea to have your pets in the yard on your moving day. Though it would be easier for you to let your pets spend time in the yard and not run around the movers and boxes, think about the heat. It can harm them. Having that in mind, you should corner them off with a pet gate or lock them in some of the rooms. Of course, remember to put some familiar things in the room, such as toys, bones, and bed. This way you keep them happy and you can devote your time to other things. If necessary keep moving your pet from room to room. Moreover, pets always need fresh water. Still, maybe the best solution is to find someone to take care of your pet until the time comes to leave your home.
Help your pets adjust to the new place
You know how strange it is for you to come to your new place and neighborhood. You need time to adapt. The situation is the same, if not even more difficult, for your pet. First of all, you should create a familiar space in your new home to make moving with dogs easier. Let them have familiar things, their own bed, toys, and bowls. Moreover, stick to the previous feeding and walking routine and schedule. If possible, stay at home for the first week as much as possible in order to make your local Florida relocation easy for your animal friend. It would help if you reassured them everything will be fine.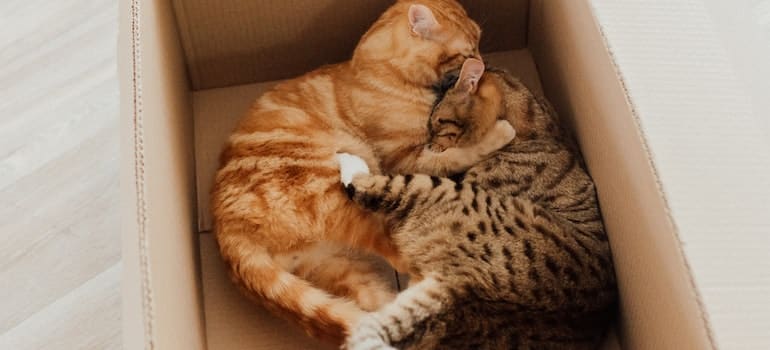 Also, you shouldn't leave them alone in the backyard during the adaptation period. There's a possibility they might escape in search of familiar surroundings. Furthermore, you may expect strange behavior with certain accidents in the house. Your pet may lose appetite. For instance, cats may disappear for a few days. We advise you to be patient. This odd behavior will disappear as soon as your pets realize the new place is safe. Things will settle soon. Thus, give them around a month to go back to normal.
Move with your pet without problems
Overall, with careful preparation, you can make your local Florida relocation easy for your pet. Consider the slightest details so that your pets don't feel the stress. With the assistance of reliable movers, you will have time to keep up with their routine. Prepare them for the transportation and the packing process. Most of all, give them love. They need your presence, eye contact, cuddling, and care. Hence, among many things to do, leave some free time and spend quality time with your pet. As a result, your pet will be calm and good and that is what you need when relocating.