When preparing for the move, usually the entire family together with friends and relatives involves in the process. Moving is a very complex task. The greatest portion of tame takes packing of course. For this reason, experts recommend that packing for moving should start at least eight weeks in advance. Finally, you finish it, and with the help of a reliable moving company, you transport the goods. Then you need to do more work such as unpacking. Remember that getting the boxes into your new home does not mean that the moving process is over. Actually, this is just the second round that needs as much attention as the first one. In addition, it would be great to have several pairs of helping hands around. The team that you now have around is your family. In this article, learn how to get your entire family involved in unpacking.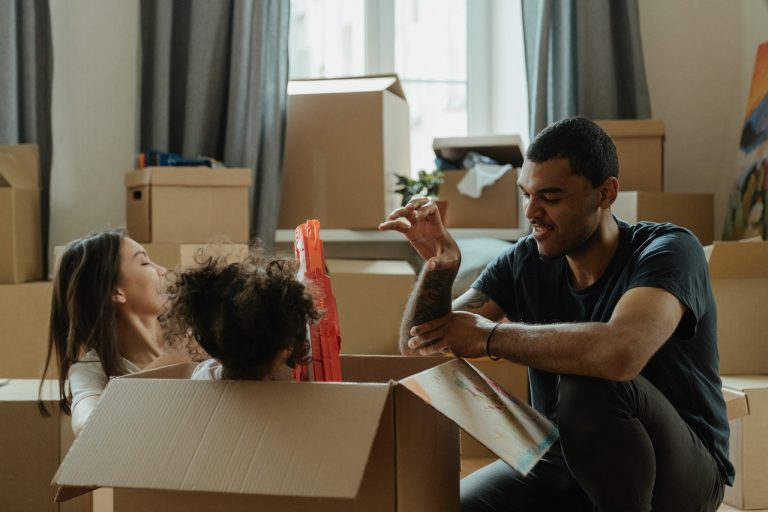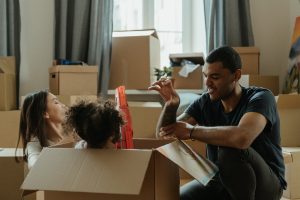 Finally in your new home
The movers dropped the last single box from the truck into your new home. You are standing together at the doorstep watching the endless pile of boxes thinking where to start. First of all, you need to calm down. You are finally in your new house, having your family around to help you. Secondly, previously you have created a checklist of the packing order. Now it would be useful to create a new list of the unpacking process. In addition, organize all the family members to start helping you. Your Miami residential movers should have put the boxes in front of each room they belong to. This way it would be much easier to organize and finish everything as soon as possible. Therefore, assign the task for each and every family member and the unpacking fun can finally start.
Get your entire family involved in unpacking using your system
The worst thing that you can do is to start randomly opening the boxes. This way you will create nothing but a huge mess. As a result, this will cause additional stress which the idea is to avoid.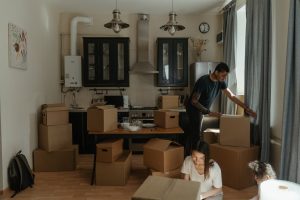 Therefore, it is good to have an unpacking system before everything starts. While packing you labeled each box. Now, it turns to be more than useful for the unpacking. First of all, check all the moving labels to determine if the movers Tamarac FL put the boxes where they belong to. Secondly, start opening the boxes, but again not all at once. For example, start with the necessities. That means to first open the boxes with the essentials. Search for those boxes that contain the items which you can use to get buy for several days. These should be boxes with some food, medications, toiletries, and some important paperwork.
Sort the most necessary room – your kitchen
In your essential boxes, there are items that will be quite enough to get by in a few days. Some clothes, food, toothpaste, and toilet paper will work.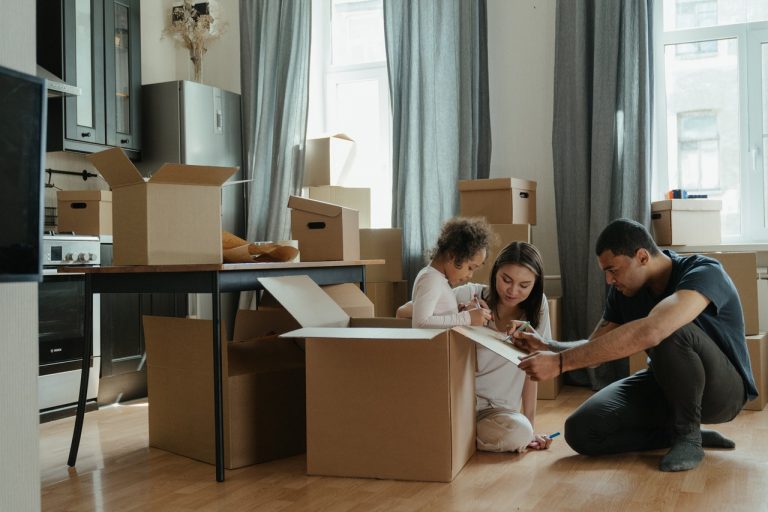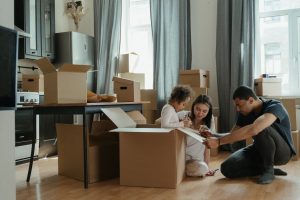 The second step is to get your entire family involved in unpacking your kitchen. First of all, get the kitchen appliances in their place and hook them up. Then prepare some casseroles, pans, plates, and cutlery as first aid. Then, line the kitchen cupboards so that you can start putting things on the shelves. Make the unboxing process fun by ordering some food and also playing some music. This will definitely lift the spirit of the whole family and you will have more energy to do the job. After you finish with the kitchen, then move to your bathroom. It is a highly necessary room and it does not take much time to sort it out.
Get your entire family involved in unpacking – including kids
Never underestimate the help you can get from your children. Not only will you make the unpacking process faster. But also, your kids will feel an important part of the chain. In addition, they will a lot of fun instead of just wandering around and waiting for you to finish. Tell them to start unpacking their toys and start sorting them out. Secondly, ask older children to start sorting out their clothes and school books. Let them eat their favorite candies to make the unpacking fun for your children. Another useful task your kids should do is to ask them to fold smaller cardboard boxes and put them in a separate pile. After this, they can join you to sort out other rooms. Try not to force them too much into the process as it may become too much and it can be contra-effective.
Consider unpacking and junk removal services
Now that you have set up all the essential rooms in your home such as kitchen, bathroom, and bedroom, you can focus on other spaces as well. The next step should be setting up your living room. That includes assembling sofa, bookshelves and hooking up your TV and a computer. There is plenty more work to do, such as unpacking the boxes for your cellar, pantry, and garage. But go step by step. Do not force yourself into too much work. In addition, as there will be many boxes all around, you will need to hire a junk removal company to take them away. When they remove all the packing material from your new home, there will be much more space. In addition, it would be much easier for you to actually start decorating your home and enjoying it.
The unpacking process is not an easy task to do. It will take a lot of energy and therefore it is important to get your entire family involved in unpacking. You can make the process much easier if you follow the unboxing checklist. Therefore, start from the most important rooms such as the kitchen, bathroom, and bedroom. When you set up the most important things, everything will be much easier. In addition, try to make the process fun for your family. Consider that as a free time that you can spend together and making your new space nice and comfortable. The new life episode is about to start.