Though many would say that a local move is less complex than other types of relocation, it still demands a thorough preparation. Besides the usual things that follow the relocation process, one crucial thing is knowing where you are heading. With the help of City Movers, the internet, and the recommendations of other people, you are to get enough information about Miami. Also, compare the two places. Know what you can lose and get with your move. Surely, you have your reasons to move from Fort Lauderdale to Miami. Though they seem similar, a deeper analysis will show you quite the opposite. Therefore, what will you expect to get from your move?
Engage in a new adventure when you move from Fort Lauderdale to Miami
First of all, local movers Fort Lauderdale won't need to cross a great distance since Miami is 28 miles away from Fort Lauderdale. Thus, you'll reach Miami in about 30 minutes when driving non-stop. As we have already mentioned, there are similarities between the two cities.
extraordinary tropical beaches
restaurants with diverse cultural cuisine
good public transportation
warm weather
entertainment venues
recreational activities
Nevertheless, even in the previously mentioned facts, there are certain differences. Now let's see why would anyone relocate from Fort Lauderdale to Miami.
1. Are beaches in Miami truly better?
Both cities have magnificent beaches. If you have decided to leave the picturesque beaches and blue water of Fort Lauderdale you certainly have the reason to. What you may expect from your move to Miami are beautiful beaches, crystal blue water, and white sand. Here you can party, surf, swim, and socialize with others. After all, most beaches are crowded. Then, you must be a partygoer. After all, Fort Lauderdale beaches are more suitable for families and others who prefer peace and a more relaxed atmosphere.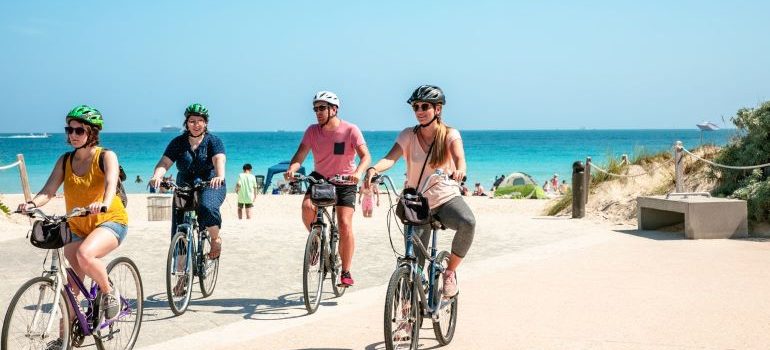 Though beaches in Miami are crowded such as the famous Miami Beach and also popular South Beach soon you'll see there are beaches that tourists have no knowledge of. Hence, you can have both, beaches for fun and parties and those more quiet ones when you feel the need for true rest. For instance, find peace in one of the clearest waters at Crandon Park.
2. The atmosphere of Miami is luring everyone who likes leading an active lifestyle
We mustn't deny the fact that Fort Lauderdale has more beautiful scenery than Miami. There are more natural landscapes to enjoy, fewer buildings, and beauty is at every pace. However, you obviously need more than a laid-back atmosphere. Hence, make sure to hire one of the best moving companies Fort Lauderdale and hurry up to Miami. After all, Miami excels in a variety of activists and things you can do. It's definitely more urban with tall buildings, condominiums, apartment buildings, and shopping centers. Besides the beaches, there's a lack of natural landscapes.
Moreover, Miami welcomes you with numerous museums, theatres, and galleries where you can enjoy a spectacular art scene. Art Basal in Miami Beach is quite important for artists and collectors. Also, the Vizcaya Museum and Gardens is full of antiques and history. Additionally, you can revel in the oldest and largest zoo in Florida – Zoo Miami – with over 3,000 animals you can admire. Furthermore, we must mention The Venetian Pool in Coral Gables where you can witness amazing waterfalls among other things as well.
Entertainment and nightlife are the things Miami is mostly known for
As a matter of fact, Miami can rival any big city in the entire U.S. Certainly, you'll have a good time visiting impressive oceanfront clubs, live music settings, and dance venues. One of the best places for exciting nightlife is definitely Greater Miami and Miami Beach. You can dance salsa at Little Havana and at Mango Tropical Cafe in South Beach. Downtown Miami offers an amazing skyline view from the rooftop.  Therefore, in case you prefer a faster pace of life and excitement, Miami is the perfect place for you.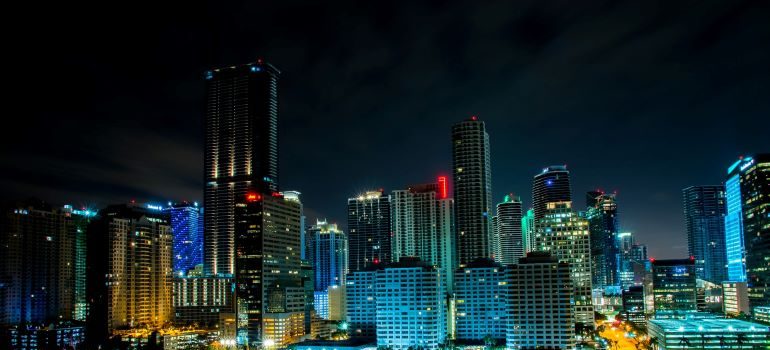 3. Miami is one of the leaders in terms of cultural diversity
To start with, the fact that 70.08% of the population of Fort Lauderdale speaks only English should be sufficient to prove the lower level of cultural diversity. on the contrary, this isn't the case with Miami. No wonder residential movers Fort Lauderdale have so much work to do when people are leaving Fort Lauderdale for Miami. Thus, the situation in Miami will suit you a lot since 22.6% of the population speaks only English. On the other hand, 77.38% of people speak other languages. For instance, there are a lot of Cubans, Nicaraguans, Haitians,  Hondurans, and Dominicans. Hence, you will be able to try out new trends and new cuisine.
While the cuisine in Fort Lauderdale is mostly based on seafood, the Miami cuisine is diverse. Meals from Central and South America will fascinate you, especially famous Latin food.
4. Miami guarantees excellent education for your kids
In case you are moving with children, you are to consider well the educational opportunities. Hence, make sure to contact the best moving companies in Miami and be certain you've made the right choice when choosing Miami as your new home. We don't want to say that education is bad in Fort Lauderdale. Nevertheless, Miami is an absolute leader when it comes to high-quality schools and a number of higher education institutions. As a matter of fact, research on the best U.S. high schools was conducted in 2021 according to which Miami -Dade County Public school had 5th place in the national rankings. Guess what, Fort Lauderdale wasn't on that list.
Furthermore, we must state that Miami beats Fort Lauderdale in the choice of high education institutions. With 59 colleges, universities, and technical schools in Miami your choice is truly diverse. On the contrary, the situation in Fort Lauderdale is quite the opposite. With 8 high education institutions, it can't brag about high choices.
5. Quality of healthcare is at the highest level
When choosing the place to start your life all over again, many would observe the healthcare system. In this case, we can say that no city in Florida can win against Miami since its healthcare possibilities are truly outstanding. Medical facilities are well-equipped following the development of the new technology. Also, a variety of hospitals in Miami are ranked as one of the best in terms of cancer treatment, children's care, and heart care.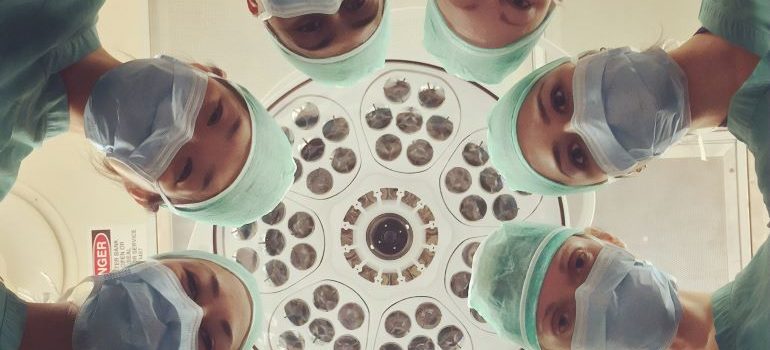 Therefore, rest assured that no matter what kind of medical problem you may have, both doctors and medical facilities will offer you the best treatment. Furthermore, what is convenient is that the majority of medical facilities are located throughout the city. Hence, they are available to you no matter where your home is. Therefore, after observing all this, make sure to get the most appropriate moving services Fort Lauderdale and head straight to Miami. One thing is certain – you will feel a lot more secure here knowing that someone is taking good care of you.
6. Diverse neighborhoods are waiting for your arrival
As we have told you earlier, Miami is defined by its rich cultural diversity. In one way, we can say it is truly an international city which attracts people from all over the world. When we look at the Miami neighborhoods, we must state that they are quite different from each other. They all have their own personality. However, they also have a part of the Miami lifestyle. Therefore, you are to choose adequate moving supplies Fort Lauderdale for your belongings and start searching for a new home. Which neighborhood you plan to opt for depends entirely on your own budget and preferences.
It's a known fact that housing costs are about 40% above the national average. Definitely, higher compared to Fort Lauderdale. Still, the difference between the cities isn't enormous. Also, be aware that Miami is a city with so much to offer. Thus, the costs are quite reasonable for a city of this kind. With this in mind, you just need to opt for a certain neighborhood and you will find your dream home easily.
What are the most culturally diverse neighborhoods?
Miami has a variety of neighborhoods. However, only several are truly distinct when observing their features.
Little Haiti – Here you can enjoy the colorful streets and afro-Caribbean festivals. Its location is north of Downtown Miami. What is certain is that you will have fun in this lovely neighborhood.
The Wynwood District – Some of the finest artists and murals on the walls are right here in this amazing part of Miami.
Miami Beach – Both young and old will find this neighborhood quite suitable for new beginnings. Moreover, art is definitely celebrated here.
Little Havana – This is a place where you can experience the genuine Hispanic culture. Feel the authenticity of South America, the Dominican Republic, and Cuba.  Hence, get an original Cuban sandwich, coffee, or cigar. Wherever you go, you will be welcomed by pleasant smiles and courtesy. Also, it's good to know that this is also one of the top Miami neighborhoods for people with children. Hence, there is something for all ages.
Kendall – Families and young professionals are welcome to explore this amazing neighborhood. Don't worry. Lovely tropical beaches and the city are not far away.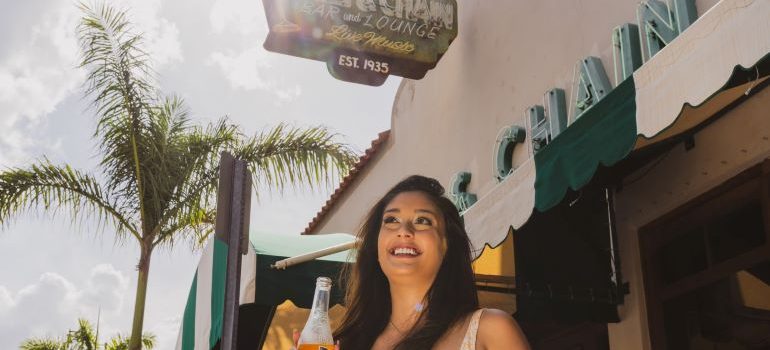 7. One of the reasons for moving from Fort Lauderdale to Miami is definitely excellent transportation
Both Fort Lauderdale and Miami have good public transportation. They offer diverse options such as buses, ride-share services, trains, and trollies. Nevertheless, one of the things to know before moving to Miami is that it's more suitable in case you don't own a car. Thus, it's a more walkable city. You may need a car if you want to reach neighborhoods outside downtown. On the other hand, people downtown can move quickly without a car.
As a matter of fact, Miami residents can use excellent means of transportation at a very low cost or even for free and get around Miami without wasting money on taxis and rental cars. After all, considering the moving costs this is an excellent reason to change residence from Fort Lauderdale to Miami. Therefore, what means of public transportation can you use?
Metrorail – This is definitely an inexpensive and fast way to get around Miami.
Metromover – The best option for exploring Downtown Miami is definitely Metromover. What matters is that it offers free public transportation service.
Metrobus – Wherever you want to go, you can always use the city buses. Metrobus operates more than 95 routes with almost 1,000 buses.
Miami's Trolley – Those who prefer free and exciting transportation options to get around the city will choose Miami's Trolley system. This way you can go through Miami Beach, The City of Miami, Coral Gables, The City of Doral, and Miami Gardens.
Miami will justify your trust
All in all, your move from Fort Lauderdale to Miami will become a totally new experience for both young and families. Certainly, Fort Lauderdale has so many advantages that have made your life quite satisfying. However, if you are searching for more excitement, an active lifestyle, and more entertainment Miami is the right solution. The basic difference is that Miami is more urbanized and crowded and it offers extraordinary opportunities for fun and enjoyment. There's a variety of neighborhoods to choose from. Whatever your choice may be, rest assured you will find a decent home at a reasonable price. Even a city as big as Miami that can compete with any big metropolis in the U.S. has quite reasonable costs. Therefore, your coming to Miami will be a new adventure that will broaden your horizons and make you satisfied.