The first thing to do when packing for the move is to prepare essential items you will need at some point and cannot risk losing. Therefore, it is important to pack your essentials bag for moving to Boca Raton so you do not have to worry about it later. Electronic gadgets, documents, and toiletry kits are some of the items you should keep close to you and not in storage. In addition, your moving day will go without added stress once you have all necessities with you. Moreover, it is beneficial to hire professional packing and moving services to handle the rest of your belongings. Rest assured you can rely on us at City Movers since we are ready to come to your aid at any time. After you take care of your essentials, our capable and time-efficient crew will do the rest!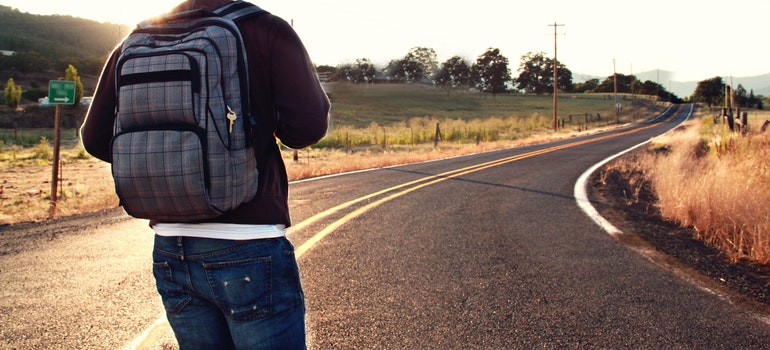 Our company ranks among some of the best local movers Boca Raton and operates at a top level. Our team is committed to improving the quality of our moving and additional services so you can have an organized and professionally executed moving endeavor. There are no impossible challenges once you hire our movers! They will treat your valuables with care and be at your disposal from start to finish.
Essentials bag for Boca Ranton relocation has to be your no.1 moving task
Write down the essentials bag as the first thing to do on your moving checklist. It can get much more difficult and annoying if you leave it for later. Necessary items and important documents are easy to lose. Moreover, you do not want them to accidentally end up in the trash. So make sure to deal with the essentials first:
wallet and keys
personal documents
toiletry kit
first aid kit
spare clothes for change
medications and supplements 
electronic gadgets
scissors 
toilet paper roll and wet wipes
pet/kids essentials
snacks and water 
Packing is best to go from smaller to bigger and bulkier items. Do not skip on hiring packing services Miami companies offer, often at reasonable prices. Apart from a pair of helping hands, you will get more time for other moving tasks. Professional packers are skilled to complete within hours what would usually take a day (or two).  Further, they are familiar with different packing methods for each object and know what can be packed together and what should go in a separate box.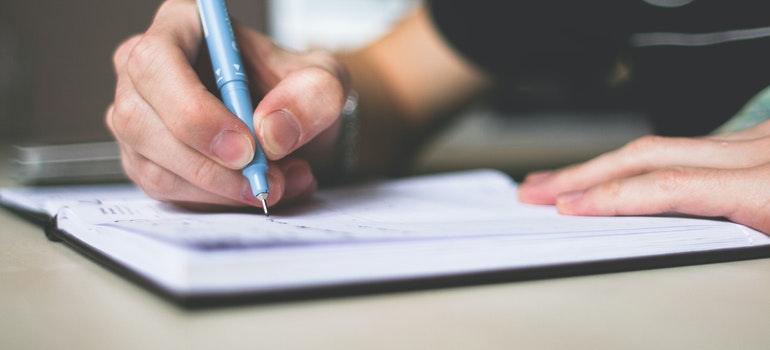 Double-check if all important documents are in the essentials bag before moving to Boca Raton
Back up all documentation to a flash drive and external hard drive. Make extra physical copies just in case. Assemble all documentation into a file and seal it. Put it in a bag where you will be carrying other essentials. However, make sure to keep it away from water and other liquids. Also, make sure to check so you do not worry later if you forgot something or not. You can never be too careful when it comes to personal documentation.
Know where your wallet and keys are
Although we carry them around every day, wallets and keys are the easiest to lose. Do not toss them around because you will forget where are they. Keep them in a special essentials bag pocket. Keep the bag close to you. You can tie your wallet to an essentials bag using a wallet chain, or to your jeans. As for your keys, it is best to attach the bigger key chain.
Secure your medications and vitamins before the move
Use a waterproof bag or a compact plastic bin to protect your medications or supplements. That way they will be protected from possible leaks or unexpected rainy weather. Do this even if your essentials bag is weatherproof.
Pack hygiene items and cosmetics together
Stay organized and make some order in your essentials bag. Avoid the mess by packing it item by item. Therefore, ensure to pack a toilet paper roll, wet wipes, and toiletries together. The goal is to make it easier for yourself to find hygiene necessities immediately instead to spill the bag. Pour small amounts of hand cream, moisturizer, or lotion into travel kit bottles. Pack smaller bottles filled with daily cosmetics products into your essentials bag, while the rest can go inside the moving box.
A laptop and other electronic gadgets must go with you
It is necessary to keep your laptop or tablet with you, especially if juggling between work and relocation duties. Do not fool yourself by packing a laptop with bulky electronic equipment! By having your gadgets with you, the possibilities for damage will be minimal. However, you still have to be careful when packing gadgets and their chargers. Carefully fold all cords and secure them with a small piece of packing tape. Remember not to toss the moving essentials bag containing your laptop! Set up the optimal temperature inside the vehicle before you move. Your gadgets will be beside you on the road thus you must ensure they stay in a good condition.
Do not skip pet/kid items
Ensure you have all kid or pet items together. Your children and animal friends will need attention throughout the moving process. Check if everything is in one place – diapers, a toy, spare clothing, dog food and etc.
A small first-aid kit always comes in handy
You never know if or when you will need adhesive medical plaster, bandage, and disinfectant. So make a first aid kit and include it in your essentials bag. Pack a pair of scissors with the rest of the kit.
Water and snacks should go last in your essentials bag for Boca Raton move
Now that you stuffed essentials bag for moving to Boca Raton almost full, it is time to think of some snacks. Avoid too big snacks packaging. Opt for small apples, chocolate/protein bars, chips, or whatever you like. However, do not overstuff your bag. Place water on the side of your bag if possible. Close the bottle cap and seal it after usage to be sure the water will not spill inside your bag.