Moving to Miami with the City Movers might be one of the best decisions you have ever made! It has everything that big cities like NY and LA have to offer, but it has a much more laid-back vibe. Miami is the place where you will always have something to do. The city is known for its beautiful white-sand beaches and crystal clear water, clubbing, and great weather. Another thing that Miami is known for is its international food scene. The city is truly a heaven for those who enjoy eating out. This is why today we are going to present to you top Miami neighborhoods for foodies that are worth visiting.
Buena Vista
Buena Vista is one of the oldest Miami neighborhoods. This is mostly a residential neighborhood. A lot of people own their homes here. An interesting thing about this neighborhood is that a lot of houses are built-in 1920. What used to be a small village became one of Miami's hottest neighborhoods. In Buena Vista, you will find a variety of cute French cafés, Italian restaurants, and instagrammable rooftop bars. The best part of this little heaven for foodies is the number of options that you have. You will easily find vegan, vegetarian, and gluten-free options.
If you plan on moving to Buena Vista consider hiring Buena Vista movers. They know the area by heart, thus your move will be more than enjoyable. Moreover, since movers know the area that well they might be able to recommend you some great places where you can grab a bit after you are done with the unpacking.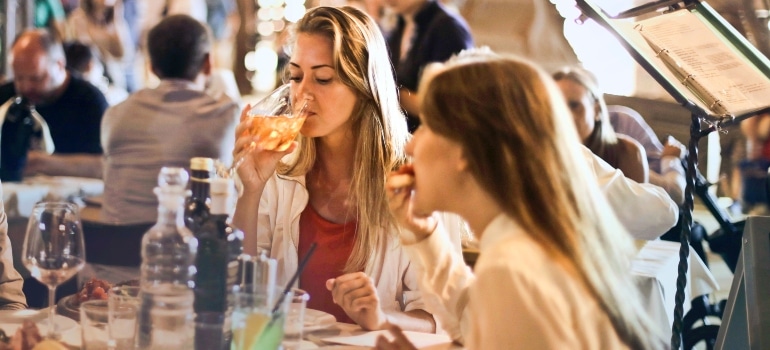 Brickell
Miami's business center is one of the most walkable neighborhoods. Many prominent law firms and financial institutions have their headquarters here. If you are someone that likes to have a lot of choices then Brickell is the place for you! This neighborhood is packed with restaurants, food trucks, and cafes that offer all kinds of food. Moreover, a lot of award-winning restaurants can be found here.
The most popular type of cuisine is the Mediterranean, and Italian. However, you will also find a lot of different exotic dishes like Chilean, Peruvian, and Asian. You will never run out of choices since almost every week there is a new restaurant opening in Brickell! Moreover, over the last few years, the neighborhood has gained a lot in popularity. If you plan on moving here then Brickell FL movers are the ones that you should contact if you need some help with your relocation.
Coconut Grove
The Grove is one of the oldest and most charming Miami neighborhoods. A lot of families live here, due to its safety and great schools. Moreover, some of the most exclusive properties can be found here. However, the neighborhood is quite relaxed and way different from the Brickell which is more like an urban jungle. As a top destination for foodies, The Grove has a wide range of eclectic bars and restaurants.
One of Miami's best burgers and one of the greenest restaurants is located here! If you are looking for a perfect treat after you have done your free yoga class at Peacock Park, Lokal is the place to go. Apart from that, you have a big choice of open bars and bistros as well as a big choice of fancy fine dining restaurants that are worth visiting.  After a long and tiring relocation with one of the local moving companies Miami has to offer you will have a lot of free time to indulge in some good food.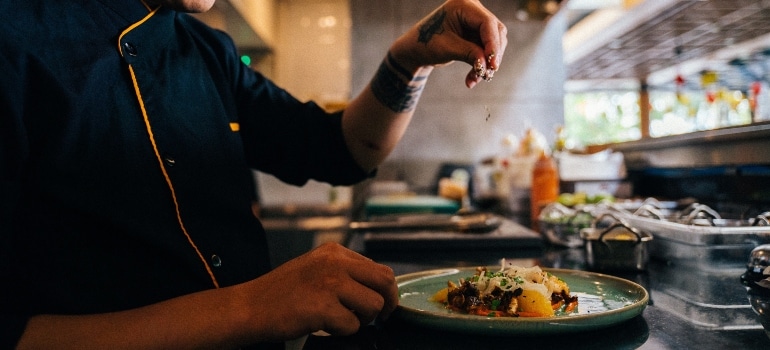 Wynwood
If you want to enjoy your food in an artsy setting then Wynwood is the perfect place for you. This is a hot spot for artists. The famous Wynwood Walls are located here. Moreover, Wynwood always has something happening, from different art exhibitions to music events. This neighborhood has a lot of fusion restaurants. A lot of people call it the mecca for innovative and fun restaurants. Even though this is an upscale neighborhood the vibe is pretty relaxed.
In Wynwood, you will be able to taste some of the most delicious Japanese food. One of the places that you must go to is Hiyakawa. It is an exclusive reservation-only restaurant that serves no more than 50 people per night. All their dishes are made with fresh ingredients. Plus they get their fish daily flown from the Toyosu Fish Market in Tokyo.
Little Havana
The list of Miami neighborhoods for foodies wouldn't be complete without Little Havana! This world-famous neighborhood is the IT place when it comes to Cuban cuisine. We suggest you go there on an empty stomach. On every corner, there are Cuban bakeries, coffee shops, and restaurants that serve delicious food. There are many family-owned restaurants that have been there for generations, as well as new open restaurants that propose traditional dishes with a twist. All in all, you will be amazed by the choice of food in this eclectic Miami neighborhood.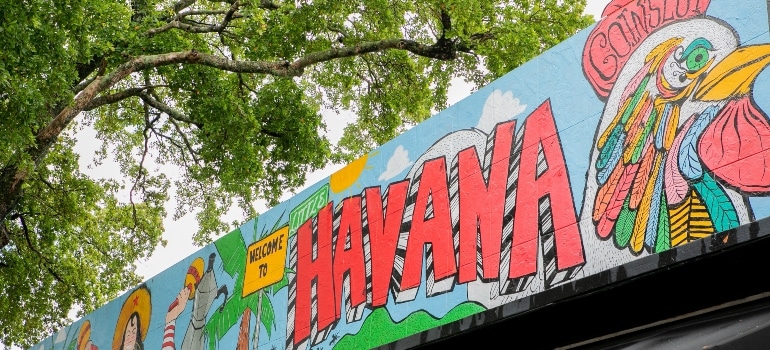 Which Miami neighborhoods for foodies would you choose?
These are just some of the Miami neighborhoods for foodies, there are many more that you will have the chance to get to know after your move with Miami movers. One of the best ways to relax and reward yourself after a long move is by eating some delicious food. Moreover, eating your way through Miami is one of the best ways to get to know the city and settle in faster. Welcome to the food heaven of the Sunshine state!