When you are moving, you need to gather all the necessary packing supplies and pack your entire household. In addition, Boca Raton movers will go in and out several times to load the moving truck. This means your house will become a huge mess. Naturally, you might be thinking about whether you should clean your old home after moving. The answer is yes since you will either need to sell it or someone else will rent it after you. As you know, most landlords will ask you to find a clean house after you move out. Therefore, here is how you should clean your old house before you move out. 
Clean your old home after moving by getting the cleaning supplies
Just as you need the moving and packing supplies for your items, you will need to gather all the necessary cleaning supplies for your home. Here are the following things that you need to properly clean your old home before relocation:
Multi-surface cleaning spray 
Microfiber cleaning cloths 
Glass cleaner 
Furniture polish 
A mop and a bucket 
A vacuum cleaner 
Rubber gloves – to protect your hands 
Dustpan and broom 
Anything else you find necessary 
You should clean your home before moving out. If you feel unsure about cleaning your old home, think about it like this – you will want to find your new home clean. And most importantly if you want your deposit back, chances are that you will have to clean your home. You can hire a professional cleaning company if you want to skip the cleaning process. It will save you time and energy, but make sure to include that additional cost in your moving budget.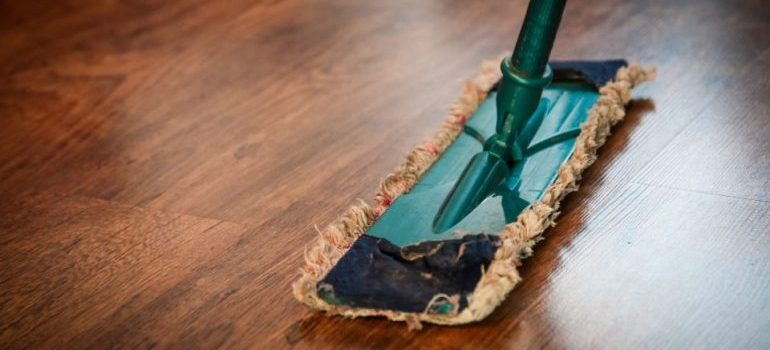 How to clean your kitchen properly
The kitchen might be the dirtiest room in the entire house. It would be smart to clean and pack your kitchen at the same time. Start with cupboards and shelves. You should throw away all the expired food, donate or give away food that will expire in a couple of days, and pack cans and other non-perishable food. Then, use a cloth to wipe all the surfaces. make sure to get all those hard-to-reach places. If there are any crumbs, simply use a dry microfiber cloth.
Then, it is time to tackle the fridge. Again, empty your fridge and use a microfiber cloth with hot soapy water. You can use sprays for your oven, and make sure to clean every part of it. Make sure all the kitchen appliances are completely dry before packing them. In addition to this, do not forget about taps and faucets. You can use over the counter limescale products. Lastly, disinfect the entire kitchen with a multi-surface spray.
Clean your living room before you move
If you decide to move everything with the best movers in Florida, then you will have an easier time cleaning after the move. If your rooms and living room are empty, then you only need to sweep the floor. First, use a vacuum cleaner for dust and cobwebs. Then, you should use a cloth with water and floor cleaner to sweep the floor. If you can, you should use a steam cleaner to clean your floor and carpets – that way you can be sure that you killed all the germs.
Shift all of the bookcases, and clean them first with a dry cloth, and after that, you should wipe everything down with a damp cloth. There are a lot of different products and DIY solutions that can help you prevent dust in the future. And don't forget about the windows as well.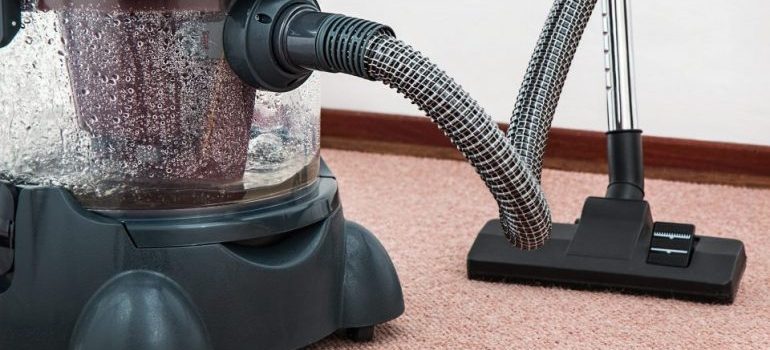 Next stop when cleaning your old home before moving – bedroom
Generally speaking, most bedrooms have a lot of furniture and personal items. It can be challenging to work around them, but with a good plan and a little bit of patience – it can be done with ease! If possible, residential movers Florida should move your bedroom before cleaning. But even if that cannot happen – it can be a great opportunity to declutter your belongings. Decluttering will also make cleaning much easier.
The first step in cleaning your bedroom before moving is to wash all of your bedding. It will be clean and it will smell wonderful once you arrive at your new home. Make sure to wipe down all the shelves that you have in your bedroom. The same goes for the living room – fry cloth than damp. And you can finish it off with a multi-surface spray. The next step is a steam cleaner and then a vacuum. Make sure to clean around your furniture, especially behind and under all the furniture in your bedroom. Cleaning your old home after moving needs to be through!
You should clean your furniture as well when you clean your old home after moving
People often skip this step, but in the long run, especially if you are waiting for cross country movers Florida for a long-distance relocation, can make a big difference.  Especially if you are a smoker, have pets, or have small children. Getting a steam cleaner is a wise investment. you can use it throughout your whole home. When it comes to furniture, you can wash upholstery and carpets to remove odors and stains.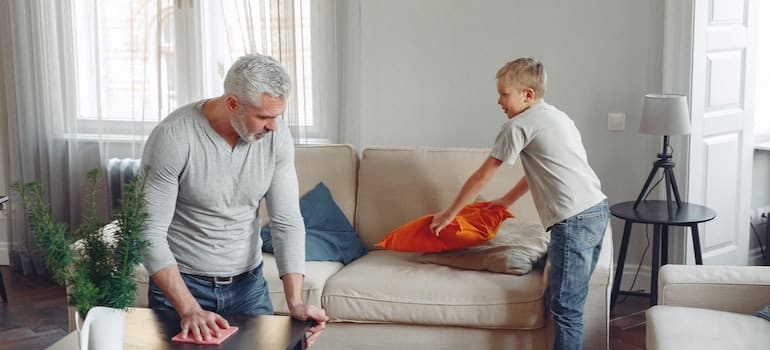 All of the wooden surfaces need to be wiped down, and for the wooden furniture, it is recommended to use furniture polish. It will give it a new, fresh look. Don't forget to check for any scratches, so you can try to fix them. Also, move your furniture and clean behind and under it. Vacuum floors and clean them with the mop after that. On the other hand, if you plan to store your furniture it is essential to clean it beforehand. You don't want to risk any potential damage while it is stored away. And last note – windows!
Tips for cleaning the bathroom
The bathroom probably has the most germs out of any other room in the house. For this reason, it will require a thorough cleaning process. Since you will use stronger cleaning products, your bathroom should be well-ventilated. You need to remove mold in your shower and make sure to remove any debris in the plugs and drains. You should use a limescale remover for taps and sinks. But make sure to leave it for at least 3-5 minutes soaked.
Then, it is time to clean the toilet. Most people use bleach. However, you can find effective replacements for bleach at your local stores. You should also clean the outside of the toilet as well. Also, you should replace the toilet seat and brush. Also, if the seat looks old replace it, especially if you plan to sell your house. Clean mirrors and all the reflective surfaces. And lastly, you should clean all the drawers and vacuum them.
Don't forget about the walls
The first step when it comes to cleaning your walls is to remove any hooks, screws, and nails. Clean around the holes and use filler to fill them. Also, now is the time to check if there are any cracks in the walls. Use filler as well to make them smoother. Don't worry, it will have enough time to dry before local movers Florida arrive. Use a damp cloth to wipe down your walls but be careful! Some paint and wallpaper can be stripped with exercise moisture. If you are not sure – try on some smaller and not visible parts of your wall.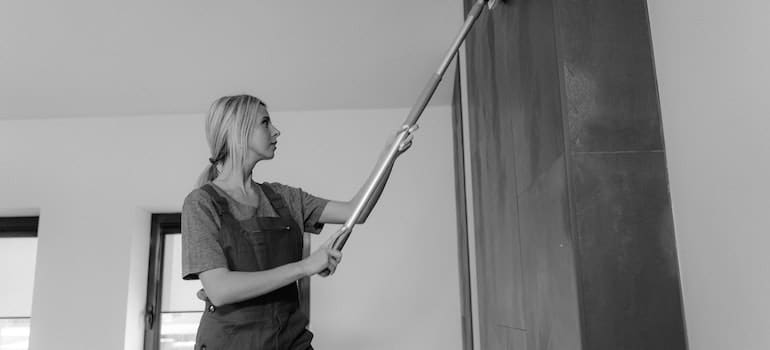 If there are stains on the walls, and you don't have time or energy to paint them, use a mild solution of washing liquid and warm water to remove stains. Circular motions will reduce the risk of any further damage or trace of watermarks. If you see any mold, don't try to hide it. It is better to tell your landlord. In case you are selling the home, you can try to remove the mold with some of the cleaning solutions, but if the mold is too big contact professionals!
When you clean your old home after moving – don't forget the windows
Most people don't like to clean windows since it is an energy and time-consuming task. But cleaning your windows inside and out will leave a great impression, especially if you plan to sell your home. Cleaning your home after moving can really get you a better deal! Use a window or glass cleaning product, ideally as a spray.
Wipe down the frames with a multi-surface spray. That will really make your windows sparkle! In case you cannot get to the outside of your windows – call professionals. And we know that this is a lot of cleaning products, especially if you want your move to be green and eco-friendly. There are a lot of products today that are eco-friendly and great for the environment, and they will leave your whole home spotless.
Don't forget the outside of your home
If you live in a house, then besides cleaning everything inside you will have to clean the outside of your home as well. That includes your shed and garage as well. You can start by decluttering your garage and shed. If you want to clean everything thoroughly, you should consider renting a pressure washer. You can clean your patio and decking before cleaning it with a wood-friendly cleaning product. Clean the leaves, and make sure that everything looks welcoming. The next step is to mow your lawn and remove the weeds. Remove all the unnecessary items and make your garden nice and clean!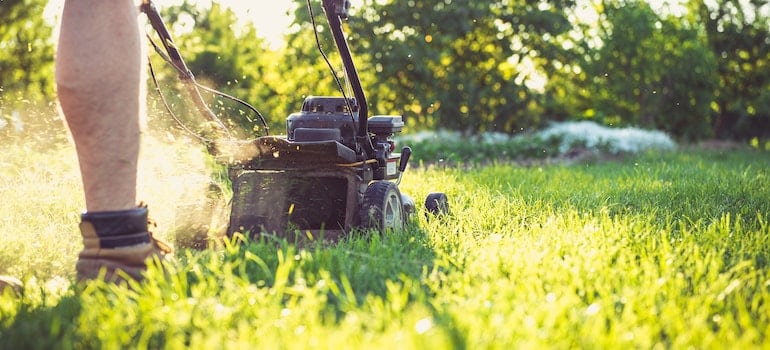 Cleaning for an end of tenancy vs when you sell the house
When you rent a place, you need to sign a contract. In that contract, you will find a clause that talks about cleaning. This means you will need to clean the home before you move out, replace anything broken, and even return the color of the walls to their original state.
If you fail to meet this request, you will lose your deposit. In addition to this, if you damaged furniture but did not replace it, lost something, or turn the garden into a jungle, you will lose the deposit. For this reason, use the property's inventory list to see if everything is in its place. When you plan to sell, no one will want to buy a dirty house. Even if you find a buyer, they will demand a lower price due to the mess. And if you clean your backyard and home, you will get a much better deal.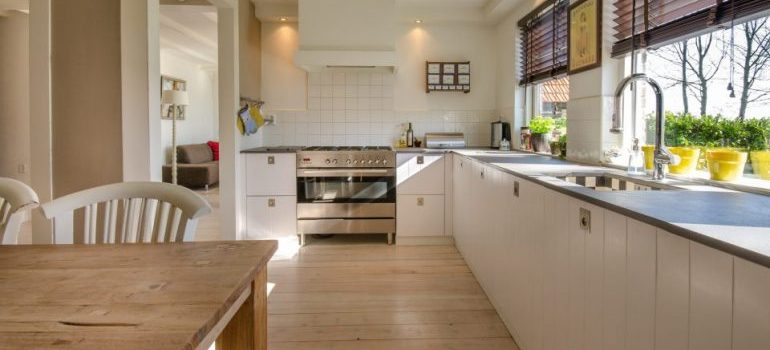 Clean your old home after moving and your new home when moving in
Imagine the scenario. After a long travel, you are exhausted and just want to rest. However, the seller did not clean the house before moving out. This is not the warm welcome you expected. For this reason, do not be that seller. In addition to this, when you move in, you should clean your new home even if it seems clean. It does not have to be deep cleaning, but rather wiping all the surfaces, and cleaning the kitchen and the bathroom. If you want to avoid another cleaning task, hire professionals to help you clean your old home after moving and your new home once you move in. They know how to be fast and efficient.  It will save you a lot of time and energy!