Florida, often known as the Sunshine State, has a lot to offer. From sun-kissed beaches to cozy corners in busy cities, it's a top spot for couples seeking some quality time. So, whether you've been together for decades or are in the early stages of love, Florida has something special just for you. Now, you may think this is all about the usual tourist spots, but we've got something different in mind. Stay with us as we guide you through some popular but also some lesser-known yet magical romantic escapes for couples in the Sunshine State. And who knows? You might love one of these places so much that you decide to hire one of the moving companies in Florida and relocate your home. Ready to find your next romantic escape? Let's go!
Miami: Romance in the city
Miami offers the perfect mix of city vibes and ocean views, making it a top choice for couples seeking romance. When it comes to enjoying a romantic sunset, rooftop bars are the place to be. You get the best of both worlds: a stunning view of the Miami skyline and the ocean's endless horizon. One such spot is Sugar, located at the top of EAST Miami. It offers a cozy atmosphere with plush seating and excellent cocktails. If you appreciate art, Miami's art districts can add a creative twist to your romantic outing. Wynwood Walls is a must-visit. It's an outdoor gallery featuring large murals painted by artists from around the globe. You can stroll hand in hand, appreciating the artwork and maybe even finding a piece that resonates with both of you.
For couples who enjoy the nightlife, Miami has plenty to offer. Many clubs and lounges cater to couples looking for a more intimate experience. And if you're planning a big move to enjoy all that Miami has to offer, finding the best movers Miami has can make the process easier. Choose places that align with your interests, and Miami's romantic offerings won't disappoint.
Boca Raton: Elegance and sophistication
Boca Raton is a city synonymous with elegance and sophistication, making it a perfect destination for couples seeking a romantic escape. Picture yourself staying at luxurious resorts like the Boca Raton Resort & Club. With its private beaches and world-class spas, it's easy to unwind and connect with your partner. For daytime activities, couples can hit the golf course or immerse themselves in the local art scene. Golf courses in Boca Raton, such as the Boca Country Club, offer lush landscapes ideal for a day of leisurely sport and bonding. Meanwhile, the Schmidt Center Gallery at Florida Atlantic University displays a diverse range of art, inviting couples to appreciate fine works together.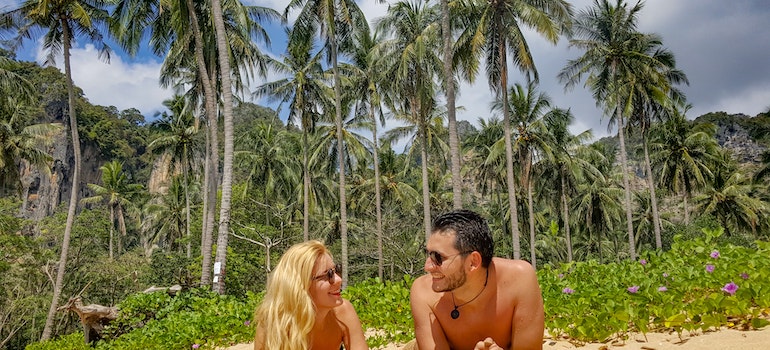 As the sun sets, the city comes alive with opportunities for fine dining and wine tasting. Seasons 52, for example, serves dishes made from the freshest ingredients, paired with a wide selection of wines. Whether you're there for a date night or a special occasion, you're in for a culinary treat. If you fall in love with this place and decide to make Boca Raton your new romantic haven, hiring reliable Boca Raton movers can simplify your relocation. With its luxurious offerings, the city is sure to meet your romantic needs.
The allure of Hallandale Beach, FL
Hallandale Beach in Florida is a fantastic spot for couples seeking a romantic getaway. Its pristine sandy beaches offer an ideal backdrop for love. Imagine a beach picnic with your partner as the waves gently lap at the shore. Pack some fresh fruit, cheese, and maybe even a bottle of wine for a relaxed meal by the ocean. Sailing is another activity that takes romance to a new level. Chartering a sailboat lets you experience Hallandale Beach from a different perspective, and it gives you quality time alone on the water. Companies like Tropical Sailing offer various sailing packages that can fit your romantic plans.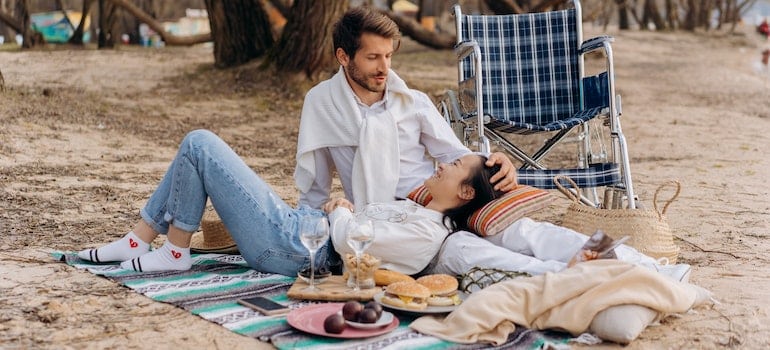 When it comes to dining, Hallandale Beach doesn't disappoint. Many waterfront restaurants serve fresh seafood and international dishes, perfect for a romantic evening. For instance, Juniper On The Water offers panoramic views of the Intracoastal Waterway, making your dinner extra special. Whether you decide to hire reliable movers in Hallandale Beach FL, and relocate here or just visit it for a weekend, there is no doubt that you will make some unforgettable memories with your loved one in Hallandale Beach.
Sunrise, FL: More than just a beautiful morning
Sunrise, Florida, offers more than just a beautiful morning view. It's a place where couples can find romance in simple yet meaningful ways. For instance, the city's parks and open spaces are not just for picnics; they're a stage for love. Consider taking a hike at Markham Park. The park offers trails that are perfect for couples who want to connect with nature and each other. As you hike, you can talk, laugh, and enjoy the scenery around you. Another heartwarming experience is watching the sunrise together. Imagine waking up early, grabbing a blanket, and heading to a scenic spot to witness the sky changing colours. It's a quiet moment to be together and appreciate the new day simply.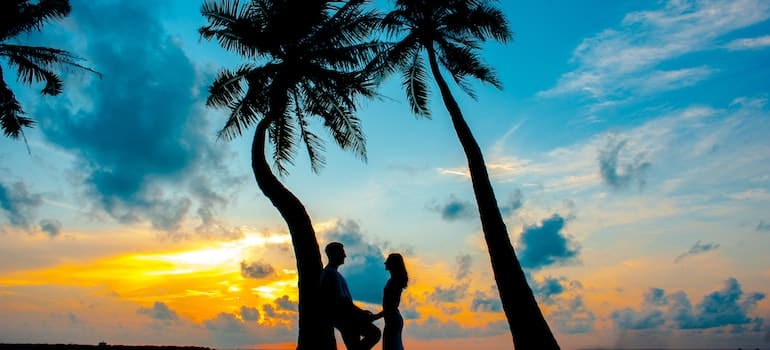 After a day of outdoor activities, you'll want a cozy place to rest and recharge. Many lodging options in Sunrise are tailored for couples. Local movers Sunrise FL, recommend Comfort Suites, for example, that offers spacious rooms and amenities like an indoor pool that can make your stay comfortable and intimate. So go ahead, explore Sunrise, and see why it's not just about the morning sun but also about lasting memories with your loved one.
Weston: A suburban oasis
Weston, Florida, stands as a suburban oasis, making it an appealing spot for couples looking for romance in a quieter setting. The peaceful neighbourhoods here offer the perfect setting for leisurely walks. Take a stroll through the Weston Hills Country Club area, for instance. The calm atmosphere allows for meaningful conversations and a chance to enjoy each other's company simply. Spas and wellness centres are also a highlight in Weston. Facilities like aLaya Spa provide various treatments designed to relax and rejuvenate. This creates an excellent opportunity to spend quality time together while indulging in some self-care.
When it comes to dining, Weston offers a variety of options for an intimate meal. Consider visiting Primetime Restaurant & Bar. Known for its cozy atmosphere, this spot allows you to enjoy a romantic dinner without the hustle and bustle commonly found in bigger cities. Savoring a meal here becomes not just about the food but also about the experience of being together in a relaxed setting. Should you find that Weston's suburban charm perfectly fits your romantic preferences, keep in mind that choosing reputable movers Weston FL, can help you settle in without fuss. Explore Weston and discover why it's a suburban oasis that's ideal for love and romance.
Boynton Beach: A seafront romance
Boynton Beach in Florida offers couples a seafront experience filled with romance. The scenic ocean views alone set the stage for memorable moments. Picture yourselves walking along Oceanfront Park Beach, hand in hand, as the sun sets over the horizon. The sound of the waves and the colors in the sky create a romantic backdrop unlike any other. For those who crave a bit of adventure, Boynton Beach provides a host of water activities. From snorkelling to paddleboarding, the options are many. The Underwater Explorers offers scuba diving packages for couples, letting you explore the marine world side by side. It's an exhilarating way to share unique experiences and create lasting memories.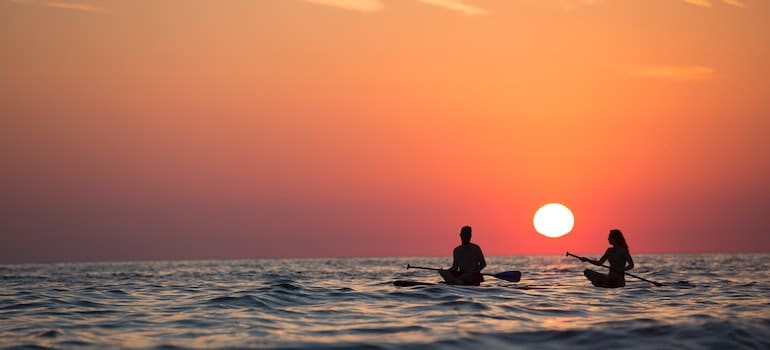 As the representative of moving companies Boynton Beach can confirm, one of the standout romantic options is an unforgettable dinner cruise. Delray Yacht Cruises hosts evening voyages where you can enjoy a meal as you sail along the Intracoastal Waterway. It's a moving feast, both in terms of the delicious food and the ever-changing, beautiful views. Explore Boynton Beach's romantic offerings and find out how easy it is to fall in love with this seafront gem.
Sunny Isles Beach: A coastal gem
Sunny Isles Beach in Florida is a coastal gem that offers couples a romantic backdrop for creating special memories. The spectacular ocean views alone make for captivating moments. Imagine sitting together on the soft sand of Samson Oceanfront Park, where the sky meets the sea in a dazzling display of natural beauty. It's an experience that invites you to appreciate the moment and each other. Adding a touch of luxury to your beach outing are beachside couples massages. Places like Acqualina Spa offer this unique service, letting you and your partner relax and unwind to the soothing sounds of the waves. If you're more of an active couple, water sports are readily available. You can try jet skiing or parasailing for an adrenaline-pumping experience. It's not just fun but also a way to build shared memories and strengthen your bond.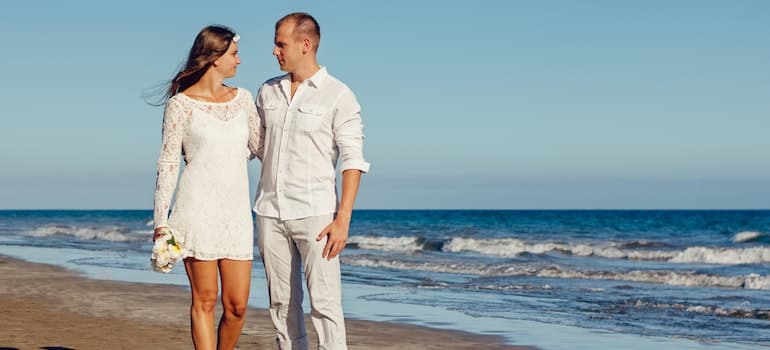 For a romantic dinner, venture to places like Il Mulino New York. Known for its elegant atmosphere and Italian cuisine, it offers the perfect setting for an intimate meal. Savor delicious food while enjoying each other's company in a cozy environment. And if you find that Sunny Isles Beach meets all your criteria for romance and you're considering a move, dependable movers Sunny Isles Beach can make your transition effortless. Sunny Isles Beach is indeed a coastal gem where love thrives.
Key West: A tropical paradise
When love is in the air, a tropical paradise like Key West is hard to beat. Key West, Florida, sets the stage for love and romance. This island city captivates couples with its:
Stunning sunsets: Imagine watching the sun dip below the horizon at Mallory Square, hand in hand with your loved one. The sky paints itself in shades of orange and pink, creating a magical moment that feels as if it's just for the two of you.
Diverse activities: From snorkeling in crystal-clear waters to boat tours that explore the surrounding islands, Key West is a playground for couples who love adventure. Companies like Fury Water Adventures offer both activities, allowing you to discover the beauty of marine life or enjoy a private tour of secluded islands.
Natural beauty: Whether it's the lush foliage at the Key West Tropical Forest and Botanical Garden or the turquoise waters that surround the island, natural beauty abounds. These settings offer countless opportunities for romance, from leisurely walks to beachside picnics.
There are many romantic escapes for couples in the Sunshine State
Florida is a treasure trove of romantic escapes for couples. From the tranquil, suburban charm of Weston to the vibrant seafront experience in Boynton Beach, there's a locale for every type of couple. Whether you're watching a breathtaking sunset in Key West, enjoying a beachside massage in Sunny Isles Beach, or exploring the natural beauty of Hallandale Beach, these destinations offer diverse settings for love and romance. Each place presents unique activities and atmospheres that can make your time together truly unforgettable. So, if you're in search of the perfect romantic escapes for couples in the Sunshine State, rest assured that Florida has a multitude of options that are sure to match your desires and create lasting memories.