Everyone who's moved at least once in their life knows how wild of a ride moving is. You can never predict where the moving process will take you next! And often, you can't get rid of the stress and exhaustion that comes alongside moving. South Florida, especially Boca Raton is very sought after lately. And with many people moving their lives to Boca Raton, we can expect a lot of pets accompanying them! Now, if you're planning to move to Boca Raton with your pet, there are some things you need to be aware of. Pets feel stress just as much as we do, if not more. Our little furry friends know us so well that they will experience even greater stress when they see us stressing. We at City Movers have prepared some tips and tricks for moving with your beloved pet.
Why would you move to Boca Raton with your pet?
Actually, there are many reasons you might want to do this! All pets are different, but there are some things they always have in common. Like their love for their owner! Now, if you're traveling with a cat that doesn't enjoy going outside, your focus should be your home. Think of what your beloved kitty enjoys and create a nice space for her or him. But, if you're moving with your dog or another pet that enjoys the outdoors, you have more things to take into consideration. As well as more reasons to look forward to your relocation! Also, remember to search for pet-friendly movers Boca Raton to make your relocation easier.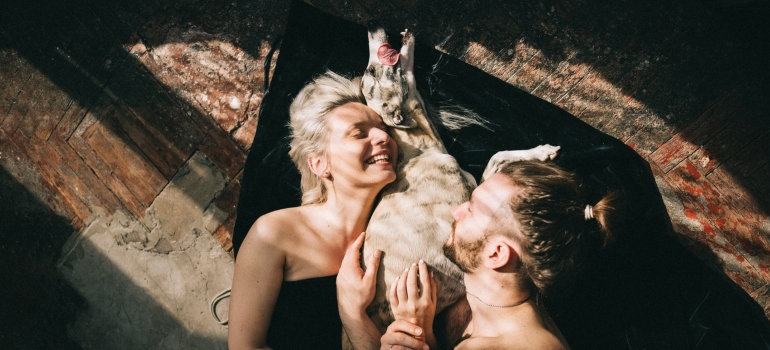 The sea
First off, quick access to the sea and the beach is a huge plus for both you and your pet. Instead of going for a morning walk on the hot concrete and worrying if your furry pal is in pain, just go to the beach! Dogs especially are obsessed with water. One important thing you need to do before taking your pet to the beach is check for pet-friendly beaches. Luckily, most beaches allow access to pets seeing how owners are truly dedicated to their furry friends and won't allow accidents to happen.
Now once you and your fur baby arrive at the beach, the options are endless! The best games to play on the beach are fetch, tug of war, and just going on a jog with your pet. For fetch, you'll obviously need a ball and that's it. We'd recommend taking a rubber ball. Even though tennis balls are a classic and a favorite among pets, a rubber ball won't be soaking wet after your play date. Frisbee is also an amazing idea for fetch! Also, allow your dog to run around, explore, swim, and do whatever else they enjoy. If you're the sporty type, a morning jog with your pet on the coast might just be the perfect workout.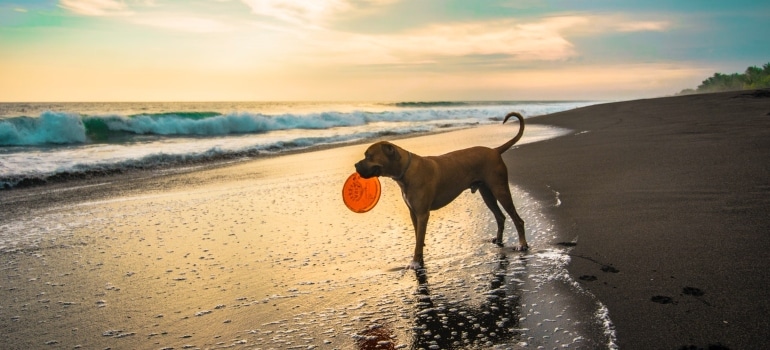 Nature and parks
Boca Raton is a natural gem. Many people won't mention nature as one of the first things that's incredible about Boca Raton. But, since you're going to move to Boca Raton with your pet, you need to know that there are so many pet-friendly outdoor activities to choose from. From forests, all the way to parks. And most of them accept furry pals, so don't worry! If you're searching for very specific parks or places, we'd recommend asking your long distance movers Boca Raton. They've been all around the city and know all of the hidden gems. We're sure they can provide some useful insight, you just need to ask!
When it comes to parks, let's take a look at some of the most popular locations. Canine Cove at Burt Aaronson South County Regional Park is a fenced park where people let their pets run without their leashes. This park is specifically tailored to dogs and even offers 4 separate areas for different-sized doggies. For you and your human loved ones, you can enjoy the shade in one of the gazebos, or walk around and enjoy nature. The park has a few fountains, so water won't be a problem, and as you walk there are many benches to take a short rest on. And this is just one of the many pet-centered places you can visit. The other popular parks are:
Happy Tails Dog Park at Seminole Park

Tree Tops Park

Barkyard n' Brews

Park and Ocean
and many more!
Many other pet owners
In Boca Raton, you'll be able to meet an astounding number of fellow pet owners. Especially if you were to visit any of the pet-centered locations we've mentioned. Making friends in a new place can be a challenge, especially if you tend to be shy. But, if you decide to move to Boca Raton with your pet you'll see that making friends is easier than anticipated. Many pet owners enjoy chatting with other pet owners and often this can lead to lasting friendships. Not only will your pet give you a reason to leave the house and go wandering, but they will also give you the confidence you need!
Many people don't realize just how much our pets help ease our anxieties. And, do you know what the best part is? Your pet feels as comfortable and as confident with you as you do with it! Our little furry friends need the love and support just as much as we need it from them. So, is there actually any reason you shouldn't move with your pet? We don't think so. Be sure to contact your office movers Boca Raton on time if you're planning on moving your office alongside your home. Moving season is well underway, so just remember to schedule everything on time!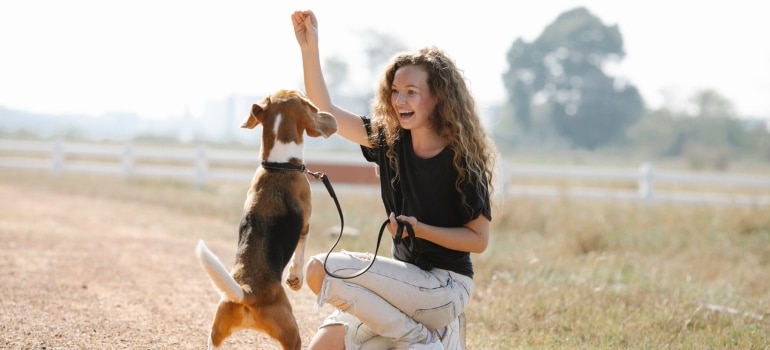 Many hiking trails
Even though hiking isn't as popular in Florida as it is in other states with more mountains, there are still some amazing trails. Most of the hiking trails are managed, maintained spaces that are safe for you and your pet. Hiking is often deemed as a hard activity that many don't enjoy. But, we urge you to give it a try. Hiking in Boca Raton is more like taking a longer walking tour in a nice natural setting. If you've never hiked before, you will be surprised how releasing it is. As we all know, physical exercise has an amazing impact on our mental health. And many people don't have the time to truly dedicate themselves to fitness. We'd like to point out that before your move, you will need to acquire packing supplies Boca Raton. The good news is you can rent them from your chosen moving company! Think about things, and decide what's the best option for you.
A good way to start out your fitness journey is hiking with your pet. This will give you an incentive to go out and appease your pet. But, in the end, you will notice how much better you feel after a nice hike. The El Rio Trail in Boca Raton is perfect for you and your pet. This trail is 11.4 kilometers long and is generally considered an easy route. This means it's perfect for beginners! Usually, people finish this route in around 2 hours, a few minutes more or less. Some of the activities that you can do on this trail are road biking, fishing, and trail running. Also, a big selling point is that you'll rarely see other hikers! It can be a private event for you, your pet, and your loved ones. Be sure to visit this trail between January and April as these are the months when it's most enjoyable.
Moving with our pets makes everything easier
All pet owners can say that their lives improved for the better after getting their pets. But, did you know that owning and taking care of pets has an amazing beneficial influence on our mental and physical health? Just cuddling with your furry friend can improve your mood and lower your stress levels. Pets are much smarter than a lot of people give them credit for. They can tell when you're in a state of panic or very stressed out. We're sure you've noticed your cat curling up to you and purring when you're overwhelmed. Or your dog trying to pet you like you always pet it.
Our pets care about us so much! And when we feel that, we tend to return it. So, that means that as long as our pets are near us, the main emotions we feel are love, pride, and similar. Obviously, this means that just owning a pet can reduce stress, anxiety, depression, and help out with loneliness. Owning a dog is especially beneficial to our physical health seeing how you have to go out and walk your dog at least twice daily.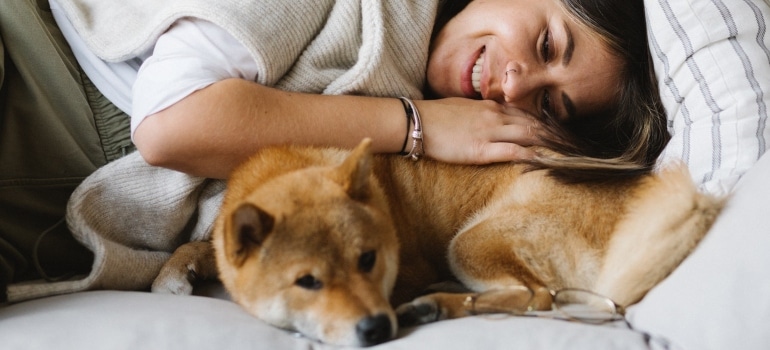 After all of this information, wouldn't you agree that it's an amazing idea to move to Boca Raton with your pet? If you're moving alone, you'll have a loving companion. If you're moving with a spouse and kids, you'll have your playful pet to raise the mood in your home each day. Even though moving can get complicated with furry companions, they are well worth it. If you're searching for piano movers Boca Raton, there are many available! And if you're thinking that your piano doesn't need piano movers, you're wrong. For such a prized possession you need to hire professionals who can handle it with care.
How to prepare our pets for the move?
Our furry babies are pretty sensitive to change. So, it's not a bad idea to pay some extra time to them before the move. There are a few ways to prepare them for the move to Boca Raton with your pet. Let's take a look!
Hire a pet sitter
When you start the whole packing process, your pet could experience a lot of stress. All of the loud sounds, moving things around, and clutter everywhere, it can get overwhelming. That's why it's a good idea to hire a pet sitter or ask a loved one to take care of your baby while you pack up your home. Then, once everything is over, you can go pick up your beloved pet and move in peace.
Consult with your vet
If your pet gets anxious on long rides, you might want to go for a consultation with the vet. Also, a check-up before you move and find a new vet is recommended. Just check on your furry friend before the move and collect any medicine if the vet prescribes it. But, please, be careful. Giving medicine to your pet without a vet's approval can be very dangerous! 
You can even ask your vet if they can suggest any good vets in Boca Raton. You never know! They might have a trusted colleague and ease your stress.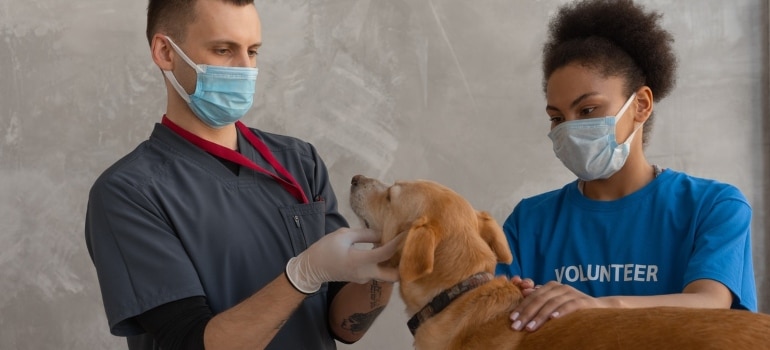 Set up your pet corner in the same order as in your old home
Pets grapple a bit with change. This is completely normal, and we all go through it. The best thing you can do for your pet in these situations is to set up their little corner in the same order. Put their bed, their toys, and all the other things exactly as they were in your old home. Even though everything else is pretty new and confusing, your pet will be calm to see their little part of the home is the same. And don't worry, after the initial shock, your furry pal will quickly adjust to your new life.
We hope that after reading our list of reasons to move to Boca Raton with your pet, you can see that it's an amazing idea! Instead of leaving your furry friend with family or friends, both you and your pet would enjoy yourselves more if you moved together.