Florida, fondly dubbed the 'Sunshine State,' is a captivating fusion of rich culture, untamed nature, and exhilarating entertainment. It's where cosmopolitan flair meets natural splendor, creating a unique tapestry of experiences. From its pristine beaches to lively festivals, there's an essence of vibrancy that resonates throughout. This guide is crafted with a singular aim: to spotlight the most visited cities in Florida. Whether you're planning a move with one of the moving companies in Florida or simply seeking a memorable escape, we're here to guide you through the state's must-visit locales. Dive into a journey through Florida's best, and let its multifaceted allure enchant you.
What are the most visited cities in Florida?
Florida often heralded as the 'Sunshine State', is a treasure trove of diverse experiences set against a backdrop of balmy beaches, lush wetlands, and vibrant urban centers. It's a state where nature and urbanization coexist harmoniously, offering visitors and residents a unique blend of the serene and the bustling. Miami stands as a testament to Florida's multicultural spirit. Its streets are pulsating with Latin rhythms, and its skyline is dotted with modern art-deco marvels. Nearby, Miami Beach dazzles with its iconic shoreline and a nightlife that's second to none.
Fort Lauderdale, nicknamed the 'Venice of America,' boasts intricate waterways and a rich nautical heritage. West Palm Beach presents a cultural haven, while Hollywood, FL, tempts with its scenic boardwalk and coastal charm. Further north, cities like Lake Worth and Delray Beach showcase Florida's quaint side, with artsy downtowns and tranquil beaches. Pompano Beach and Deerfield Beach are family-friendly destinations celebrated for their serene atmospheres and recreational offerings. Lastly, while not exhaustive, no overview of Florida would be complete without nodding to Orlando's world-renowned theme parks or Tampa's vibrant bayside activities. In essence, Florida is a mosaic of experiences, with each city adding its own distinct hue to the state's vibrant tapestry.
Miami: The pulse of Florida
Miami is not just a city; it's an exhilarating sensation, alive with a palpable energy that resonates through its sunlit streets and moonlit shores. Rooted deeply in its rich cultural diversity, Miami is a melting pot of traditions and innovations. The colorful murals and lively streets of Little Havana stand as a testament to its Cuban influence, offering a slice of the Caribbean in the heart of Florida. Meanwhile, the Art Deco Historic District transports visitors to a bygone era, its pastel-hued buildings evoking 1930s glamour.
When it comes to attractions, Miami is second to none. The Bayside Marketplace buzzes with a blend of tourists and locals that have relocated here with movers Miami, shopping, and dining with the bay as their backdrop. The Vizcaya Museum, a European-inspired estate, offers a touch of Renaissance amidst Miami's modernity. As the sun dips below the horizon, Miami's nightlife awakens. South Beach, with its iconic Ocean Drive, becomes a hive of activity, its clubs and lounges drawing in the crowds. Not to be outdone, the Wynwood Walls illuminate the night with vibrant street art. They turn the district into an open-air gallery showcasing Miami's undying spirit of creativity and celebration.
Miami Beach: Sun, sand, and sophistication
Nestled just across the turquoise waters from Miami proper, Miami Beach is a radiant jewel of the Florida coast. It is a blend of the relaxation of beach life with the glitz of urban sophistication. Unquestionably, the iconic beaches here are the stuff of legend – pristine sands stretching endlessly, dotted with sunbathers by day and enlivened by moonlit strolls at night. A walk down Ocean Drive is a rite of passage, with its parade of art deco hotels, lively cafes, and the pulsating rhythms of street performers.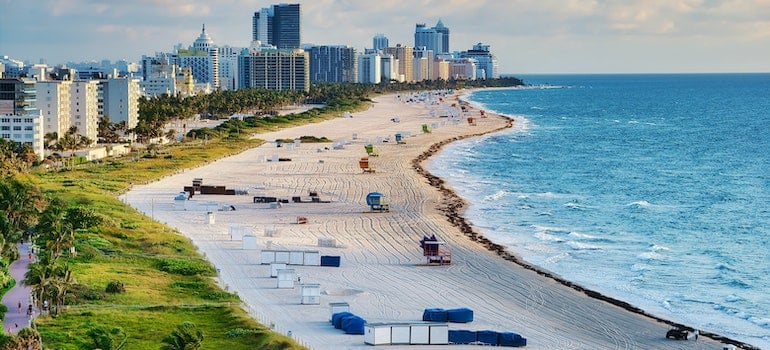 Yet, Miami Beach isn't just about its natural beauty. Many people decide to relocate here with movers Miami Beach because of the number of activities that this place offers. Every year, the city plays host to Art Basel. An international art fair that sees the world's leading galleries descend upon its shores, turning the city into a global epicenter of contemporary art. But the charm doesn't end there. The historic Espanola Way, with its Mediterranean vibe, invites visitors to a unique experience. Cobblestone streets lead to quaint boutiques, while the aromas from alfresco dining spots entice the senses. Here, you can shop for artisanal crafts by day and indulge in world-class cuisine by night, making Miami Beach a haven of sun, sand, and undeniable sophistication.
Hollywood, FL: Florida's coastal gem
Just a stone's throw from the bustling metropolis of Miami lies Hollywood, FL, a serene escape that beautifully captures the essence of coastal Florida living. At its heart is the Hollywood Beach Boardwalk, stretching for miles and serving as a favorite for both joggers and cyclists. Its palm-fringed path offers uninterrupted views of the azure Atlantic, making every run or ride a scenic delight. The city's commitment to arts and culture is palpable at the ArtsPark at Young Circle, a dynamic hub teeming with events, live performances, and interactive activities for all ages. Whether it's an art show or a music concert, there's always something stirring here.
Nature enthusiasts who are relocating here with one of the moving companies Hollywood FL, are in for a treat with the Anne Kolb Nature Center close by. This mangrove-rich sanctuary is a testament to Florida's diverse ecosystems, offering trails, waterways, and a plethora of wildlife sightings. In Hollywood, FL, the harmony of beach life, arts, and nature truly shines.
Fort Lauderdale: The Venice of America
Fort Lauderdale, with its intricate network of canals and waterways, rightfully earns its moniker as 'The Venice of America.' Undeniably, the city's aquatic charm is best experienced through its numerous boat tours. They navigate through serene residential areas, showcasing opulent homes and yachts. And all while offering insights into the city's rich maritime history. But beyond its watery lanes, Fort Lauderdale dazzles on land, too. The iconic Las Olas Boulevard stands as the city's beating heart, lined with upscale boutiques that beckon shopaholics and art enthusiasts alike. As the sun sets, the boulevard transforms, with its eateries and cafes serving everything from gourmet dishes to local delights, making it a hotspot for both tourists and locals.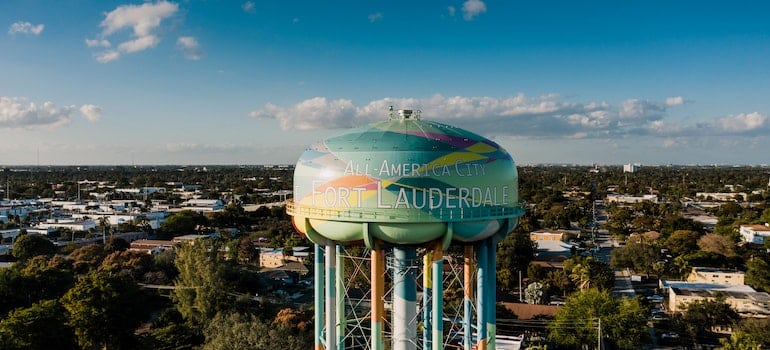 For families visiting or relocating with one of the moving companies Fort Lauderdale, Fort Lauderdale promises endless fun and learning. The Museum of Discovery and Science is a standout. It features interactive exhibits that engage young minds and instill in them a sense of wonder about the world around them. From its unique waterways to its bustling boulevards and enlightening attractions, Fort Lauderdale offers a blend of leisure and excitement that's hard to resist.
West Palm Beach: Cultural heartbeat
West Palm Beach, set along Florida's sun-drenched coast, is more than just another seaside city. And the reason many people use the services of movers West Palm Beach to relocate here is because it thrums with a cultural resonance that's both deep and diverse. Central to this ethos is the Norton Museum of Art, a beacon for art lovers, showcasing an impressive array of works from around the globe, spanning diverse eras and styles.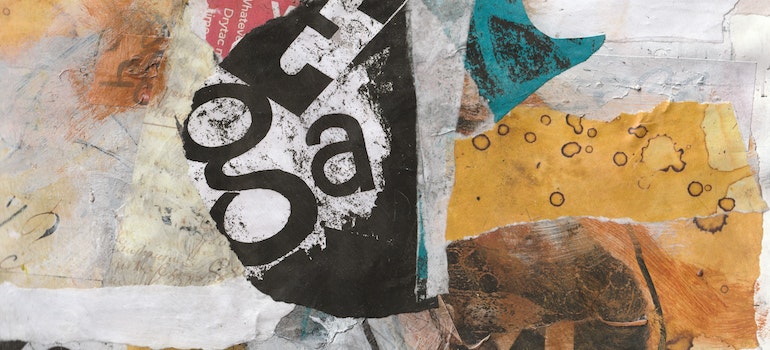 But art isn't the city's only allure. Clematis Street pulses as West Palm's vibrant entertainment hub. By day, it offers eclectic shops and cafes, and as night falls, the street comes alive with music, dance, and laughter emanating from its bars and venues. But amidst its urban offerings, West Palm doesn't forget nature. The Mounts Botanical Garden stands as a testament, inviting visitors to meander through tropical landscapes, aromatic herb gardens, and reflective water features. In brief, West Palm Beach truly embodies Florida's fusion of culture and nature.
Lake Worth, FL: A quaint escape
Nestled in the heart of Florida, Lake Worth offers a delightful blend of old-world charm and contemporary vibrancy. Downtown Lake Worth is a canvas of creativity, painted with annual art festivals that draw enthusiasts from near and far. Strolling through the town, one can't help but be captivated by the murals that adorn its walls, each telling a unique story of the city's artistic spirit.
The shimmering waters of Lake Worth Lagoon beckon nature lovers, offering serene views and leisurely activities for both visitors and residents who have relocated here with one of the moving companies Lake Worth FL. The iconic Lake Worth Pier, stretching out into the azure expanse, is a favorite spot for both anglers and those seeking a tranquil sunset view. For those inclined towards the performing arts, the Lake Worth Playhouse stands as a cultural gem. Hosting an array of plays, musicals, and events, it encapsulates the city's dedication to arts and culture.
Pompano Beach, FL: Underwater delights
As movers Pompano Beach FL can confirm, Pompano Beach beckons with its azure depths and underwater wonders. Renowned for its scuba diving opportunities, the city's coral reefs are a paradise for divers and marine enthusiasts, teeming with colorful marine life and sunken treasures waiting to be explored.
But the wonders of Pompano Beach aren't confined to its submerged realms. Every year, the city's shores come alive with the Annual Seafood Festival. A gastronomic delight where seafood aficionados can relish in the freshest catches amidst an ambiance of music and festivity. And just a short drive away, another marvel awaits. Butterfly World, a haven of fluttering wings and vibrant colors, offers visitors an enchanting journey into the world of butterflies, birds, and blooms.
Deerfield Beach, FL: A family paradise
Deerfield Beach shines as one of Florida's best-kept secrets, especially for families seeking a blend of relaxation and adventure. Front and center is its award-winning "Blue Wave" beach. A pristine stretch of sand that has earned accolades for its cleanliness, safety, and conservation efforts. For those seeking more than just sandy relaxation, Quiet Waters Park presents an oasis of activity. Families can indulge in a plethora of water activities, from splash adventures for the little ones to serene paddle boating for the entire clan. And for the more outdoorsy, camping under the stars offers a memorable escapade.
As per movers Deerfield Beach FL, no visit is complete without exploring The Cove, Deerfield Beach's vibrant hub. With an array of shopping boutiques and sumptuous dining spots, it's the perfect place to wind down after a day of sun and surf. In Deerfield Beach, every family finds its paradise.
Delray Beach: Florida's vibrant village by the sea
Delray Beach, often touted as Florida's very own 'Village by the Sea,' radiates an energy that's both laid-back and lively. At its core is Atlantic Avenue, a bustling thoroughfare where cultural events seamlessly blend with pulsating nightlife. Whether it's a jazz festival or an alfresco dining experience, the Avenue promises something for every palate. In addition, a stone's throw away is the Pineapple Grove Arts District, a testament to Delray's artistic soul. With its myriad galleries, murals, and studios, the district beckons art enthusiasts and curious souls alike.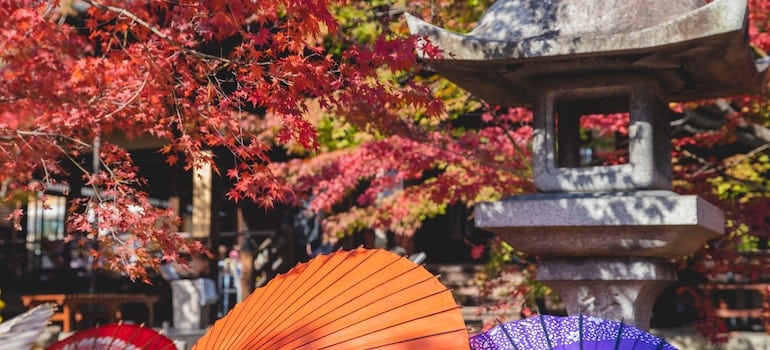 Yet, as movers Delray Beach confirm, Delray's charm isn't confined to its urban offerings. The Morikami Museum and Japanese Gardens provide a serene escape, transporting visitors to the Land of the Rising Sun with its tranquil ponds, traditional tea ceremonies, and expansive Japanese gardens. Delray Beach, in essence, is where Florida's vibrancy meets the serenity of the sea.
Other noteworthy Florida cities
Florida's charm stretches far beyond its coastal jewels. After all, delve deeper into its heartland, and cities like Tampa, Orlando, and St. Petersburg stand out, each offering its unique flavors. In Tampa, the historic neighborhood of Ybor City showcases its rich Cuban heritage. And Busch Gardens blends thrilling rides with an enchanting animal reserve. Not to be missed is the Tampa Riverwalk, a scenic waterfront path accentuated by parks and delightful eateries.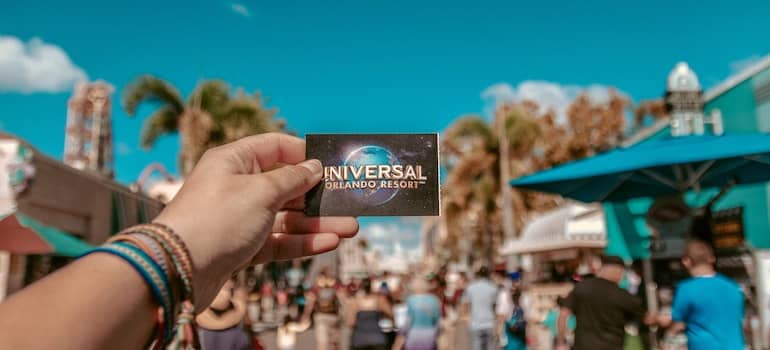 Orlando is every family's dream destination. Because Walt Disney World sprinkles magic in the air, ensuring memories that last a lifetime. Also, Universal Studios Florida brings the world of movies to life, and ICON Park, with its towering observation wheel, offers panoramic views of the city's skyline. Meanwhile, St. Petersburg shines with its vibrant arts scene, pristine beaches, and the world-famous Salvador Dali Museum. This makes it a cultural beacon in Florida's tapestry of cities.
Explore some of the most visited cities in Florida
Florida's allure lies in its tapestry of cities, each one distinct, each one resonating with its own charm. From the pulsating vibes of Miami to the tranquil shores of Deerfield Beach, the diversity is astounding. Whether you're considering a new place to call home or seeking a vacation in one of the most visited cities in Florida, the Sunshine State beckons with open arms, urging you to delve deeper and explore further. It's a reminder that Florida is not just about sun-kissed beaches or theme parks; it's a state rich in culture, nature, and experiences. Besides the obvious attractions lies a world waiting to be discovered. So, pack your bags or your dreams and let Florida show you the wonders it has tucked away.