Nestled along Florida's southeastern coast, Fort Lauderdale and Miami are two jewels that shimmer with distinct brilliance. Fort Lauderdale, often dubbed the "Venice of America," is a mosaic of scenic waterways, sandy beaches, and a relaxed charm. A bit further south, Miami bursts forth with vibrant energy, boasting iconic beaches, a rich tapestry of cultures, and an unmistakable rhythm influenced by Latin beats and art-deco elegance. While both cities captivate with their unique allure, making a transition from one to another, especially with a family, can pose its set of challenges. This guide is dedicated to those families poised to hire one of the moving companies in Florida and embark on this journey. With insights ranging from cost of living to the best family neighborhoods, we're here to ensure that the transition for families moving from Fort Lauderdale to Miami is as smooth and informed as possible.
Fort Lauderdale vs. Miami
Fort Lauderdale and Miami, two of Florida's iconic cities, are often juxtaposed due to their proximity, but each brings its unique flavor and essence. Fort Lauderdale, known for its expansive and intricate canal system, exudes a laid-back, boating-friendly vibe. Its pristine beaches, upscale boutiques, and quieter nightlife make it a favored destination for those seeking a serene coastal experience. The city's rich history is evident in areas like the Historic Stranahan House Museum, while its modern development showcases luxurious waterfront properties and a burgeoning arts scene. Just a short drive away, Miami stands out with its pulsating energy. Internationally renowned for its nightlife, Miami is a melting pot of cultures with a strong Latin influence, as seen in its festivals, cuisine, and music. The city's Art Deco Historic District in South Beach showcases vibrant architectural wonders, and neighborhoods like Coconut Grove and Coral Gables offer lush landscapes and cosmopolitan flair.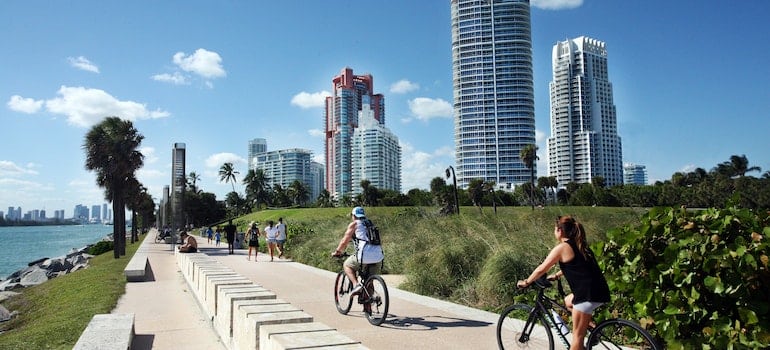 While Fort Lauderdale is the tranquil sibling, offering family-oriented fun with a touch of sophistication, Miami is the vivacious counterpart, filled with excitement and dynamism. Despite their contrasts, both cities promise enriching experiences, making any transition with one of the best moving companies in Miami between them an intriguing journey.
The cost of living
Cost of living can be a deciding factor when contemplating a move. So, let's break down the monetary nuances of both Fort Lauderdale and Miami to give you a clearer picture. Historically, Fort Lauderdale has been slightly more affordable than Miami. However, with both cities' rapid growth, the gap has begun to narrow. According to recent statistics, the median home price in Fort Lauderdale is around $360,000, while Miami inches ahead with a median price of $390,000. Renting paints a similar picture: a standard two-bedroom apartment in Fort Lauderdale averages $2,100 per month, in contrast to Miami's $2,400.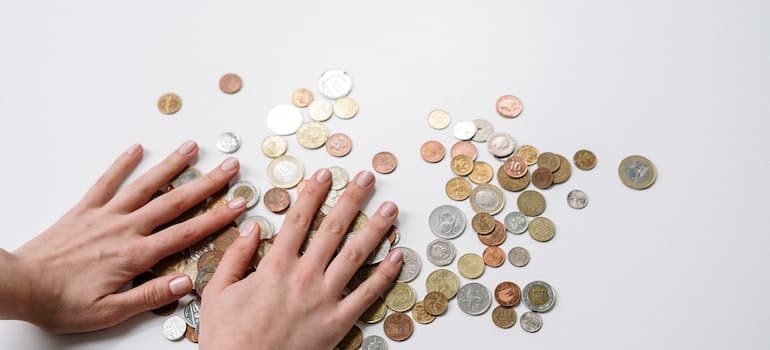 Groceries, utilities, and transportation costs are somewhat comparable between the two, but Miami's nightlife and dining scenes can make entertainment expenses steeper. For instance, a meal at a mid-range restaurant in Fort Lauderdale might cost around $50 for two people. But when movers Fort Lauderdale relocate you from Fort Lauderdale to Miami, be prepared to pay closer to $60 for the same meal in Miami. While these numbers provide a general overview, it's essential to remember that individual neighborhoods within each city can vary significantly in terms of cost. Factors like proximity to the city center, local amenities, and the general economic climate can influence prices dramatically.
Which city offers better opportunities for your kids?
When it comes to the future of our children, education is often at the forefront of decision-making. Both Fort Lauderdale and Miami offer a diverse array of educational opportunities, but how do they stack up against each other? In terms of public schools, Miami-Dade County boasts a larger system than Broward County, where Fort Lauderdale resides. According to GreatSchools ratings, several of Miami's public schools, especially in areas like Coral Gables and Pinecrest, consistently achieve high marks for academic performance. Fort Lauderdale, on the other hand, has its share of top-rated schools, particularly in suburbs like Weston and Parkland.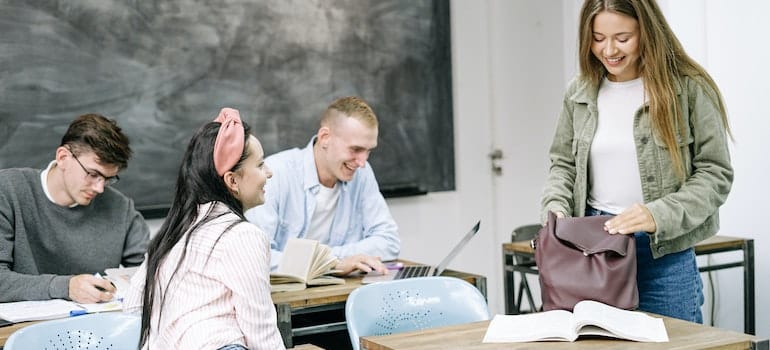 Private and charter school options abound in both cities. Miami's Gulliver Schools and Ransom Everglades stand out for academic excellence, while Fort Lauderdale offers Pine Crest School and Cardinal Gibbons High as notable options. For families looking beyond just academics, both cities shine with opportunities. Once you relocate with movers Broward County from Fort Lauderdale to Miami, you will notice that Miami has the edge in cultural and arts-based extracurriculars. Fort Lauderdale counters with a robust marine science scene, thanks to its coastal location. Moreover, both cities have commendable after-school programs and resources for special needs children, ensuring a holistic approach to education and child development.
The best family neighborhoods in Miami
Finding the perfect neighborhood is a crucial piece of the relocation puzzle. For families, this search revolves around safety, amenities, schools, and community vibes. Here's a look at five of Miami's best family-friendly neighborhoods that residential movers Miami recommend:
Coral Gables: Known for its Mediterranean architecture and tree-lined streets, "The City Beautiful" offers top-rated public schools, numerous parks, and the historic Venetian Pool.
Coconut Grove: This lush and historic neighborhood exudes a bohemian vibe. With its proximity to some of Miami's best private schools, bayfront parks, and playhouses, it's a hit among families.
Pinecrest: Often compared to Fort Lauderdale's Plantation for its sprawling homes and green spaces, Pinecrest boasts its own top-rated schools and the famous Pinecrest Gardens.
Palmetto Bay: Known as the "Village of Parks," its commitment to green spaces, community activities, and excellent schools make it a family favorite.
Westchester: A quieter, more suburban feel characterizes this neighborhood. With great schools and parks, it's an affordable alternative to more central neighborhoods.
While Fort Lauderdale offers its unique blend of family-friendly locales, these Miami neighborhoods stand out for their rich community spirit, amenities, and educational options. Each has its flavor, but all are committed to nurturing and supporting families.
Family activities to explore in Miami
Miami is a veritable playground for families, with a medley of attractions that cater to both the young and young-at-heart. Topping the list are renowned destinations like the Miami Zoo, one of the oldest and most diverse zoological gardens in the US, and the Miami Children's Museum, which stimulates imagination through interactive exhibits. For nature enthusiasts, Everglades National Park offers boat tours showcasing Florida's unique wetlands and wildlife. On the other hand, Matheson Hammock Park presents a more tranquil beach scene perfect for little ones.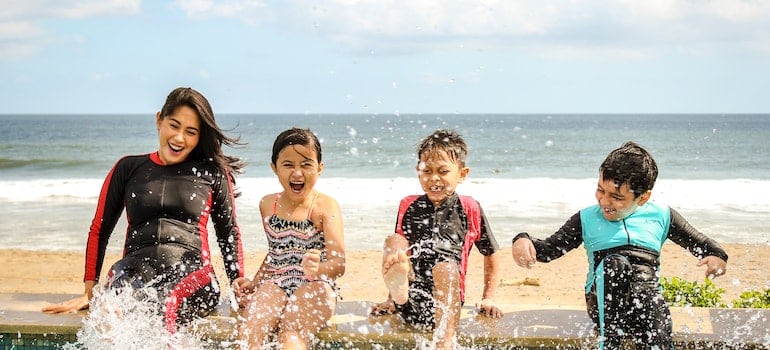 But Miami's magic extends beyond the well-trodden paths. Locals often flock to The Venetian Pool in Coral Gables, a historic, spring-fed pool carved from coral rock. Another hidden gem is Little Havana's Viernes Culturales. It is a monthly art and culture festival that provides a taste of Miami's rich Cuban heritage. Seasonally, summer in Miami beckons with beach outings to spots like Crandon Park, while winter is marked by festivities such as the Miami Lantern Light Festival, celebrating vibrant Chinese culture and traditions. Regardless of the season, Miami ensures that families create memories that will last a lifetime.
Tips for a smooth relocation process for families moving from Fort Lauderdale to Miami
Relocating from Fort Lauderdale to Miami with family may seem daunting, but with careful planning, organization, and the right residential movers Fort Lauderdale by your side, the process becomes manageable. Starting preparations early helps accommodate unforeseen challenges, ensuring fewer last-minute surprises. A detailed checklist can be your guiding star, tracking everything from sorting household items to transitioning school records. It's essential to budget appropriately. Moving from Fort Lauderdale to Miami can cost anywhere from $600 for a minimalistic move to over $5,500 for larger homes. This estimate should also account for packing materials, possible storage needs, or interim accommodation.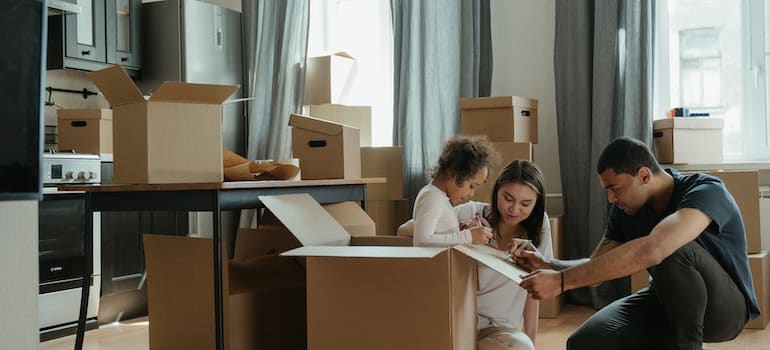 Engage the whole family. Delegate age-appropriate responsibilities to children; this not only divides the workload but also helps them adjust to the idea of relocating. Lastly, maintain a separate box for immediate necessities and crucial documents. Amidst the hustle and bustle, having immediate access to essentials can be a lifesaver. By being proactive and involving everyone, the move becomes an exciting chapter rather than a stressful event.
Hiring movers vs. DIY moving when relocating from Fort Lauderdale to Miami
When contemplating a move from Fort Lauderdale to Miami, one of the first decisions families often grapple with is whether to hire professional moving services Fort Lauderdale providers or to go the DIY route. Both choices come with their distinct advantages and challenges.
Hiring movers: For those looking for convenience and minimal physical effort, hiring a moving company is an excellent choice. Professionals have the experience and equipment to handle everything from bulky furniture to fragile items. They can also expedite the process, transforming what might be a multiple-day DIY move into just a few hours. The primary downside? The price. The convenience of professional movers comes at a cost, which, depending on the size and complexity of the move, can range significantly.
DIY moving: For those on a tighter budget or those cherishing complete control over their move, DIY can be appealing. Renting a moving truck and rallying friends or family for assistance can save considerable money. Additionally, you decide the pace and process. However, the DIY approach demands more time, physical labor, and organizational effort. There's also the added responsibility of ensuring valuables are packed securely and transported without damage.
Turn the packing process into fun for the whole family
Packing, often seen as a tedious task, can actually become an enjoyable family activity with the right approach. Moving from Fort Lauderdale to Miami provides a wonderful opportunity to bond as a family, declutter, and embark on a new adventure together. Just before you start with the packing process, make sure to get quality moving supplies Fort Lauderdale movers provide to ensure the safety of your belongings.
Room by room: Tackling one room at a time can make the process less overwhelming. It gives you a clearer sense of progress, and by celebrating the completion of each room, you create mini-milestones. This method also allows for better organization; by labeling boxes per room, the unpacking process in Miami becomes exponentially easier.
Involve the kids: Engaging children in the packing process has multiple benefits. It offers them a sense of control during a time of change. Also, it can be a great way for them to say goodbye to their old space. Assign age-appropriate tasks. Younger kids can sort their toys or books, while teenagers might be responsible for packing their personal items.
Make it fun: Turn packing into a game. Who can wrap items the fastest? Who has the neatest box? Play music, take breaks for mini dance parties, and maybe even reward the 'Packing Champion' of the day.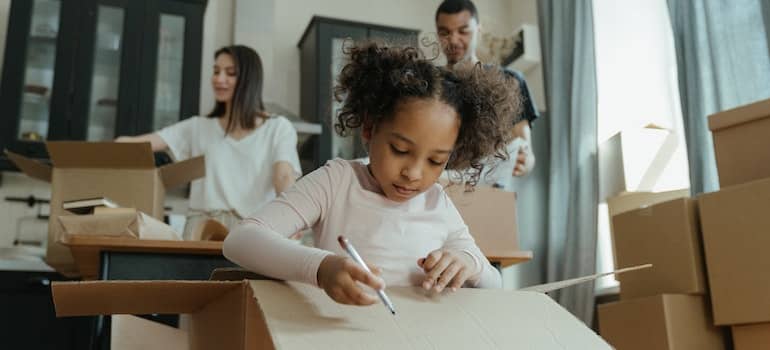 Update your documents and set up your utilities
Streamlining your relocation from Fort Lauderdale requires a bit of proactive planning. First and foremost, set up utilities – water, electricity, gas, and internet – in your new home prior to the move. This ensures that you're not left in the dark, literally and figuratively, on the first night. A seamless transition helps in settling down faster and with minimal hitches. Moreover, don't overlook the less obvious essentials. Updating your address is paramount. Begin with the U.S. Postal Service to forward your mail. Following that, update school records to ensure all communications reach you. Lastly, remember to revise your address for other services, like magazine subscriptions, online shopping accounts, and medical facilities. The key to a hassle-free move lies in anticipation.
Embrace the change and enjoy the journey
Miami, with its vibrant culture, sun-kissed beaches, and dynamic community, beckons families with open arms. The relocation process for families moving from Fort Lauderdale to Miami might seem like a mammoth task. But the rewards of calling this bustling metropolis home are manifold. Embracing the change means not only immersing in the city's eclectic charms but also allowing your family to grow in a new environment. Remember, every corner turned, every box unpacked, and every new face met is a step towards building fresh memories. As you embark on this journey from Fort Lauderdale to Miami, cherish each moment, trust the process, and relish the joyous adventure that awaits. After all, a new chapter in the Magic City promises endless possibilities and delights.