Seattle and Miami are coastal cities that have experienced population growth in recent years. Being the 10th and 11th largest economies respectively within the US, both offer numerous options for a quality lifestyle. Both have diversified job markets, exciting arts, and culture scenes, fantastic food, and great choices for recreation. However, relocating to either of them means a significant change of scenery and climate. Of course, this is to be expected, as The Emerald City and The Magic City are virtually in the opposite corners of the country. But the substantial distance should be the least of your worries if you entrust the experts at City Movers with your moving project. Rather than that, have you've been wondering how Seattle vs Miami compares in terms of cost of living?
Hence, book your interstate move with our pros whom you can depend on, and with no unnecessary worries about moving trivialities, focus your time and attention on useful research, to prepare the grounds for your successful settling in your home to be. So, here's a useful account to give you the lead on Seattle versus Miami, and how living expenses differ in each of them.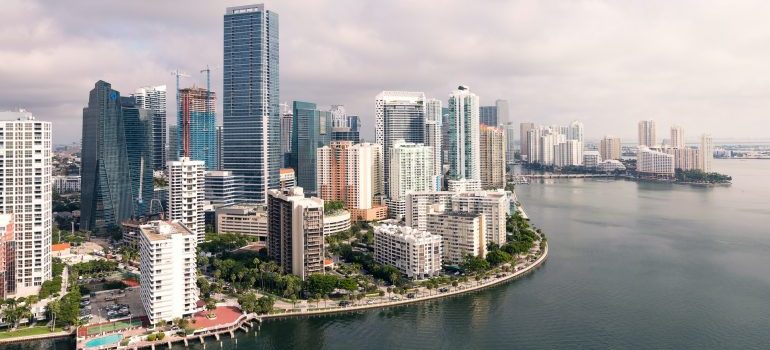 Seattle vs Miami – so similar, and yet so different
First of all, let's set the grounds. So, how does Seattle compare to Miami? Although sunny Florida is in stark contrast to the rainy Wahington state in terms of climate and terrain, the two cities have a lot in common. For one thing, both are urban areas with a relaxed and casual vibe. While the Magic City is a coastal metropolis with abundant beaches, Seattle is a major seaport boasting picturesque mountains and a lovely verdant setting. And whether you're moving from Florida to Seattle and swapping the sunny weather for the mint air of the Northwest, or vice versa, you'll never run out of options on exploring beautiful sceneries and exciting outdoor activities.
The Emerald City much like Miami is home to a demographically diverse population. This reflects in the vibrant and exciting cultural, artistic, and culinary scenes of these two cities. Same as Miami, Seattle is not immune to bussy traffic and occasional gridlocks. However, both offer convenient public transport options to make commuting throughout each metroplex area more convenient.
The wider metro area of both, Seattle and Miami is about the same size. However, The Magic City with its 55 square miles is smaller than its counterpart which spreads over 84 square miles. Also, Seattle at variance with Miami and its less than 500,000 residents, has a population of over 750,000.
With that said, let's proceed with a more detailed account of Miami contrasted to Seattle's cost of living.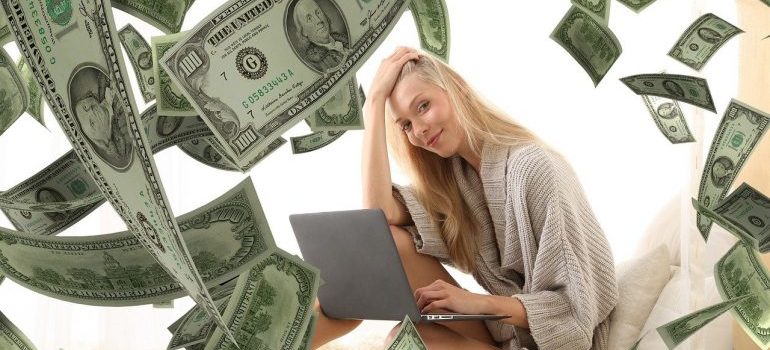 The economy in Seattle at a glance
Seattle is home to the 8th largest port in the US, which is a major hub for trade with Asia. This gives The Emerald City an important role in the global distribution network. Besides, Seattle is a major high-tech hub. Many prominent companies have a significant presence here, including Amazon, Microsoft, Google, and Facebook, to name but a few. Other impactful economies in Seattle are biotechnology, processing of wood, food, and textile products, manufacturing of industrial and medical equipment, and production of hydroelectric power.
If you're looking for a job, booking your dependable movers in Hollywood FL to head north is a no-brainer. The job market in Seattle has grown 2.6 % over the last year, and the unemployment rate here is 4.8% compared to the US average of 6%.
Seattle compared to Miami's tax rates and annual income
A major factor in comparing Seattle versus Miami's cost of living is the tax rates index. While the average US income taxes are 7.3%, both Miami and Seattle have 0% of these. However, the annual income and sales taxes in the match between Seattle and Miami differ in a major way. The following statistics will surely give you some insight on what to expect in terms of cost of living when moving to either of them, so take note.
The sales taxes in Seattle are 10%, while in Miami these are 7%
In the US, the average individual income per year is $28,500. You should expect it to be somewhere around $44, 000 annually as a Seattle resident. In Miami, this would be $21,700 on average.
The median household income on a national level is $53,400 yearly. Seattle vs Miami cost of living marks a notable difference in this regard as well. Namely, in Seattle it's $67,000, while in Miami $30,800. 
Major factors shaping the economy of Miami
Port Miami is dubbed the Cruise Capital of the World. It's the largest passenger port in the world, and one of the busiest cargo hubs in the US. Tourism, hospitality, and cruise ship industries are prominent forces driving the local economy, giving employment to thousands of people. Besides, Miami is a major banking and financial hub, with well-developed commerce and international trade sectors.
If you plan to move to Miami to expand your business, be sure it's a good idea. The city has the 8th highest rate of business growth, which is better than Los Angeles, New York, or D.C. The job market in The Magic City has seen 0.6% growth the last year, and the unemployment rate here is 8%.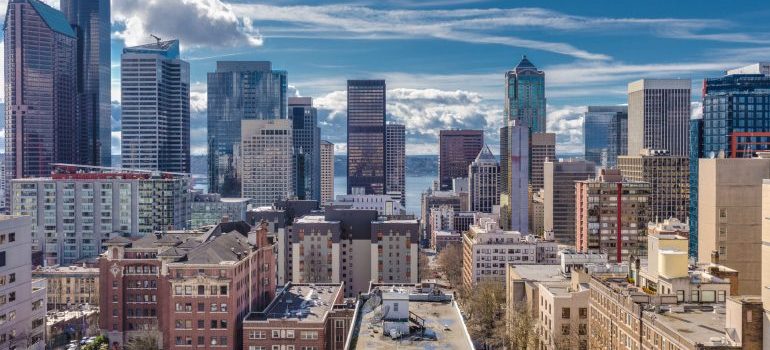 Miami vs Seattle – housing prices comparison
Some of the most expensive real estate in the world is in Miami along the Atlantic Ocean. Due to the relatively limited space, in The Magic City, there are lots of high-rise condo and apartment housing options. So, here are the facts and figures worth noting.
Average house purchasing price in Miami: $410,000
Average monthly rent in Miami: $2,500 for a one-bedroom apartment
Although Miami is somewhat of a symbol for luxurious, costly property, the housing prices in Seattle will require you a major financial investment. Unlike Miami, in Seattle, you'll find more single-family houses, and low-rise condo and apartment buildings. Here are the main figures to help you paint the picture of Miami contrasted to Seattle's cost of living.
Average house purchasing price in Seattle: $760,000
Average monthly rent in Seattle: $2,200 for a one-bedroom apartment
Of course, when it comes to real estate, location is everything. And so, you'll likely be able to find something at lower, or higher prices than what we list above. However, this ratio will surely give you a good idea of what the Miami versus Seattle cost of living in terms of housing is.
A useful fact to know is that Seattle's cost of living is said to be 49% higher than the national average. Withal, the high housing costs in Seattle are a major factor driving the overall expenses up.
Utility costs in Seattle compared to Miami
In Seattle, basic utilities such as water, gas, and electricity will total to a bill of $200 on average. Expect to pay about $60 dollars in additionally for the Internet. Reportedly, the utilities in The Emerald City cost about $40 above the national average.
Miami at variance with Seattle has utility expenses lower than the national average by $37 per month. Your basic utilities package here will cost you about $120 on monthly basis. 
Seattle vs Miami – monthly groceries expenses
The national average for grocery expenses in the US is about $325. From here, both Miami and Seattle have monthly expenses higher than the national average. 
Purchasing essential grocery products in Miami will cost you $360 a month, while in Seattle this is estimated at $410. 
A meal in an inexpensive restaurant in Miami will come up at about $15, and in Seattle, this would be $17.50.
To wrap it up, this comprehensive Seattle vs Miami cost of living account should give you a good idea of what to expect. At a glance, Miami turns out to be a more affordable place in terms of cost of living, but then you should consider Seattle's higher-income which puts things into a good balance. So, benefit from our Seattle versus Miami cost of living account, and make an informed decision for your upcoming move. Good luck!