We know how important it's to plan, calculate and reduce costs during the move. And that's why today's Florida movers will teach you how to calculate and alleviate Miami moving costs. Not only when it comes to moving to Miami, but also to any other city, it's important to be aware of all the costs that await you during your moving process. Also, budget planning will allow you to see the flow of your money, but at the same time, it will help you save. Because when you plan the budget and calculate all the costs, you will avoid unnecessary spending of your money. And that can also be an opportunity for you to save money. So, stay with us, and learn all about calculating and planning your moving expenses for moving to Miami. And also, you will have the opportunity to discover several useful tips for saving. Let's start!
Planning a budget is the main thing in every moving process
It's important to think of moving to Miami as one big project. One of the most important in your life, because every move is a new change. So, as every big project in the business world has a clearly defined budget, in the same way, it's necessary that your moving project has a defined budget. And you will do that best if you plan it well. The most important thing is to take into account all the expenses that will affect you during this period, to pay special attention to them, and to always recalculate twice. Also, it is very important that you always have enough money available for your move.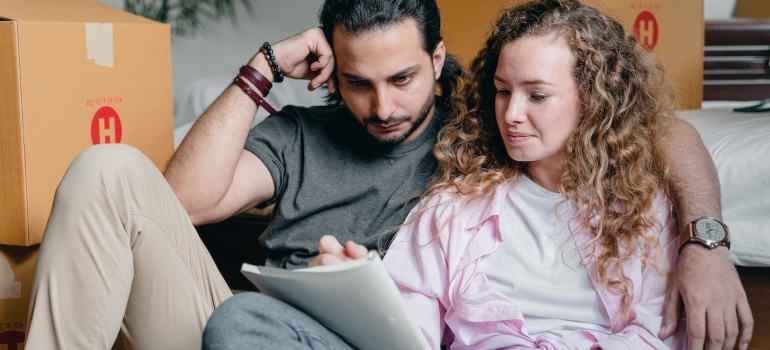 So, keeping in mind that moving can be an extremely expensive process, which can cost over $10,000, we decided to help you calculate all the costs that await you and determine your budget based on that. But before we start, it's important that you know that the price of the move will be affected by several factors, namely:
The distance of your move
The types of relocation services Florida you use
Number of movers
The amount and number of items you need to move
Moving period (in season – Out of season)
Additional services
So, when planning the budget, it's very important to consider all the moving costs that await you in this process. Calculate them and determine your budget based on the costs. If it's a local move, complete services can range up to $5,000. Also, the longer the distance, the higher the price.
Costs to consider when moving to Miami or another city
So, in order to have the opportunity to properly plan your moving budget, what you need to do is to consider all moving costs that are expected of you at this moment. So, the costs you need to take into account are the costs of renting a moving truck (if you decide on a DIY move), the help of movers, packing and moving supplies, additional services (storage services, cleaning services, unpacking services, etc.), moving insurance, taxes, and fees, travel expenses, food, transport of your car, etc. The list of your expenses may depend on the needs of your move, the number of things you are moving, and your wishes.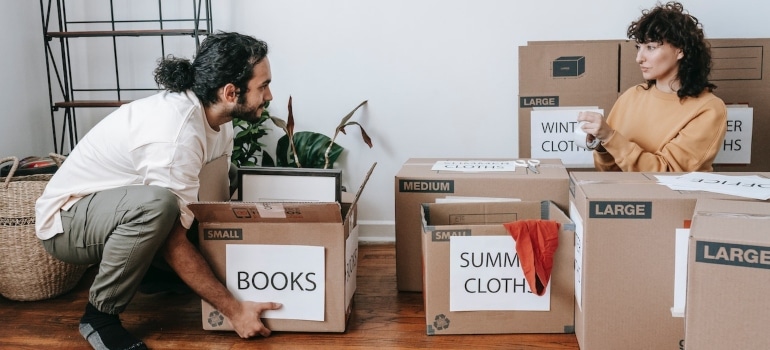 Also, in some situations, moving companies may charge extra if you decide to move your entire house inventory for a long-distance move. For example, moving heavy and bulky items can be charged extra. Therefore, cross country movers Florida advise that when it comes to long distances, sort your things, make a household inventory list, and move only what you really need with you. Also, this is another way to alleviate your moving costs to Miami from another state.
How much will cost your moving process?
In order to calculate and alleviate Miami moving costs, you need to be familiar with the amount of moving costs. But, as we said, the costs may depend on the size of your moving, and also on the distance. In order to have an easier insight into the costs of your move to Miami, and to make it easier for you to calculate, we will present you the average moving prices.
For example, local moving costs can be around $1,300, when it comes to moving from one neighborhood to another in the same city. When it comes to moving from city to city, its price can vary depending on the distance. For example, moving costs from Fort Lauderdale to Miami can be around $3,000 for moving a three-bedroom apartment/house. Moving a one-bedroom apartment costs $500 to $980, and a two-bedroom apartment costs $1,000 to $1,700.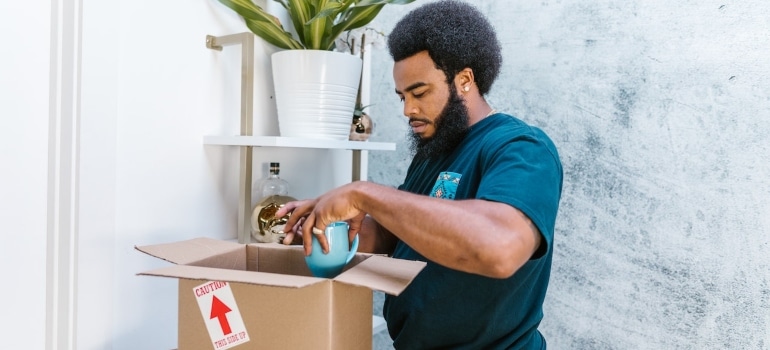 There are also the costs of the movers, which are charged per hour. They range from $25 to $75 per hour. The time they will spend in your home will be determined exclusively by the amount of work they need to do. For example, for a one-bedroom apartment, you will need 2 movers, they will spend about 4 hours packing your things and it will cost you an additional $424.
When we talk about moving long distances, you can assume that the costs will be significantly higher than those mentioned above. For a long-distance move of 1,000 miles, you will need to shell out about $4,900. While long distance moving prices can vary from $1,500 to $14,900.
We will learn you to calculate and alleviate Miami moving costs
So far, we have introduced you to all the important costs during your move, as well as how to plan your moving budget. So, calculating Miami moving costs is related to your budget. Because, before you plan the budget and determine its amount, you need to calculate all the costs for your Miami move. Therefore, when calculating your costs for moving to Miami, you need to take into account all the costs that we mentioned at the beginning. Also, there is a slight difference between setting a budget and calculating costs. When you determine the budget, you take into account the percentage price of the moving company, packing supplies, etc. Whereas when it comes to calculating costs, you must exclusively take the final prices of services and everything else.
There are several ways to arrive at the final prices of your Miami move. And we can call that process final preparations. So, one of the first things is that you need to request a binding estimate from moving companies Miami. Then, for the number of things, you will move, order packaging and write down the price. Also, make all purchases from your budget list. One of the best ways is to do it all online, and schedule a delivery date 5 days before the move so that you have enough time to calculate all the moving costs.
Calculate everything
Why online shopping? Through online shopping, invoices with the final payment amount will be sent to your email address. On your laptop or computer, it will be much easier for you to compare all invoices, calculate costs and make a final report of the costs of your move. Also, one of the more recommended ways to pay is to pay by card, because if fraud occurs, you can get your money back more easily. Online ordering saves you time that you would have spent visiting stores and making purchases. Also, commercial movers Florida advise you to collect invoices when it comes to your business moving. Because after the move, you will need to pay back your company's money that you spent on the move. And also, the final report on moving costs would be useful in that case.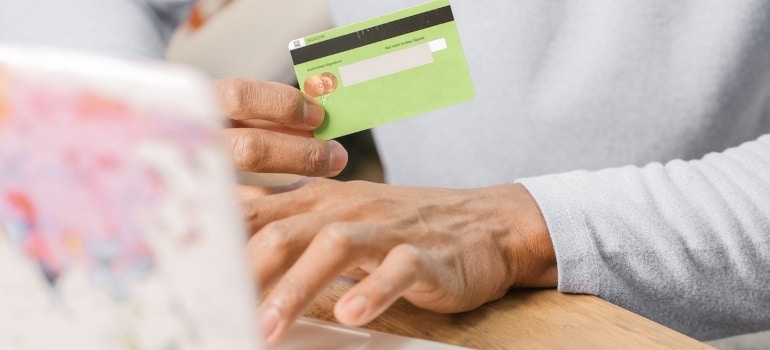 So, there is only one way to calculate Miami moving costs. And believe us, it's not complicated at all. All you need is a computer and knowledge of computer programs. For example, you can use the Excel program from the Microsoft Office suite, or some other free program that you can find on the Internet. In the program, create a list and enter your costs, then select the auto sum function and you will receive the final amount of your moving costs. And if you like to do it by hand, get paper, a pencil, and a calculator, and calculate it yourself.
How to alleviate costs when moving to Miami?
We have come to one of the things that surely interest you the most, and that is savings! So, first, if you want to alleviate your moving troubles and save some money, the first thing you have to do is to be moderate. So, when it comes to moving, the most money can be spent on packing, packaging, and packing services. Therefore, you can declutter before packing, reduce your luggage, get free packing supplies, and pack by yourself. Of course, you don't always have to pack everything yourself, but you can pack lighter and smaller things. That way you will save hours for your movers, and at the same time, you will pay less.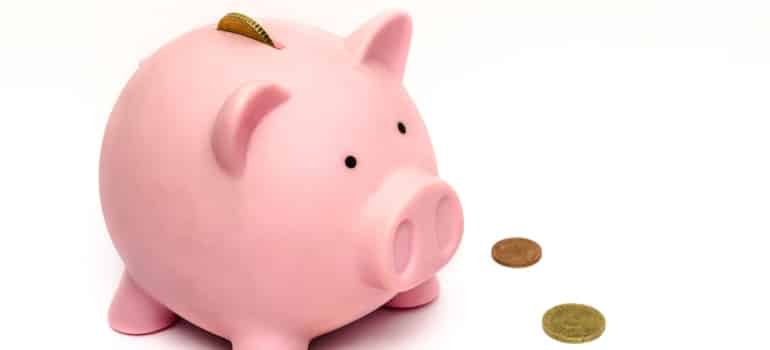 Also, one of the ways to alleviate Miami's moving costs is to choose a favorable time to move. Let's say you are moving out of season, during the fall or winter period. When it comes to Miami, it's located in South Florida, where the winters are very mild, and there is almost no snow. Well, let's say this could be an ideal period. And you will also avoid high temperatures.
Choose an affordable moving offer
Another way to alleviate your moving costs is to choose a favorable offer. Especially when it comes to long distance moving. Request a free moving quote from long distance moving companies Florida, and then compare services and prices. Choose the one that best suits your budget and meets all the needs of your moving. The time to get an estimate is from 2 to 5 working days, and the staff from the moving company will visit you and inspect your inventory so that they can make a more accurate estimate. That's why we advise you to make an inventory list and make their job easier and speed up the whole process.
What do you need to know about moving to Miami?
Moving to Miami will be a completely new experience for you. You will experience a completely different way of life, especially if you are moving from a less urban area, such as North Florida. Miami is one of the favorite cities for all new residents. A tourist destination and an ideal place for vacation, but also for life. What Miami can offer you is, first of all, a lot of fun, and enjoying the beautiful beaches that are the main attraction, especially Miami Beach. Then, affordable living standards, real estate prices above $300,000, rental prices of around $1,300 per month, as well a good education.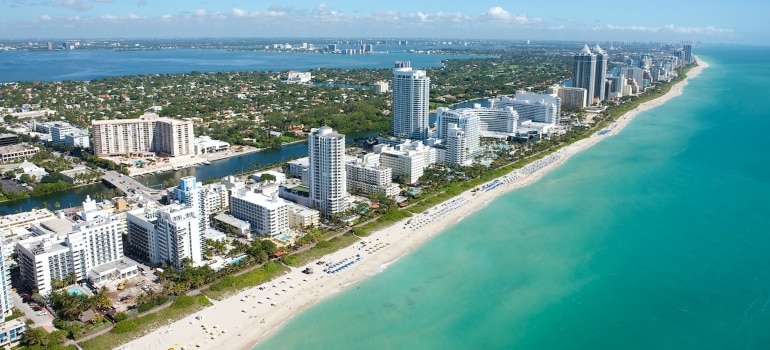 Miami is also one of the favorable business locations, the municipality provides support to new entrepreneurs. The main industry is technology, finance, and tourism. We can say that tourism is the most subdued in the coastal areas. And these are mainly restaurants, hotels, cafes, beach bars, etc. So, if you decide to move to Miami, you have nothing else to do but start packing your bags. Also, don't forget our tips to calculate and alleviate Miami moving costs. Good luck!