Finding a new location to improve your bar's business can take time. After you are done searching, another demanding task comes next – relocation. You're probably excited about the entire set of opportunities you may encounter in a new place. However, keep in mind that dumping all inventory into a few big containers won't do the work. Relocations are more complex than they seem, therefore moving a bar in Hollywood will require you a proper organization. Luckily for you, our team at City Movers prepared this all-encompassing guide so you can get through your move quickly and efficiently. In addition, professional moving help is something you should never skip. That's why we are inviting you to check our offer and contact us today!
Moving a bar in Hollywood starts with a smart company choice
No matter how well-organized you and your team are, the relocation can't be completed stress-free without a pro-moving team. Therefore, your number one priority is to find reliable movers in Hollywood FL. Ideally, you'll want to look for movers who have experience with business moves, especially in the service industry.
Before you dive deep into the sea of internet ads, make sure to check all points from the following list:
Schedule the moving date months ahead. Gather your employees and have an honest talk. You must know how many of them will continue their work.
Pick a day to inventory your entire bar. Once you do it, you will have a clear idea of how many moving supplies you will need.
Take time to calculate the approximate moving cost. It will help you set up a moving budget much easier.
Your bar won't work during the move, and that's why you should let the customers know through social media pages about the upcoming relocation period.
It's important to prepare well before you start browsing various moving company websites. That's why the above-mentioned list will make the entire process time-saving. The companies that are friendly to your approximate relocation budget will be easier to spot, for example.
Make a list of only licensed and trustworthy movers
Skip the movers that don't hold the license and avoid potential theft and additional stress. Fraudulent schemes lurk at every internet corner and often have an impressive (and fake) online presence. So choose only reliable local movers Florida has on offer. Check if they are fully certified and licensed. Next, check their service offer and then call each company. Pay attention when you talk to their representatives. Are they giving you straightforward answers? Is information from the website 100% accurate? Do they offer consultations? Ask yourself these questions and you will know if the company staff is professional and trustworthy. In addition, make sure to check testimonials about their work and conduct.
Request several moving quotes
Pick several moving companies and request their commitment-free quotes. However, remember that quotes don't mean the final price. It usually goes up depending on additional services, insurance, and so on. On the other hand, moving estimates can help you plan the relocation finances.
Additional moving services are necessary when moving a bar in Hollywood
If you have a piano or other musical instruments as a part of your bar, consider hiring piano movers Boca Raton. They will go the extra mile to additionally protect the items from damage during the move. Such items are sensitive and need a special packing method. That's why it's smart to let the professionals do the work for you. It's time-saving and cost-effective at the same time.
No bar relocation can go smoothly without a proper storage unit. Since bars have plenty of items that are safe in a temperature-controlled environment, then indoor self-storage is your best option. The moving company you are hiring should have a decent unit in their offer. However, don't skip the visit to the unit and see it for yourself. When you know for sure your belongings will be safe and sound, you will have more focus and time for other moving duties on your list.
Make a schedule before you start packing a bar for Hollywood relocation
Moving prep needs your full attention. Therefore, make sure to plan each task at least 2 weeks before your moving day comes. First, you will have to get enough supplies.
Different sizes of cardboard boxes and containers.
Packing paper and plastic wrap.
Spare (clean) fabrics and sponges.
Permanent markers, scissors, and scalpel.
Organization comes after shopping for the move. Although you can rely on professional packing help, you can take care of items that aren't that bulky. That way, your move will go quicker and you will feel more at peace. The less clutter you have on your way, the easier it will be for your movers to complete their work. So grab a paper and pen and write a schedule. For example, allocate Monday for decluttering, then Tuesday for packing smaller items (cups, cutlery…).
Avoid rushing the packing process
Take time with each item before you put it inside the box or container. Clean or repair them if necessary, then secure them with layers of packing paper. Place spare fabrics or sponges inside the box. That will add extra padding and ensure the safety of the items. In addition, you can use paper crumbs to fill the extra space. And finally, close the box/container lid and seal it with strong packing tape.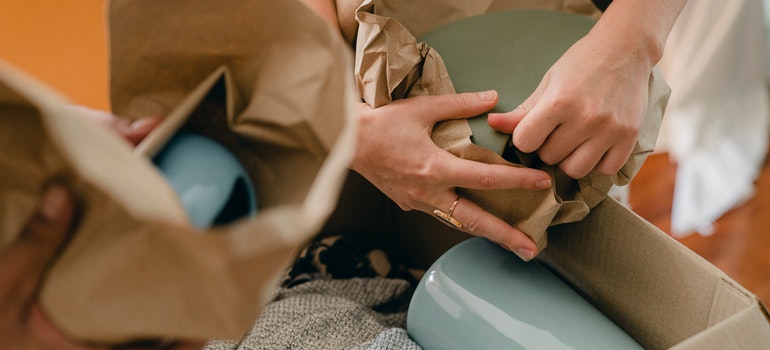 Write on each box or container what's inside them with permanent markers. Don't forget to label those boxes/containers that contain easily breakable glasses, ornaments, and other objects. Also, remind your movers to be especially careful when carrying them. Furthermore, keep in mind there's no need to rush with moving a bar in Hollywood. Packing and moving can sometimes last a bit longer than planned and that's perfectly fine. Therefore, pack item per item, and talk with the chosen company about a potential extension of the storage rental period.