If you just got a new job or relocated your office – congratulations! You must be excited to decorate your work environment and make it more enjoyable. After a successful relocation with Miami movers, the next step is to get back on track with your business. Since we all spend the majority of the day in our offices, it is only natural to want to make them more personal and homey. We have great decorating tips for your new Miami office. Feeling comfortable and relaxed in your workspace is not something everyone has the chance to do. But, try to personalize the office as much as you can. That way, you'll set yourself up for success no matter what you do.
Check out our decorating tips for your new Miami office
Spending so much time in our day working, we want our workspace to promote creativity and motivation. This is not always the case with mainstream, dull offices. But there are many things you can do to improve the space where you work. If you put away all your old office decorations in the best storage Miami offers, now is the time to retrieve them! Here are some ideas on how you can decorate your office in Miami:
add a personal touch to your office
bring some plants
add a pop of color to your Miami office
maximize light in the office
Personalize your Miami office
After your relocation with commercial movers Miami, the time is right to start thinking about what you want your workspace to look like. You want to add a personal touch if you have the option to decorate your office as you please. Think about putting some photos on your desk, or maybe a board with some motivational messages on the wall, if that is something you like. If you are into art, you could bring a painting you love to hang on the wall. There are many things you can do to personalize your workspace. They might be small, but they will do a lot for your motivation and happiness in your workplace.
Bring in some plants to your workspace
Another thing you can do to make your office feel more like home is to add some houseplants. If you don't have green fingers, don't worry. There are many plants that don't require much attention and care, aside from occasional watering. Some hard-to-kill plants are the orchid, ficus, aloe vera, the Snake plant, and the Rubber plant, to name a few. Even if you work in a small cubicle, putting a tiny cactus or succulent on your desk can transform the way your workspace looks. Having some plants in your office makes it burst with life and positive energy, even for those people who don't love them.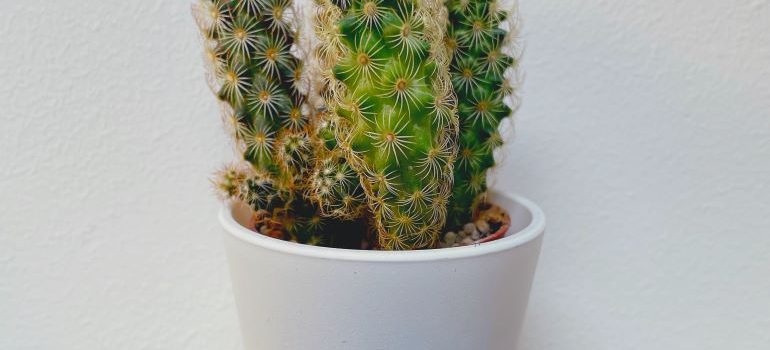 Let as much light in as possible
There is nothing more depressing than spending at least 8 hours a day in a dark room with little light. Natural sunlight is one of the most important factors that influences our daily life significantly. There is a reason why countries with the least amount of sunlight have the highest depression rates. Spending most of your day away from sunlight paired with work stress can have a detrimental effect on your mental health. This is why we need as much light in our office as we can get.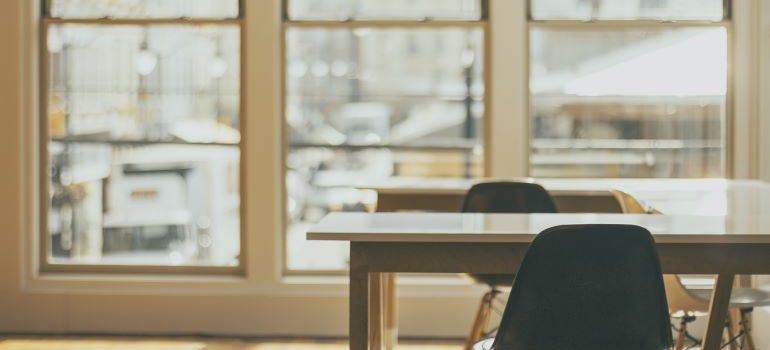 If you are blessed to have an office with big windows, avoid dark curtains. Let that light in! Make your new Miami office as bright as possible. On the other hand, if you only have a small window, or don't have windows at all, choose a bright white light-bulb. This will simulate natural sunlight to an extent so that you don't have to work in a gloomy, obscure office all day.
Add a pop of your favorite color to your new Miami office
People are visual beings, and we like looking at pretty things. And what is prettier than to be surrounded by random pops of the colors you love. To make your office more your own, try adding a few items in your favorite color. If you love blue, add a blue figurine to your desk. If you are a fan of pink, buy a pink pot for your plant. Another tip is to get curtains or an area rug in your favorite color if you have the space. You can also choose a photo frame in the color you like, bring your own coffee mug or get pens in your favorite color. It's the little things that make the difference in life, and also in your new Miami office so if you have anything nice and valuable in your home and want to move it to your office, get in touch with City Movers and we'll help you transport it. You will instantly transform your workspace and enjoy spending time there much more.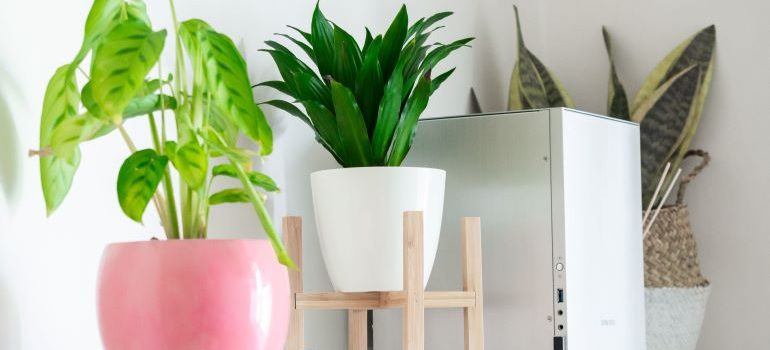 Our decorating tips for your new Miami office will help you feel more at home in your work space
Hopefully, you found these decorating tips for your new Miami office useful. From commercial relocations to piano movers Miami, we offer a wide array of moving and storage services. To personalize your workspace after a seamless move, try some of the ideas we shared. You can make the time spent at work more enjoyable just by adding a few personal touches to your office. For example, try bringing some photos to put on your desk and a plant of some kind. There are many resilient houseplants that don't require much care to thrive. You can also add a few items in your favorite color, which will lift the space up instantly. And don't forget to use all the light available. Even adding a bright, white lightbulb will do wonders.