Moving surely is a difficult and stressful process. But not every relocation is the same, nor do they need the same approach. Moving your business is one of those relocations where you have to focus on multitasking at the same time. And while many things depend on the area you will be moving to, there are a couple of important steps to follow. If you want to move your business cross country, your tasks become even more serious. You will have to pay close attention to your clients, business flow, and of course your employees. And it doesn't matter do you have a huge company or just one bigger office, they will have to go through certain preparations as well. Here is how to prepare your employees for a cross country commercial relocation!
First steps in moving your business cross-country
So how exactly do you start preparations in general? You should try to answer this question as soon as possible in order to start preparing on time. When relocating your company time plays a huge role and you should not waste it no matter how hard it seems. Knowing that as soon as the idea of moving comes to your mind, start with making a plan. It should include everything, from your clients, employees and of course moving companies like City Movers who will take care of the transportation and the rest of the tasks. This is not a one-man job and forming a reliable team will be necessary. You should have a group of employees assigned different tasks from the beginning to the end of your relocation.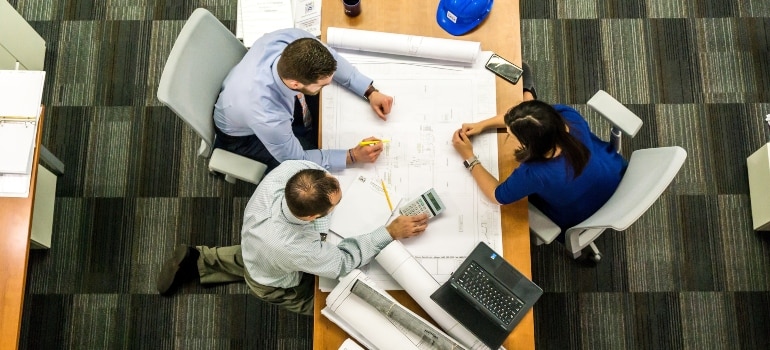 Some of them should be working with clients, others involved with the relocation tasks in order to achieve more efficient results. Of course, before you decide to prepare your employees for a cross country commercial relocation, you must set the final date and have at least three meetings with all of them. This will be the time when you must show your leadership skills and how good are you at keeping things under control.
Choosing the best time for moving
Even though you will need your team by your side through this entire process, you will have to make some big decisions on your own. One of the most important ones is, of course, the best time to move your company. This is something you should do before you start preparing your employees as once the final decision is made, all of them will have their personal plans on the side. To keep everyone happy and give them plenty of time, try to think a couple of steps ahead. You are the one who knows your company the best and that means when the right time is. Moving too soon will have similar consequences as moving too late, and making balance is essential.
Before you decide to contact some of the corporate relocation companies Florida and give them all the details of your relocation, think of the business flow in your company. What you need to do is avoid moving when your company is extremely busy. This may complicate things in the future and there is a chance there simply will be too many things to handle. The best time is of course, when working days are slow and when there is not too much to do. This again depends on the field your business is focused on, but you will surely be able to find it.
Prepare your employees for a cross-country commercial relocation before you hire movers
Expect cross country movers Florida to carry out most of this relocation. This includes all the hard work regarding your inventory and other tasks. But before all of that, you will need to have your employees ready. This means preparing them fully for the relocation and all other tasks. Once the movers arrive the relocation is set in motion, and everything must work perfectly. The employees should be ready to deal with their tasks and follow the plan. The most important thing is to have one team in the position to focus on your current clients. In case you already have plans for making the new ones, there should be a couple of people working on that as well.
The importance of a teamwork
When relocation takes place, your team will have to work as one. This is due to the many tasks all of you will have in the days following this process. If you have a good team of employees who are dedicated to their position, you will be able to follow the plan easily and achieve all goals in a short time. By the time the moving-out day comes everything should be ready. As a result, you will avoid many unexpected situations a relocation can bring, like being late, making last-minute changes, etc. You can always supervise the entire process and guide your employees along the way. 
How to prepare your employees for a cross country commercial relocation
Each one of your employees should be ready for changes once you decide to move your business. Some of them will have enough experience to know what to do, while others will need your help. To make everything work out, you should start with organizing a couple of crucial meetings where you will give certain instructions to them. Your last meeting in the old company building should be scheduled a day before long distance movers Florida arrive. It is best that you prepare your employees for a cross country commercial relocation slowly but strategically. This means you will listen to their needs and suggestions while making a perfect plan that will make everyone happy.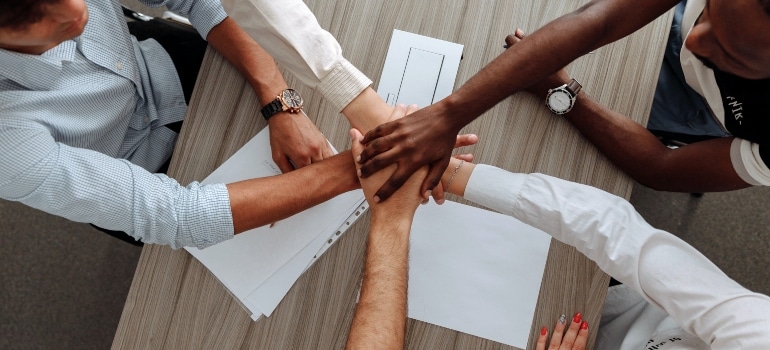 Even though every company is different, a certain set of rules and tips can be applied to most of them. In case this is your first relocation with your entire team, here are some of them that could help you out!
Discuss their future position
Listen to their suggestions
Assign different tasks according to their profession
Prepare a team of professionals for the I.T. sector
Discussing employees' future positions
Moving your company locally is a topic you and your employees could finish successfully in one meeting. But moving cross-country is something completely different. Once this process starts don't be surprised if some of your employees decline the offer. Although they managed to build a career in your company, that doesn't mean all of them are ready to move that far. Each one of them must have enough time to make the right decision and think things through. You should also discuss their future positions on time so that there is no confusion later. This is even more important if your relocation includes a drastic change.
For example, moving from Florida to New York is not an easy thing to do as some of them must leave their families behind. If you make them feel safe making the decision, everyone involved will feel much better. Some of them may even come up with solutions and after some consideration accept the offer. Having good communication with your employees is essential and you should always try to achieve it. 
Take into consideration the opinions of your employees
If your company is in the state of Florida, chances are big that you have a lot of young professionals working for you. From them, expect a lot of new and good ideas that you should always consider. The best thing about having young people on your team is the source of fresh new suggestions that will make your company thrive. Prepare your employees for a cross country commercial relocation but don't forget to hear what they have to say. Some of them will probably have amazing solutions for this relocation and those will be extremely helpful.
On the other hand, your company surely has some employees who have more experience and have been in that business longer. Give them a chance to advise you, when necessary, as experience and all those years matter a lot. If you are completely changing the targeted group of your clients due to a new location, their suggestions can help you avoid losses and mistakes. For example, those who are moving to Chicago from Florida should expect to have a slightly different client base.
Assign different tasks according to their profession
Although relocation can be stressful, avoid putting too much pressure on your employees. They also have a hard time adjusting to new changes and should have enough space and time for all the tasks waiting for them. Too much stress in the working place can cause a lot of disturbance among your team, and that is the last thing you need during moving your business. One of the most common mistakes is assigning them tasks that they don't have enough experience with. This includes putting them temporarily in a different department or giving them extremely difficult relocation tasks. Let them do what they know the best and always count on movers to do the harder part of the job.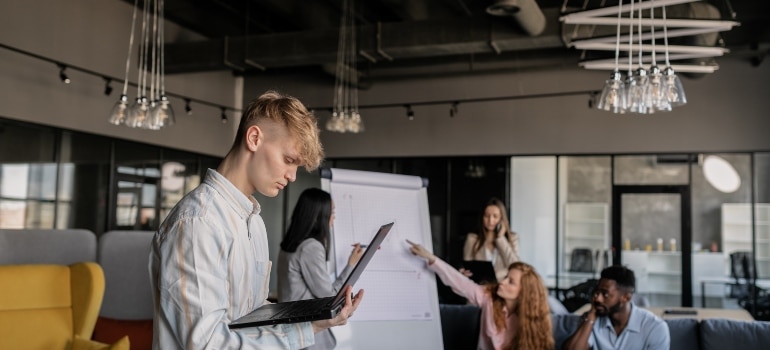 In case you are moving from Miami to California, the young professionals or your media team should prepare the new grounds for your arrival. They will love the idea of creating new commercials that will introduce your services to new clients. Let them be creative and show why are they part of your team. As a result, you will have a successful relocation and a large client base waiting for you!
Prepare a team of professionals for the I.T. sector
Since this is probably one of the most important sectors in your company, you must have a team of professionals dealing with it. This sector should be the last one to stop operating in the old place and the first one to be set up. Keep in mind that even if you are moving to Texas from Florida, your company will still have to fully run. Shutting everything down because of relocation will only bring financial losses and that is something you should avoid at all costs. The tricky thing is that not everyone can deal with this particular sector. It is very delicate as it provides the most important data for every part of your business.
If you don't have qualified professionals for this in your team, make sure to hire them on time. As a result, you will be more relaxed and ready to prepare your employees for cross country commercial relocation. Once the movers arrive, give them all the details about the importance of this sector. They will make sure it is transported on short notice and set up again properly. This way your company will start operating as soon you and your employees arrive. 
Other things you should know about preparing your employees for cross country commercial relocation
And while all of this may sound pretty complicated, as long as you stick to the plan everything will be fine. Your entire team should make sure everything works great and you are the one who will give them space and time for that. If some positions are to be filled in your company, make sure new job vacancies are available on time. Maybe some of your new employees will have to go through preparations as well. Focus on good communication and be there for your employees in case they need you.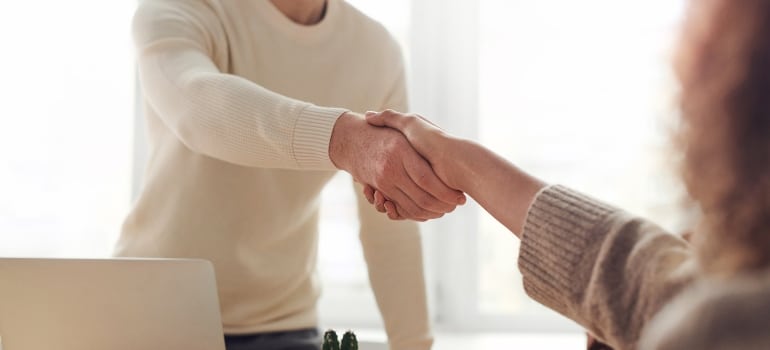 Stay positive!
As you can see, it doesn't take too much to successfully prepare your employees for a cross country commercial relocation. Be positive and even under pressure, don't forget to be a good leader. This relocation is about to bring you new successes and better results, and your team is a very important part of that. Find other professionals outside your company who will make this relocation even faster and more effective. You will have a great commercial move with a great moving partner by your side!