Relocation is among the hardest tasks that you can experience in your lifetime. Ask people who moved more than once, and no one will say that it was easy. Apart from organizing the entire event, there is a lot of physical labor that you have to do. Only when you start preparing your items for packing, will you realize how much dirt gathered all around your home. You may ask yourself  whether it is possible to have a clean and tidy move. As soon as you book your movers, we suggest that you start thinking about cleaning. That does not include only polishing your items and your old home. Among the most important relocation tasks should be cleaning your new apartment. Therefore, read this article to discover useful tips on how to clean your new Miami apartment before moving in.
Why is it necessary to clean your new Miami apartment before moving in
It goes without saying that you will need to visit your new apartment several times before you move in. At first glance, it may seem that the previous owner gave it a nice polishing after moving out. However, it may happen that several months passed since then and that naturally some dust and dirt covered the walls and floors. Therefore, before Coral Way movers start bringing boxes in, your new apartment should be clean. As you would wipe off the dust from your furniture, there is no point to bring lean items into a dirty and dusty place. In addition, it it can seriously damage your health and of your entire family. This particularity relates to your sofas and beds. The dust easily gathers on the furniture and it can cause even allergies. Therefore, take some time to clean everything.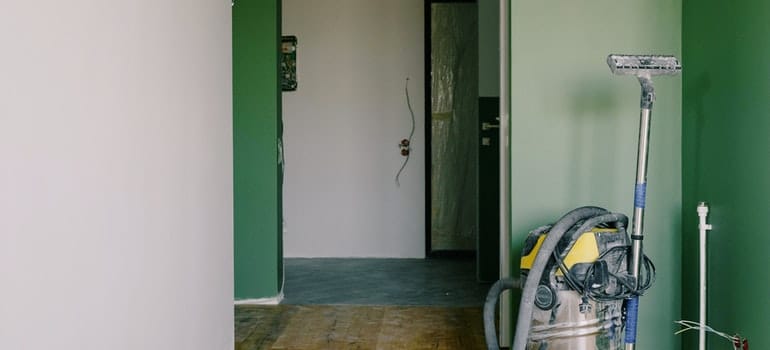 Start from the top
Whenever you start cleaning, it is advisable to start from the top. Most of dust sticks to the ceilings and floors as these are the biggest surfaces that collect the most of debris. if there are built-in closets, cabinets, ceiling fans, make sure to clean them first. In addition, check the state of the ceiling. If it has some grey stains in corners or water marks, it can be a clear sign that you need to call a plumber or roofing services before Little Havana movers take things in. In addition, use a vacuum cleaner to remove the dust from the most unavailable places in your new apartment. Most people tend to neglect walls while cleaning. But if previous tenants painted the walls recently, the odds are that the walls are full of fine dust. Therefore, give it a proper brash and vacuuming so you can move on.
Deep lean your kitchen
One of the areas that people use the most in their homes are kitchens. Dust, grease, and steam from cooking can make such stains that it can take days to take them off.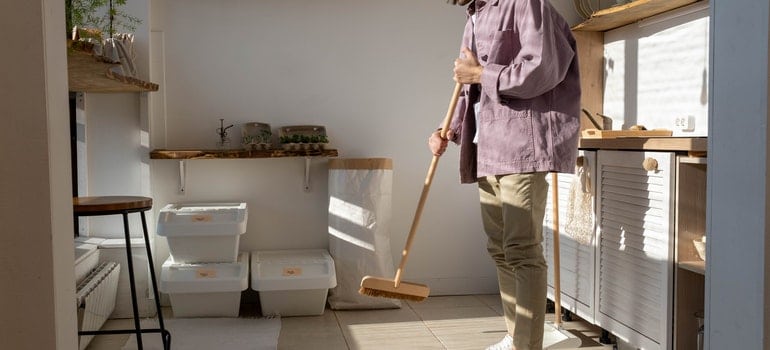 Therefore, on your moving calendar, make sure to dedicate several days to cleaning your kitchen. In addition, this will be one of the first rooms in your home as soon as West Flagler movers assemble your kitchen cabinets. again, start from the top of the cabinets with soft cloth and mild cleanser. Remember that you need to wipe again your fridge and rinse the boxes thoroughly. This is a rare occasion that it will be completely empty, so you can give it a proper cleaning. In addition, pay attention to cleaning your microwave, oven, and the dishwasher. Use some water and soda to clean your microwave in the easiest possible way.
Bathroom and bedroom
Other two most important rooms are certainly your bedroom and bathroom. Start by deep cleaning your tiles with appropriate tile cleansers. This is a great chance to do this before you put washing and drying machine in. Also, make sure to replace a toilet seat, even though it was recently changes. Apart from kitchen, bathroom is the place with the most dirt and bacteria. After the toilet, you need to disinfect the bathtub. If you have a shower cabin instead, as soon as Grapeland Heights movers unbox it, you will need to deep clean it again. For an easy cleaning hack, use dish soap and a sponge to wipe down all the stains and dirt. In your bedroom, dust off the built-in closet first. Then you can move to vacuuming walls and wiping windows. Mop the floor and let it dry properly before you put on your bed.
What else to clean your new Miami apartment before moving in
Now is the perfect time to dedicate it to cleaning your living room. Apply the same rules for walls and floors with vacuuming and moping. However, do not forget that once movers start bringing in boxes, they will need to go over your living room and hall floors many times. So you will probably have to clean it over and over again. if you need to buy some specialized furniture cleaners, make sure to get them on time. Remember that you need to thoroughly clean your new Miami apartment before moving in.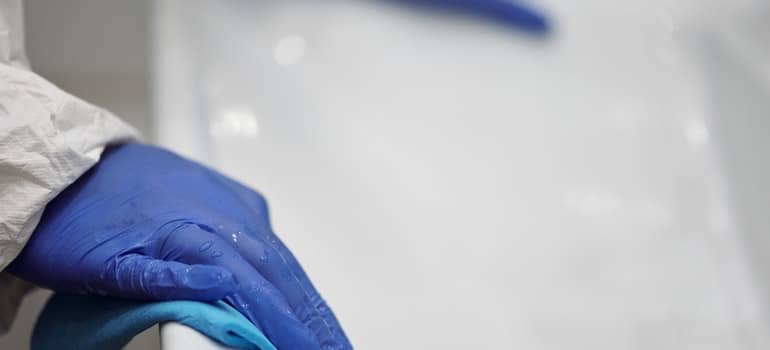 Also, baseboards are often neglected on monthly cleaning checklists. Before moving in, it is a perfect chance to give it some proper wiping. Finally, entryways tend to collect water, mud, and dust. So make sure to provide it with some serious scrubbing before you start living there.
You already started imagining how your new home is going to look like with all the furniture you have been planning to put. But here's a hot tip before you go charging in with all your belongings. It is vital that you clean your new Miami apartment before moving in. No matter moving in and unboxing will make a huge mess in your new home, deep clean is something that you need to do. This will be a rare opportunity when your rooms will be furniture-less, so make sure to use this chance to make a nice fresh start.