If you have at least once moved furniture in your home, rearranged your space, or moved a sofa from room to room, then you already know how difficult and demanding moving furniture can be. What do you think, then, what is it like to move all the furniture from your home several tens, hundreds, or thousands of miles away? Moving heavy furniture is a very challenging job. And the worst of all is that you can get hurt in the process. And an injury is certainly the last thing you need right now when you're moving to or from Florida. Therefore, the head should be used, not the back. So, our Florida movers are here to help you and you can contact them at any time. And now we will reveal several tips and tricks for moving your furniture. Let's see!
Prepare the furniture for moving
When it comes to moving, almost everything is based on good organization and preparation. What we have to clarify is that your furniture cannot just be loaded into the moving truck. It's already necessary to adequately prepare it for the move. The first thing you need to do is sort your furniture. And cross country movers Florida advise you to carefully determine what you will move with you and what you will not. Because also, the price of your moving may depend on the number of things you are moving. And moving all your furniture may not be worth it in some cases, such as a cross-country move.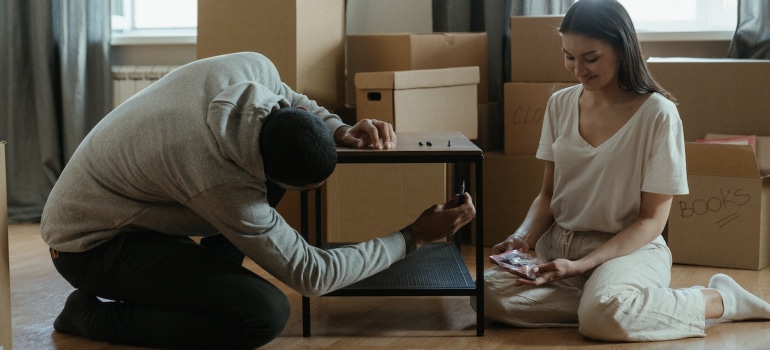 So, in order to make moving your furniture easier for you, it's necessary to prepare it. Preparation doesn't only mean cleaning, but it's also necessary to disassemble it and adequately pack it. Because it's always easier to move furniture in parts than in one piece. Therefore, we advise you to disassemble wardrobes, chests of drawers, tables, beds, and other heavy furniture down to the smallest detail. You pack and thus load it into the moving truck. This will prevent back injuries because lifting heavy objects can be a risk.
Tips and tricks for moving heavy furniture
So, since we know how difficult and complicated a job moving furniture can be, we decided to reveal a few tips and tricks that will make this job easier for you. The corporate relocation companies Florida offers deal with moving office furniture every day and we are sure that they can help you during your commercial moving. And now, we will present you a mini guide for moving furniture that you can use in any situation.
Remove the obstacles in your way
Get tools for moving furniture
Choose a sliding method
How to remove obstacles in your way?
Maybe this question seems a little confusing to you, but we will do our best to clarify the initial one. When you move, you will certainly have a lot of things around you, a lot of moving and packing materials, and other items that will prevent you from moving easily around your home. You will come across obstacles that you will have to jump over, and you can trip over them, fall and injure yourself. So, what we advise you to do is to always leave the preparation, packing, and moving of the furniture to the end. Regardless of whether the question is moving to another city or another room.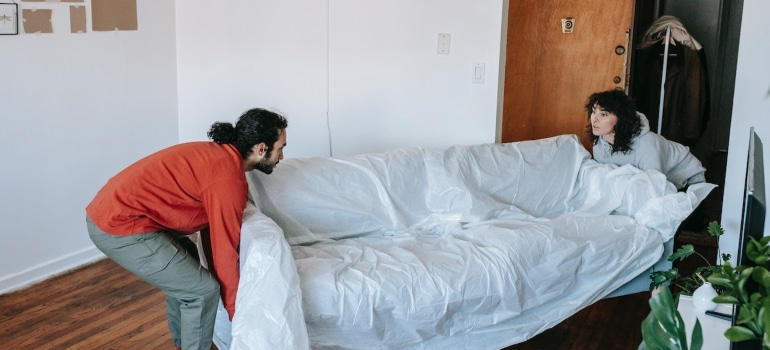 So, first, get rid of all obstacles. That is, you pack less stuff, clear the aisle and enable easy movement for you or your movers who will move your furniture. The most important thing is that only you and your furniture should be in the room. Because that's the only way you'll be able to move easily.
What tools do you need for moving furniture?
This may not be a trick, but it's a tip. Before you start moving your furniture, we advise you to get all the necessary tools that will make the job even easier. Together, the tool will help you protect your hands, back, and legs from injuries that can occur while carrying heavy furniture.
List of tools you will need:
A trolley
Ramps
Lifting straps
Work gloves
Slides
All these tools will help you to move more easily around your home, over thresholds, but also over stairs. Lifting straps will protect your back from injuries, and the trolley will allow you to move your furniture more easily. Also, a helpmate is always welcome!
What is the sliding method?
The sliding method is a good old method of moving furniture. And it can replace all the tools we mentioned previously, but what it certainly can't replace is the help of professional long distance movers Florida has. Because moving professionals can best help you with moving furniture and save you from the risk of injury. But, if you decide to use this method, be careful. You will need an old blanket. One, two, or three depending on how much furniture you have. So, the point is to drag the furniture onto the blanket. And then you and one other person move it around your home more easily. That is, you pull or push. This method can be useful where there are no thresholds.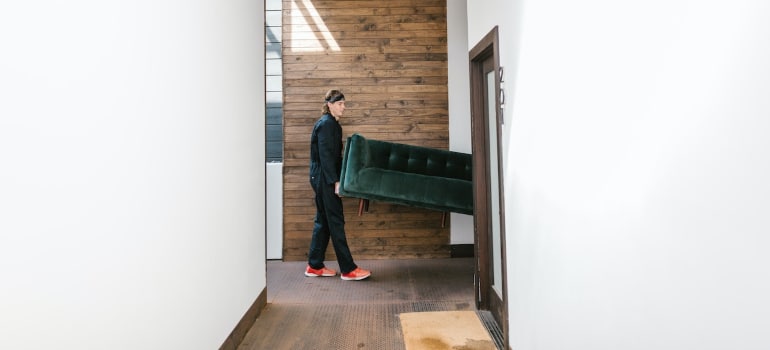 Now, start your move!
Whether you're moving to or from Florida, know that it's a fantastic state. And at the same time, one of the main attractions is the beautiful beach. If you move to Florida, some of its beaches can be an ideal place to rest after moving heavy furniture. So, you can visit Miramar Beach, Cocoa Beach, South Beach Park, Delray Beach, and many others. So, if you are ready, you can start your move, and don't forget our tips and tricks. Good luck!