Leaving Miami Beach for Los Angeles is a huge change. First, you are making a long-distance move, of almost 3000 miles. Second, you are changing your lifestyle. So, this move has its geographical, mental, and emotional sides. And moving from a small town like Miami Beach to a metropolis on the West Coast is even more challenging. Moving to LA in such a case requires extra effort to adjust. The trend of Miami people moving to Los Angeles intensified in 2012 and is still ongoing. Before that, the creative young people in search of opportunities were moving to New York. And, once they retire, they were coming back to Miami. However, if you consider moving to Los Angeles, hire reliable Florida movers like City Movers to help you.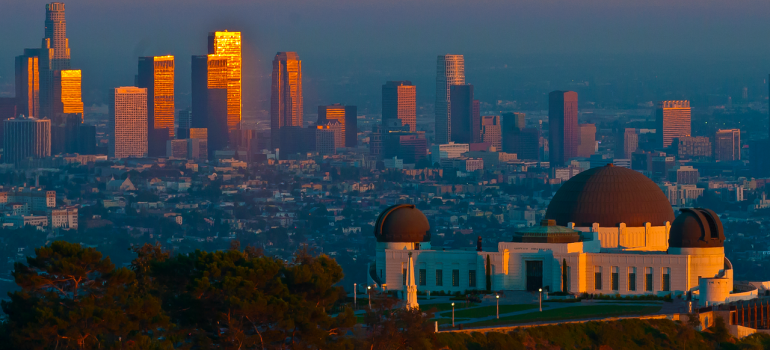 Los Angeles – a city of many opportunities
Los Angelis Metro Area has about 18.7 million people, Los Angeles is one of the "millennial magnet" cities. It offers numerous careers in Hollywood and in the entertainment and fashion industry. LA has become synonymous with fame, which many young people aspire to. Also, there are many tech employers such as Snapchat, Google, and Oculus. It might be that you are moving to study, to join a partner, or simply because you like the metropolis vibe. Whatever is your reason for moving from Miami to Los Angeles, be sure your decision is right.
What are the differences between Miami Beach and Los Angeles – what to expect?
Hurricanes vs. earthquakes
The hurricane season in Florida is not a pleasant phenomenon. Mayor hurricanes tend to affect South Florida, Miami Beach including. On the other hand, once you move to Los Angeles, you have to get used to frequent earthquakes. Luckily, major earthquakes are not occurring so often in LA. However, the main difference is that in Miami Beach you will be alerted of the coming hurricane. And have enough time to prepare or evacuate. Unfortunately, the major ones will strike LA without warning, as they can't be predicted.
LA traffic vs. Miami Beach Traffic
In Miami Beach, you have to face occasional traffic jams. But, there you can reach many places just walking. When moving to Los Angeles be prepared for never-ending traffic jams. The city of Los Angeles is constantly increasing the number of subway lines, which is not helping. Because the people of LA are not giving up on using their cars.
The main factors for poor traffic conditions in Los Angeles are:
The huge amount of cars
Everyone is driving alone
Los Angeles city is very spread out, and that is also affecting traffic, as you have to use a car even going to a restaurant.
Recently, motorized scooters like Bird and Lime have become very popular. Using them, It is much easier to move through the LA overcrowded traffic flows.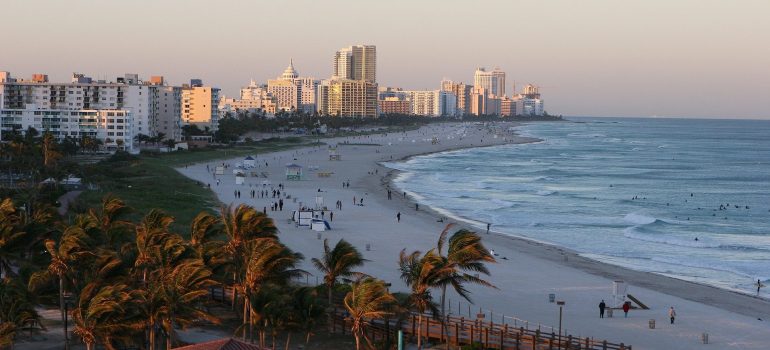 Education opportunities in Los Angeles
Education opportunities in Los Angeles are much higher. Los Angeles has three public universities in the city. They are the University of California Los Angeles, California State University Los Angeles, and California State University Northridge. Also, there are many privately owned colleges in LA, offering excellent education. The LA School District has about 800,000 students. Those living in Miami Beach, and who want to study, usually have to move to Miami-Dade County. If you have enrolled in one of the LA universities, you will need a professional company for the long-distance moving in your future.
Quality of air in Los Angeles and in Miami Beach
The always sunny Los Angeles is just a myth. Due to aggressive California emission standards, the fog and smog in LA are not so often as they used to be. Still, with such busy traffic, the air quality can't be compared to fresh Miami Beach Ocean air.
Miami's beaches are among the best beaches in the world
Southern California beaches are places to enjoy sports on the sand. Taking a sunbath, playing volleyball, walking, running, and surfing. Still, going to Malibu Beach or Venice Beach, you will find them a bit chilly for swimming. Also, according to many surfers, they better like Miami Beaches. Also, they are giving the full beach experience, swimming including.
Real estate and renting after leaving Miami Beach for Los Angeles
One of the disadvantages of living in Los Angeles is also high housing and renting prices. Many newcomers are facing that problem. Los Angeles, CA is 50.2% more expensive than Miami Beach, FL. And the median home cost in Los Angelis, LA is 135% higher than in Miami Beach. For this reason, many single persons are looking for roommates, to share the renting costs. However, if you are resolute to move to Los Angeles, you can do it at affordable prices. Movers Miami Beach will bring your there safely and without any hassle.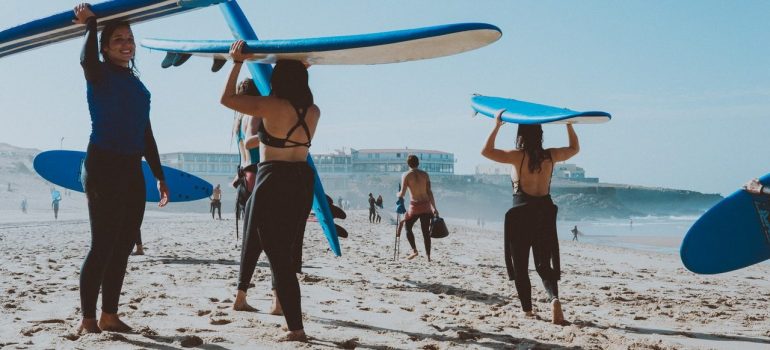 What are the major sectors of economic activity, and where you can look for employment after moving to Los Angeles?
If you are not already having a job offer or moving to LA for a gig economy climate you like, there are many industries in LA to look for employment. Some of them are:
Entertainment
Information Technology
Aerospace & Defense
Fashion
Bioscience
Hospitality & Tourism
Trade
Marketing, Design & Publishing
Things you might miss after Leaving Miami Beach for Los Angeles
The Miami Beach lifestyle centers around its beautiful beaches. So, leaving Miami Beach, you will probably miss its year-round pleasant weather, white sands, and crystal-clear ocean waters. Also, going to beaches is easy. When you wish, you can easily walk to any of them. Also, visiting restaurants or cafes to meet friends, you don't need to spend hours in the car. And people are more welcoming. They don't have a laid-back California style and "chill" attitude that prevails everywhere, LA including. And in Miami Beach living is more relaxed.
 The lifestyle you will find when living the Miami Beach for Los Angeles
Living in Los Angeles, CA is not easy for newcomers. And this is especially true for the first period until you get used to differences. So, it is good to know some things before moving to Los Angeles. And know them before leaving Miami Beach for Los Angeles is beneficial. That way, you will be ready to face the LA specifics and to adjust easier. People say that all that is "healthy" and "trendy" you will find in LA. For you, we hope you will find the fulfillment of your wishes. And that you will adapt fast and be happy about the decision you made.