Relocation is one of the most important and also one of the most stressful events in your life. Some say it's as stressful as divorce. Well, it's almost the same – you are, in a way, "divorcing" your old home. And, as in many other situations in life, you should leave some things behind – in this case, you should declutter your belongings. Wonder how to declutter your Boca Raton home before moving out? Find it hard or too sentimental? Don't worry. City Movers are here to help you efficiently downsize your things without feeling sorry. With our guide, you'll manage to determine what things you won't need anymore without any remorse. Decluttering is one of the best ways to ensure a stress-free move and start a new chapter in your life. Stay with us and find out more.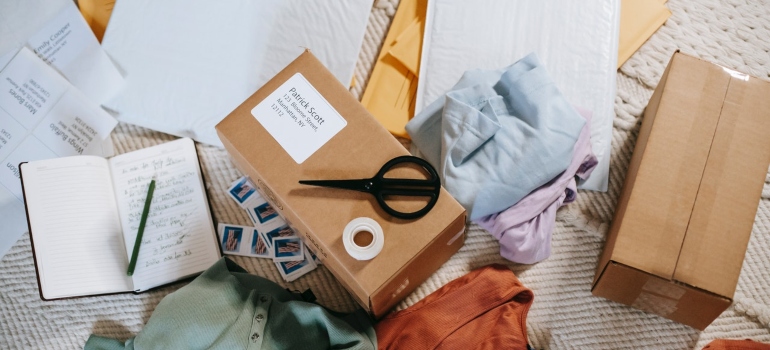 The importance of decluttering your Boca Raton home before moving out
Before we move on to tips and tricks on how to declutter your Boca Raton home before moving out, let's see why it is important to declutter. First and foremost, relocation requires a lot of planning, and packing is the most demanding process. That's why it's important to differentiate what is and what is not important to pack. There's nothing worse than having a bunch of items around while you are trying to pack up. And, if you declutter, your packing process will be easier. However, before you declutter, you need to determine which items you do not need anymore. Ask your movers to provide you with an inventory list so you can keep track of your belongings. In case you haven't found movers yet, check moving companies Boca Raton FL and get your moving quote.
How to prepare for decluttering?
Moving is all about planning, preparing, and organizing, and decluttering is not an exception. Here's how to prepare for a successful downsize:
Make a list: A list of your inventory will give you a clear picture of how many things you actually possess. Decide what to declutter based on the list.
Make a decluttering plan: After you've decided what to declutter, make a decluttering plan in the form of a time. The best solution is to purge as you pack. This way, you'll stay organized.
Declutter room by room: By doing this, you'll save time and stay organized.
Set a deadline: This refers to packing and thus decluttering.
Decide how to declutter: Make a garage sale, or give away things you don't need to a charity or your friends and family. Also, throw away broken, damaged, and torn things. By doing this, you'll save money on moving services and equipment. Also, if you sell some of the things, you can use the money for the relocation.
Find storage: If you don't want to declutter but need additional space, use storage units. However, to pack properly, use professional packing supplies Boca Raton. Secure your belongings by hiring professional packers.
Room-by-room checklist for decluttering your Boca Raton home
One of the best ways to declutter your home is to do it room by room. You can declutter your belongings before packing, but we recommend you to do it while packing to save time. However, don't get too sentimental when decluttering. Getting rid of items won't only save you money and time on packing but will also save you a lot of effort. What's more, you'll get rid of the things that bring you bad memories. Besides, you'll save space in your new home for some new things. And there's no better feeling than filling your home with new items. If you are not sure what to declutter, follow our room-by-room decluttering checklist below. Start from utility rooms and garages since they are probably crowded with so many things. Then, move on to the kitchen.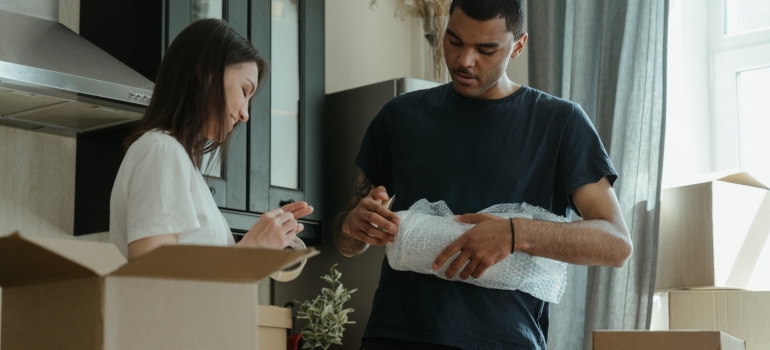 How to declutter your kitchen?
The kitchen is one of the most crowded rooms in a house. Thus, it needs to be decluttered first. There are a lot of things to get rid of, and the first is, of course, the food. Throw away expired food, spices, and sauce packets. Next, declutter chipped or broken plates and glasses. Then, declutter the things you don't use. If they are in good condition, give them away or sell them. Finally, throw away plastic containers, lids, bottles, old cookware, and cookbooks.
What to declutter in your living room?
After the kitchen, the living room is one of the most crowded rooms since it's a shared family space. When decluttering this room, you should make a checklist and double-check the items for decluttering. Presumably, you have a large bookshelf, start from decluttering the books. Consult with your family members what books to declutter, group them and pack them into boxes. It would be a good idea to donate books to a library, school, or even better, donate them to an orphanage. Then, declutter the décor. It is the perfect time to change the living room decoration. Next, declutter DVDs, CDs, or VHS tapes and cassettes if you still keep them. Also, declutter magazines. Only leave the media and magazines that can be useful.
How to declutter bedrooms?
The main bedroom and kids' bedrooms are full of things to declutter, starting from clothes. This is the perfect time to downsize your wardrobe. If you have time, try on clothes you haven't worn for some time to check whether they still fit you. Inspect your clothes thoroughly and throw away the items that are torn or have stains. Give away or donate the clothes that are in good condition. Also, get rid of extra hangers. Do the same with shoes, jewelry, and other accessories.
The bathroom and other rooms to declutter
After decluttering the most important rooms in the house, think about other things you should downsize. Of course, don't forget about the bathroom. Even though it seems like there's nothing to declutter in there, it's quite the opposite. Throw away expired toiletries, old cosmetics, and beauty tools. After the bathroom, declutter the home office if you have one. Throw away papers and documents you no longer need and digitalize the ones that can be digitalized. Also, get rid of old electronics and their Instruction manuals.
Don't want to declutter your Boca Raton home before moving out but need more space? Use storage
In case you are not sure what to declutter but don't have enough time to consider it, the best solution is to use Boca Raton storage facilities. By doing this, you'll buy more time to think carefully about what to do with your belongings. Also, you can use storage units to store your furniture and other items if you need space before moving into your new home. Besides, you can use it for storing your vehicles.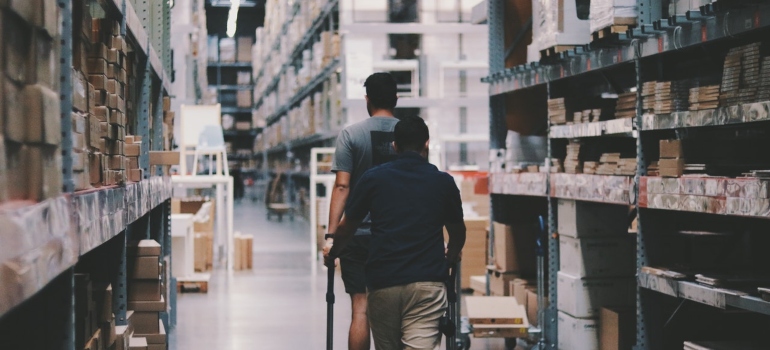 Decluttered your Boca Raton home before moving out? It's time to move with professionals
Now that you know how to declutter your Boca Raton home before moving out, it's time to hire professional movers to handle your relocation. So, contact us today and get your moving quote no matter where you want to move. We'll provide you with some of the best moving services. Have a safe and smooth move with City Movers. Enjoy the relocation process.