Relocating an office can be a great opportunity for businesses to expand and grow. For businesses located in Florida, there are many places in the US that can offer a great location for an office. Whether it's the bustling metropolis of New York or the natural beauty of the Pacific Northwest, there are plenty of options to consider. Relocating to another state can open up new opportunities for your business. It also provides access to new markets, resources, and talent pools. In this article, we will explore some of the best places to relocate your Florida office. We will take into account factors such as the cost of living index, taxes, access to resources, and opportunities for growth and expansion. By the end of this article, you'll hopefully be one step closer to hiring one of the most reliable moving companies in Florida and making this dream a reality. 
What are business owners looking for the most when deciding to relocate their office somewhere else? 
Business owners often consider a variety of factors when deciding to relocate their office. Some of the most important factors are: 
Cost of living: business owners want to ensure that their employees will be able to afford to live in the new location.
Tax incentives: A lot of people are attracted to locations that offer tax breaks or other financial incentives to companies that relocate there. 
Access to talent: You want to be able to find and attract the right employees. That's why you should look for locations with a strong labor market or a well-educated workforce. 
Proximity to customers and suppliers: relocating to a location that is close to key customers or suppliers improves logistics and reduces transportation costs.
Quality of life: Happy employees perform well, so look for places with a good quality of life that includes access to recreation, culture, and education.
Business climate: Search for locations with a good reputation for attracting and supporting businesses.
So what are the best places to relocate your Florida office? 
Now that we know what you should look for, let's take a look at our list of the best places to relocate your Florida office. These places are scattered all over the US, so it's up to you to decide which one fits you and your business best. 
Seattle
According to a new study by Oberlo, Seattle is ranked #13 in the list of the 30 best cities in the world to start a business! They used factors like economic freedom, human capital, tech, and digital ecosystems, financial initiatives, and so on. It is also highly ranked when looking at how long it takes to set up an LLC, and the answer is 4 days. Another great reason why Seattle is one of the best places to relocate your Florida office is how close it is to Asia. It's a natural gateway to Asia, making it a great location for businesses that want to expand their reach to the Asian markets. That, of course, depends on the industry you are in and if you are a domestic-only company or not.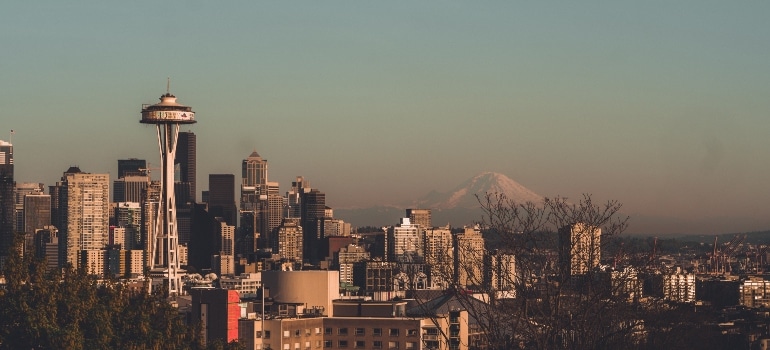 In Seattle, the average office rent is $38.24 per square foot. When you add to that how many big corporations have headquarters there, you'll quickly realize why this would be a wise move. Amazon, Starbucks, Boeing, Nordstrom, Tableau, and many other companies have homes there. This can be a valuable resource for you and your business. By being close to these industry giants, you can make new connections, develop and expand your business, and move up in the rough world of business. Moving from Florida to Seattle has never been easier, so make sure to hire the best movers you can find and embark on this exciting journey!
Los Angeles
The same Oberlo study placed Los Angeles at the #6 spot of the world's best places to start a business. The average office space rent there is $46.17 per square foot but it's definitely worth the investment. The city offers a wide variety of office spaces to choose from, including modern high-rise buildings and historic landmarks. The quality of office spaces in Los Angeles is generally high, with many buildings featuring state-of-the-art amenities and infrastructure. Also, one of the main reasons why LA is a great place for businesses is the abundance of major companies and industries with a large footprint there. Warner Bros, Universal Studios, SpaceX, Health Net Inc, Occidental Petroleum, and many other gains of their respected industries all have headquarters in LA.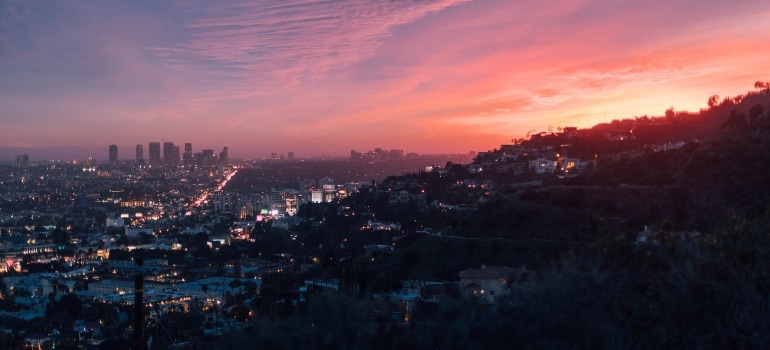 Another reason why Los Angeles is one of the best places to relocate your Florida office is the availability of tax incentives for business owners. The state of California offers a number of tax breaks and credits to companies that create jobs and invest in local communities. These incentives can help offset the costs of moving and operating a business in the city. All of these reasons combined will definitely make you at least consider moving from Miami to Los Angeles to expand your business and grow it!
San Francisco 
San Francisco is considered a great city to move an office to for several reasons. Firstly, it is a major technology hub with a large number of major tech companies headquartered there. Google, Salesforce, and Uber, just to name a few. It is also home to a diverse and highly educated workforce, as well as a thriving startup scene. In terms of tax incentives, California offers a number of programs to businesses that invest in the state. The best example is the California Competes Tax Credit, which provides income tax credits to companies that create jobs in the state. Additionally, San Francisco has a number of business-friendly policies in place, including streamlined permitting processes and a variety of resources for small businesses.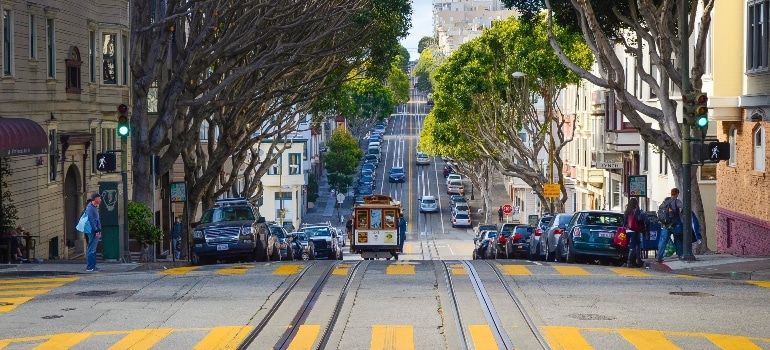 In general, the business climate in this great city is considered to be very conducive to growth and innovation. It has a strong focus on technology and a culture of risk-taking and entrepreneurship. These are all very important if you are in those industries, but even if you are not you will feel very welcome there. It is a bit more expensive than some other cities on this list, with office space rentals being about $66.52 per square foot. That shouldn't deter you from your wish and goal of moving from Miami to San Francisco!
New York
When it comes to New York, there's very little to say that you don't already know. The Big Apple is considered to be the greatest city on Earth, and for a lot of reasons. It is also ranked as the 2nd-best city to start your business in! That of course with a much higher cost of living and office space rent ($66.52 per square foot), but it is well worth it. It is a major financial and business hub, with companies like JPMorgan Chase, Goldman Sachs, and American Express located there. The workforce and talent present in New York are obviously some of the most educated and talented in the world. That's exactly what you should be looking for when choosing between the best places to relocate your Florida office. No matter the industry you are in, if you can make it there you can make it anywhere!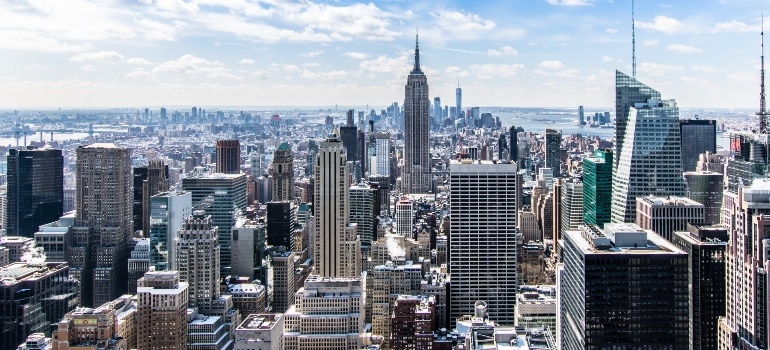 Even though the city is very expensive, there are numerous tax incentives and breaks for business owners. The Excelsior Jobs Program and the Empire State Development Grant all provide funding for projects that promote economic development. The fact that New York is known for being a melting pot of cultures and talents really makes it one of the best places to relocate your Florida office. Just make sure you hire the best commercial movers Miami has to offer in order to make your transition as smooth as possible. 
Memphis
Memphis is one of the most affordable cities in the United States. As a result, it is quite attractive to many companies trying to cut costs. Some of the most well-known companies located there are FedEx and AutoZone. The city is a manufacturing, logistical, and transportation hub. If you are in these industries, it would be smart to think about moving to this affordable region. Memphis not only has a very low cost of living index, but it also has excellent tax options. The city has a 0% tax rate, while the county has only a 2.25% tax rate. The state of Tennessee has a 6.5% corporate tax rate, so it's easy to understand why so many people are flocking to move here.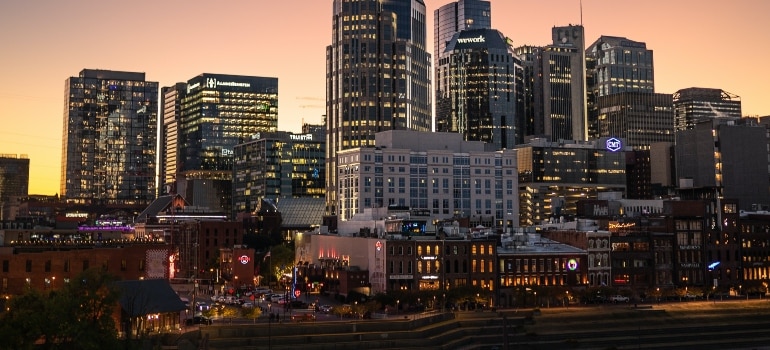 The cheap cost of living will significantly reduce your costs as well as that of your employees. Rent, gas, utilities and food are all cheap in Memphis. And when it comes to renting, the average office rent in Memphis is only $18.77 per square foot! If you are looking for the most affordable place to relocate your Florida office, look no further than Memphis. If you also plan to move your house there, be smart and hire one reliable company for both moves. Many residential movers Florida has to offer also facilitate commercial moves. It would be a very practical decision to make both those moves with one company. 
Las Vegas
The final entry on this list of the best places to relocate your Florida office is Las Vegas. It is one of the most tax-friendly cities in the nation. That makes it very alluring for businesses trying to avoid high tax charges and increase profits. It also has a large international business community. The businesses located in Las Vegas all operate or are adapted to the 24/7 lifestyle of the town. Consumers and customers are more active here than in other places, which stimulates the local economy. What's great about it is that it doesn't have a business income tax, personal income tax, franchise tax, or gift tax!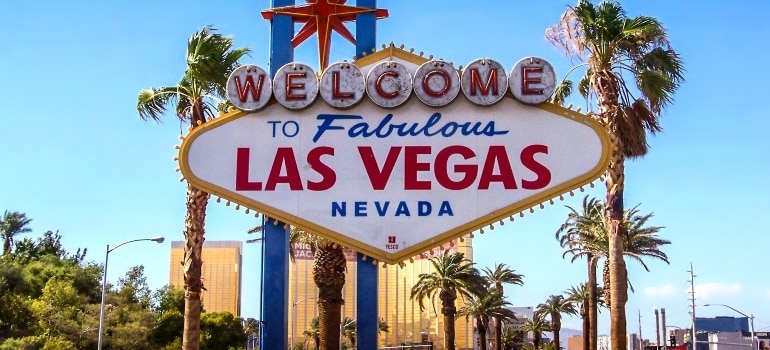 A lot of people would assume that the cost of living index there is high, but it really isn't. It is 111, compared to the national average of 100. It means its residents have to pay 12% more for rent, groceries, and utilities when compared to the average American. When you compare it to the index of New York, Los Angeles, and similar places, relocating your Florida office to Las Vegas is an easy choice. Also, the average office space rent there is $31.6 per square foot. 
So how to decide on what's the best place to relocate your Florida office? 
It really boils down to your own needs and preferences. It depends on the industry you are in, the type of business, whether is it a large or a small one, your budget, etc. This is no easy decision! You really have to approach it seriously and take every factor into account. Committing to a move and then figuring out later it was a bad choice is the last thing you want! It can cause stress, business delays, and money problems for your company and employees. Do not take this decision lightly. The fun part begins once you are sure you are ready to move! Use the best relocation services Florida has to offer and make your dream a reality. We will be happy to be a part of your journey.