Wouldn't you love to live in Miami? There's so much to see and do in this city. Because of its sunny weather, crystal-clear waters, and a plethora of recreational activities for both singles and families, we can see why so many people call this place home! For newcomers to Miami, finding a new place to live can be a bit of a challenge, regardless of whether you're already in the state or moving from elsewhere. If you're wondering where to live in Miami and what you can expect from the apartment-hunting experience, we at City Movers are here to share our top tips for renters in Miami Beach.
Top 3 tips for renters in Miami Beach
Here are some of the best apartment-hunting tips we've compiled for your convenience. Learn where to look in Miami's best neighborhoods to find a home that's perfect for you. You should bear these tips in mind if you've never rented in a crowded market before.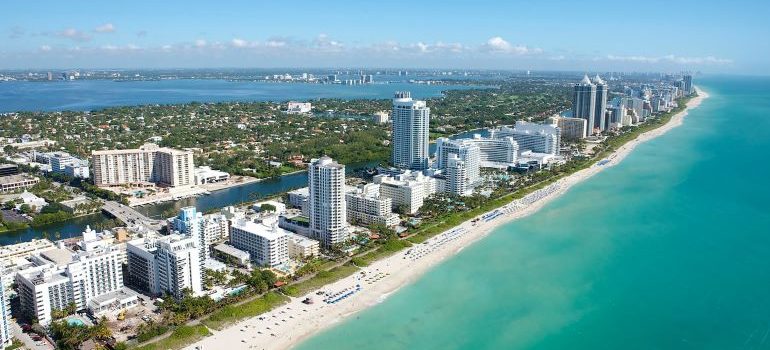 1. You should set aside a significant amount of time to find a place to live in this competitive market
You'll want to time your apartment search perfectly in order to maximize your chances of finding the home of your dreams in this competitive rental market. Finding an apartment that you like could take a week or more. And the application process could take another two weeks. When renting in a condo building, the application process can take longer because you must also apply to the condo association. To make the transition as smooth as possible, you should begin your search at least a month before your current lease expires. Even if the application process goes without a hitch, it's likely that you'll want to begin clearing out your old apartment as soon as possible. Store your belongings in a safe location in your new neighborhood while you're preparing to relocate.
2. Be ready to make hasty decisions
The first thing that you'll notice as you begin searching for Miami apartments is that new rentals are disappearing at an alarmingly fast rate. It's not uncommon for an apartment to be on the market for just one day before a new renter moves in and takes it. According to Hal Feldman, a Miami real estate agent, "the rush is on" once a buyer has found a home. If you wait even an hour to submit your rental application, you may miss out on the perfect place. This is why one of the best tips for renters in Miami Beach is to seize the opportunity immediately. No matter where you choose to move, residential movers Miami can assist you in no time.
3. Always arrive on time and well-prepared
When you find a place that meets your needs, you'll have to act quickly. When going to see a property or meeting with a real estate agent, many Miami realtors advise bringing a few standard documents with you. Your government-issued ID, a recent pay stub, a bank statement, and a letter from your current or most recent landlord are all things you need to have on hand to speed up the rental application process. Whether you're relocating to Miami for the first time or just looking for a new place to call home in this exciting metropolis, you'll be able to find something to suit your needs and your preferences here. Feel free to call movers and packers Miami to help you out once you find your perfect apartment.
The best neighborhoods in Miami
As one of the most expensive rental markets in the country, Miami's hottest neighborhoods are always in high demand, making it one of the top ten most expensive rental markets in the country. The following hotspots should be your first stop when looking for an upscale location. Here you can take advantage of the city's legendary nightlife and world-class cultural attractions:
1. South Beach
In addition to being the epicenter of Miami's legendary nightlife, South Beach is also one of the city's most sought-after residential neighborhoods. Spend an average of $2,800 per month for a 2-bedroom apartment close to your favorite nightclubs, restaurants, and beaches in the heart of Miami.
2. North Beach
North Beach is a mellow, family-friendly neighborhood in Miami, thanks to its chilled-out beaches, historic Art Deco architecture, and inviting green spaces. An upscale wellness resort is located next to a historic open-air bandshell, and there are numerous bars, restaurants, and parks in the surrounding area. The average price for a two-bedroom apartment in North Beach is about $3,800. If you choose this area, contact our reliable local movers in Miami Beach to help you out with the move.
3. South of Fifth
South of Fifth in Miami Beach, also known as SoFi, is a small affluent neighborhood located on the southern tip of the island of Miami Beach. It extends from South Pointe Park north to 5th Street, from east to west, and begins at South Pointe Park. South of Fifth, which is surrounded by the Atlantic Ocean, Biscayne Bay, and Government Cut, is known as an exclusive tropical paradise. Where you can both relax and enjoy easy access to all of the exciting watersports and activities that South Florida is known for.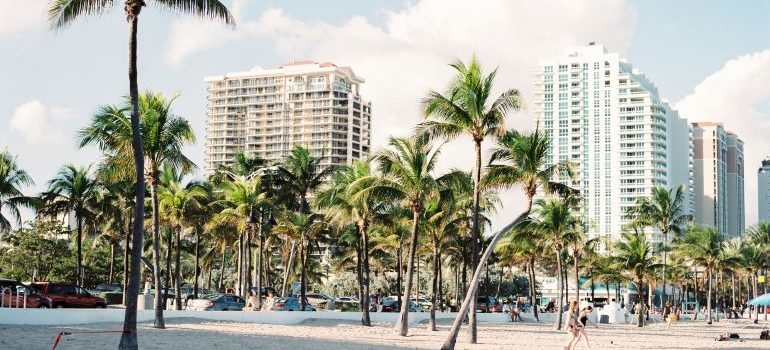 As one of Miami Beach's most exclusive neighborhoods, it should come as no surprise that SoFi is home to some of the most luxurious condo towers in the entire state of Florida, making it a truly desirable place to call home for many people. Continuum South Beach, Apogee South Beach, 321 Ocean, One Ocean, Murano Grande, and the newly-constructed Glass Condos Miami Beach are just a few of the ultra-high-end luxury condos in South of Fifth that is available for purchase. So our tips for renters in Miami Beach include checking out this neighborhood – if you can afford it, that is!