If you want to sell your home quickly, staging is an excellent option. Before contacting apartment movers, consider staging your home. Home staggers help you to present it in the best possible light, allowing potential purchasers to visualize themselves living there. Because home buyers are accustomed to seeing staged houses — in person, at home decorating events, and on online lists – it helps you stand out in competitive marketplaces. Therefore, City Movers will show you how to stage your Spring Coral apartment for sale in the most effective way possible.
What does it mean to stage your Coral Spring apartment for sale?
Staging an apartment entails strategically placing furniture and decor to make the home appear its best while it is on the market. Updating your personal belongings or renting temporary decor are examples of this. So if you are having trouble selling your property, staging can help a lot.
Here's how to stage your Coral Spring apartment for sale
Recognize why you should stage your apartment for sale
When it comes to selling your property, staging is well worth the time and effort. According to a 2017 survey by the National Association of Realtors (NAR), 49 % of buyer's agents say that staging influences the majority of buyers' thoughts about the home. Staging, according to 77 % of shopper agents, helps people imagine the property as their own.
Understanding the advantages of selling your property will help you decide if it is suitable for you and how much you should spend on it.
Clean up the mess
When it comes to setting up a home, the most important step is to clear out the clutter and tidy the space. All trinkets and personal objects should be removed from all surfaces. Also, do not store them in cupboards; potential buyers will inspect them, and you want yours to appear spacious. Gather all of your extras and leave the house. If you do not have a place to put away your things, look up storage services that moving companies offer.
Next, do a thorough cleaning after the mess has vanished. Make sure your kitchen and bathroom are spotless and close the toilet lid before guests arrive. Opening windows will help to ventilate the entire house, which is preferable to using air fresheners or scented candles, which can aggravate allergies. Also, make sure you wash anything your pets have gotten their paws on. The smell of pets does not entice anyone.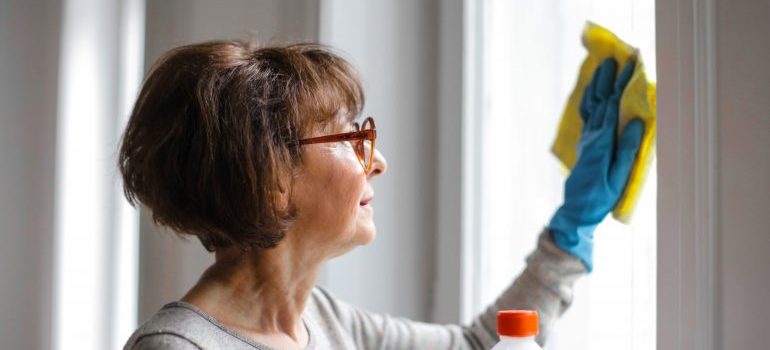 Aim for a light and airy appearance.
Because buyers want bright spaces, lighting is an important aspect of arranging your property. So, before the show, open the blinds or curtains. Make sure your lighting is in good shape. Consider replacing your lampshades and lights if they are dim or old. Experiment with different illumination types and temperatures. Lamps and wall lamps, in addition to overhead lighting, can be used to create a warm environment.
Start with the most crucial rooms.
It is fantastic if you want to construct your apartment fully from scratch. If you do not have the time or money to do everything, you can get the most bang for your buck by organizing specific rooms. According to the National Association of Realtors, the living room is the most crucial room to stage when selling an apartment. And 55 % of the agents polled believe staging is "very crucial." The master bedroom is next, followed by the kitchen. Any additional bedrooms should be your final priority.
Rent or remove furnishings
About half of your furnishings should be cleaned. This can be challenging because you are likely accustomed to – and use – your current furnishings. However, with fewer furnishings, your property will appear larger and more appealing to most purchasers. If you need help with moving your furnishings, contact Coral Spring movers, and ask about their storage services.
Furthermore, sellers must change their way of thinking and concentrate on the buyer. As soon as the home seller is able to separate himself from his residence, he can treat it as a product and carefully prepare the area for maximum customer appeal.
For example, you can rent more gorgeous and modern stuff if your furniture does not look like it belongs in an exhibition hall. If you do not want to take your furniture with you, store it, sell it, or donate it. If your long distance movers Hallandale Beach have already relocated you, another alternative is pop-up furniture, which is composed of corrugated plastic or cardboard but looks attractive enough to accomplish the same goals.
Arrange the furniture in a new way
Next, you can do is place sofas, chairs, and tables away from your walls after you have thinned out your furniture or leased a set. The term "floating furniture" refers to a design technique. Even if the room has a wall-to-wall carpet, secure the space with a rug.
Don't overlook the appeal from the outside.
If you ignore the exterior appeal of your home, you are unlikely to draw many purchasers inside.
Follow these steps to get buyers in the door:
Clean your house and walkways.
You should clean your windows.
Make sure your address is legible.
Make sure you mowed the lawn
Remove any overgrown greenery.
Plant some flowers
On the front step, place the welcome mat and a potted plant.
Place outdoor furniture on your porch if you have one.
Include a few additional things
Furthermore, adding some finishing touches to your home once it is great. Fresh flowers in vases, a bowl of fresh fruit on the kitchen table, and folded towels in the bathroom are all things that people enjoy seeing. Therefore, it is not difficult to sell your apartment by staging it. Simply consider all of the features you want to see in a new home and you will be successful.
Stage your Coral Spring apartment for sale – summary
If you follow the steps above, you are on your way to success. However, if this is too much for you, or you need some advice, contact professional home stagers. They can help you and give you some advice to go through the whole process easier. We wish you all the luck with staging your Coral Spring apartment for sale!