The piano is a musical instrument that, due to its weight, belongs in the moving field of particular loading. You should not forget that, despite its sophisticated sound, it's an instrument that can be heavy for almost a tone! The injuries that may occur during the attempt to move the piano are not naive and can be very dangerous. Just the transport of a piano is a complex job that usually requires up to three workers! So during the piano relocation, our professional moving company City Movers also uses special tools, platforms, forklifts, etc. Consequently, you certainly should not try to carry or load the piano yourself. It's best to call us and let the piano move to professionals, such as trusted piano movers Boca Raton based. We will ensure the safe transportation of your valuable instrument!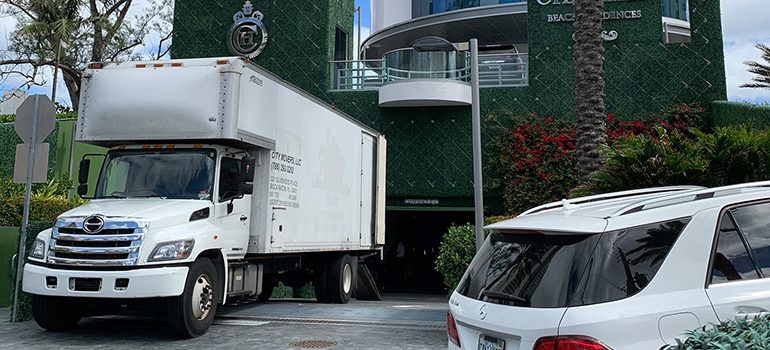 Your precious instrument is in the safe arms of piano movers Boca Raton has to offer
Your piano is more than an instrument. It's an emotional anchor and a valuable investment. Whether it's a cherished family heirloom or a high-end grand, moving a piano involves a lot more than physical strength. The intricacies of its parts, coupled with its unique shape, make it a moving challenge. This is where we come in. As the leading piano movers in Boca Raton, we understand the irreplaceable value of your piano. Our highly trained professionals employ specialized equipment and techniques, ensuring your piano's safety at every step of the move.
As the piano is a particularly sensitive instrument, and has a massive weight, moving the piano must be complete in advance. Planning is key here. And behind our piano movers in Boca Raton is a long transport and relocating experience. We at City Movers can proudly say that all the pianos we have been relocating have been delivered on time and without any damage. Don't take a gamble with something so precious; trust us to handle your piano with the care, respect, and expertise it deserves.
Comprehensive services tailored to your needs
At our moving company in Florida, we have built our reputation as premier piano movers in Boca Raton through dedication to personalized service. We understand that every move is unique, which is why we offer a range of adaptable services to meet the specific needs of our valued customers, be it a local, long-distance, or interstate move. The best part? Our offerings are designed to be mixed and matched, allowing you to curate the perfect moving solution for your situation. We invite you to explore the breadth of options we provide and find the combination that makes your move as smooth as possible.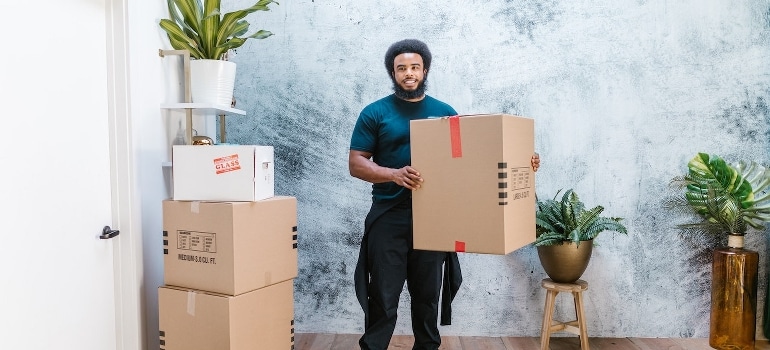 We are pleased to offer a comprehensive suite of services, each designed to address the distinct needs and preferences of our clients:
The things that piano movers in Boca Raton offer when it comes to piano moving
Protection of the piano
If we do not have a clean and spacious passage from the place where the piano is being transported from or to, or if the piano is carried out of the building, it is necessary to protect it beforehand. To protect the piano we use a bubble wrap foil, edge cartons and transparent foil for the finish of the package. Only when your instrument is completely protected and safe, City Movers can start with the actual move.
Piano transfer and loading
Depending on the transfer terrain, we use canopies or skate platforms for the piano move. Also, depending on the weight, we load the instrument manually or with a forklift. As you can see, we do everything not to damage your precious instrument in any way.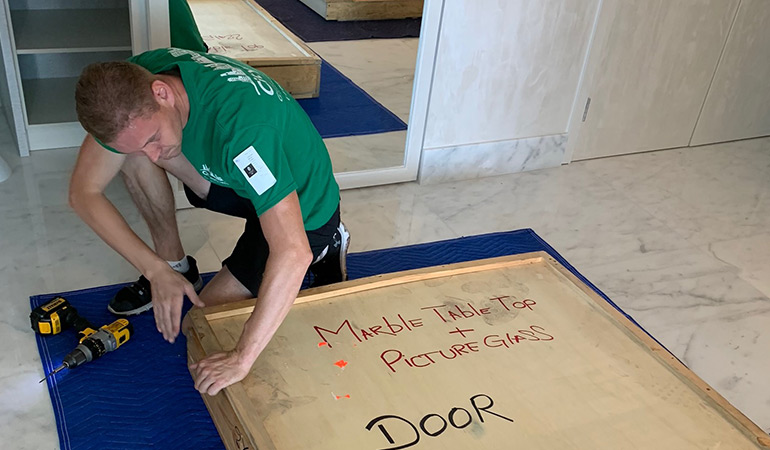 Piano carriage
In most cases,  your piano will be transported by a van. We place the instrument in a van and set in a way that it cannot move during driving. If necessary, we make wooden crates, more precisely frames that hold the load during transportation. In this way, your piano is safe at all times, no matter if you are moving a piano across the state or across the street.
Unloading the piano
When we arrive at the destination, we will unload the piano manually by a rope or forklift. We place the piano exactly where you want it to be. This goes without saying, but our business is complete only when the client is completely happy.
Free piano moving quote
In case you are worried about the upcoming expenses that moving your piano will bring, we have a solution. All you need to do is contact our piano movers in Boca Raton and we will make a completely free assessment of the move itself. In this step, we decide which transport should we use, which material we need, and how many workers should come to your address depending on the piano size and model. Also, terms are different when it comes to local moving and interstate piano moves.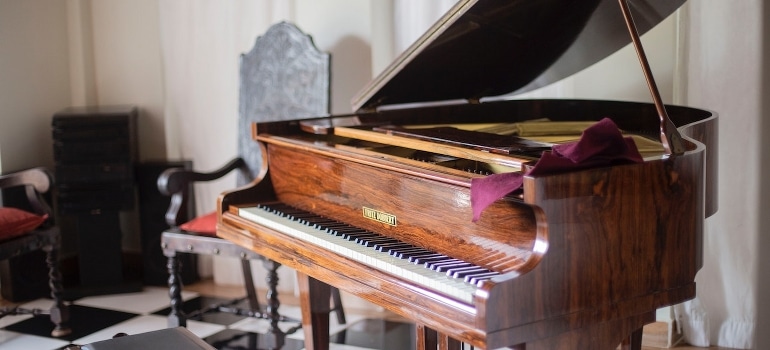 We take pride in having our seasoned and dependable team
At our moving and storage company, we pride ourselves on our seasoned and dependable team. And we are proud to specialize in piano moving. Moving your piano is a responsibility we take very seriously. Each member of our crew undergoes thorough background checks to ensure integrity and reliability. But we don't stop there – ongoing training is a non-negotiable standard. From the delicate touch needed for piano keys to the strength required for heavy lifting, our team embodies efficiency and skill in every move. Our professionals know the ins and outs of packing, lifting, and transporting, ensuring your piano reaches its new home in perfect condition. With piano movers in Boca Raton, you are not just hiring a moving service. You are partnering with a team of experts who are as committed to the safety of your piano as you are.
City Movers are reliable and experienced piano movers
City Movers specializes in the transport of heavy goods. Those are not only pianos but also safes, cash registers, ovens, and other heavy cargo. The transport of grand pianos, pianos, or any other cargo is not an easy task and always should be left to the professionals. Otherwise, serious and permanent damage can occur due to negligence and inexperience. So leave the loading, transport, and unloading of the piano to our expert team of piano movers in the city of Boca Raton, who will make sure that your instrument is safely transported to the desired destination without any damage.
Piano moving has never been so affordable
One of the first questions we get is: how much does transportation of the piano cost? Well, the price of the piano move – or any other bulky cargo transport – depends on several factors. Here are the most important ones:
the weight of the piano (load),
the floor where our movers are loading and unloading the piano to
and of course, the distance at which the transport takes place to.
Surely, you can easily contact us by e-mail or phone, give us this information and we will tell you immediately the price of your piano's transport. You may also need short-term storage for your piano, so this can also be an additional factor that can impact the price.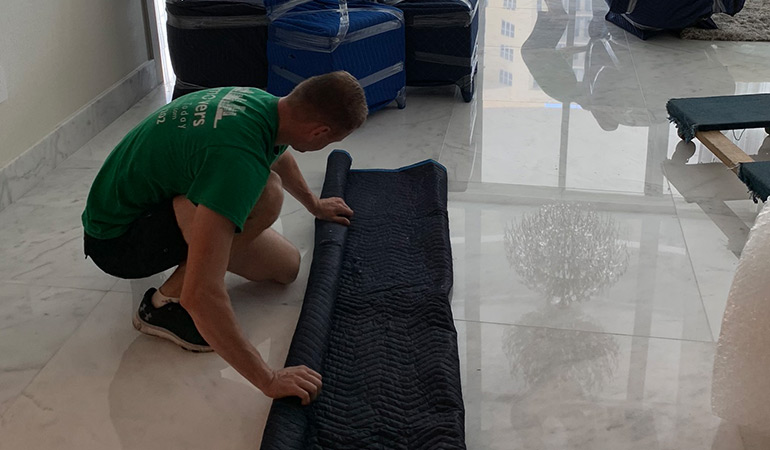 A cost-effective solution for your piano move in Boca Raton and beyond
Relocating a piano in Boca Raton and its surroundings is a task best left to professionals. At AAA Movers, we provide a cost-effective solution that saves you more than just money. Our expertise allows you to avoid common moving mishaps, and our efficiency ensures that you save time as well. With our services, you can eliminate the risk of expensive or even irreversible piano damage that do-it-yourself moves can often incur. Here's how we make your move economical and stress-free:
Saving on packing supplies, tools, and equipment
Preventing delays and injuries, preserving your time and well-being
Avoiding costly or even impossible piano repairs
Choose AAA Movers for a seamless, affordable, and safe transition for your treasured instrument, whether you are moving locally or beyond Boca Raton.
Tips for piano transport that can help you move
Before moving a piano, take the exact measurements in your apartment as well as the dimensions of the lifts and corridors and all narrow passages where it is necessary for the instrument to pass. The piano is an instrument that is sensitive to climate change. Ideally, it should be placed in a room where the temperature is approximately the same over a certain period of time. The room moisture where the piano is should not be greater than 60% and less than 40%. The piano should not be under the window, near the radiator or any other heating element.
The appealing melody of your new start in beautiful Boca Raton
Embrace a harmonious new beginning in the picturesque city of Boca Raton, where the promise of an enchanting life awaits you and your beloved piano. With a location on Florida's southeastern coast, Boca Raton is an affluent community recognizable for its Mediterranean architectural theme, beautiful parks, and pristine beaches. With a population size of 95,347, the city represents a blend of youthful energy and seasoned wisdom, boasting a median age of 47.4.
Here, life is more than comfortable, as reflected by a median income of $71,867 and a median home price of $546,300. The city is situated strategically, with West Palm Beach to the north and Miami to the south, making it a central and convenient locale within Florida. Employment opportunities are abundant, with the main industries including healthcare, education, finance, and technology, offering a stable and prosperous environment for career growth.
Boca Raton is more than just an address; it's a lifestyle. Residents enjoy a rich cultural scene, including annual festivals, art exhibits, and live concerts, as well as an array of amenities from upscale shopping districts to exquisite dining venues. Moving around is a breeze thanks to extensive transportation options, such as convenient road networks and efficient public transportation services.
As seasoned Boca Raton piano movers, we are dedicated to ensuring that the music continues to play as you transition to your new home. We are your trusted specialists for piano moves. Moreover, our commitment to transporting your piano with the utmost care, allows you to continue filling your new residence with beautiful melodies as soon as you are settling in. Trust City Movers to be the opening note of your delightful new chapter in Boca Raton.
In the end: cheap movers can cost you more than professional movers
Moving your home including your valuable piano is a special occasion. Make sure it will be a safe and pleasant transition. These are all reasons why you should carefully select a moving company to entrust the transport of your valuable instrument. So let not very low prices attract you and then hire unskilled people to do the piano move. The last thing you should do is expose your instrument to improper handling and unsuitable vehicles for transport. So if you need professional piano movers Boca Raton has to offer, you are at the right place! Just contact our City Movers today and we will give you a free estimate plus a reasonable price for your piano move.